The Hot Chocolate Cure? Functional Recipes For Every Ailment
Contributing Food Editor
By Liz Moody
Contributing Food Editor
Liz Moody is a food editor, recipe developer and green smoothie enthusiast. She received her creative writing and psychology degree from The University of California, Berkeley. Moody is the author of two cookbooks: Healthier Together and Glow Pops and the host of the Healthier Together podcast.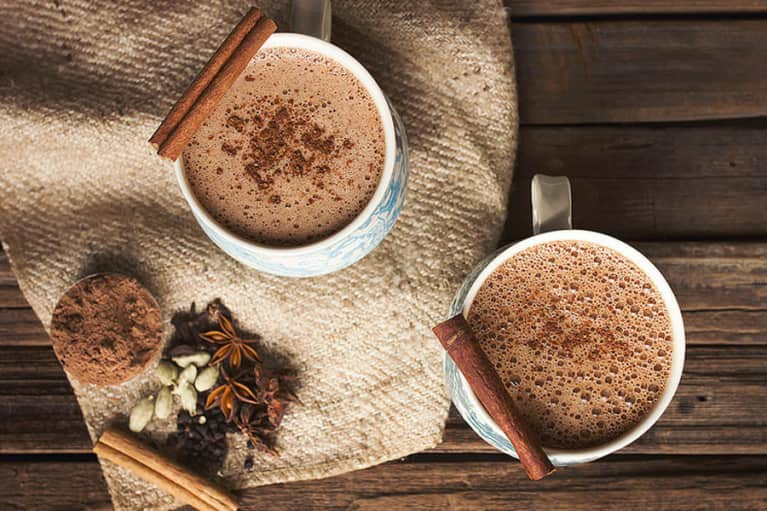 We're all about
functional food
here at mindbodygreen—but it has to taste amazing, too! These hot chocolate recipes are perfect to curl up with on a cold winter's day, and they help with a host of winter ailments, from anxiety to inflammation to immunity (yes, you can tell your co-worker you're fighting off that bug going around the office with your delicious drink!). Bonus: They're all dairy- and refined-sugar-free!
Stomach-Soothing Peppermint Hot Chocolate
Mint is renowned for its gut-calming properties, making this hot chocolate a great go-to when you're craving something sweet but need a break from all those belly-busting cookies and cakes. Get the full recipe here.
Metabolism-Boosting Mexican Hot Chocolate
This hot chocolate with a kick is literally spiced up with a blend of cinnamon, cayenne, and chili that will help burn off any extra holiday cookies. It's vegan, refined-sugar-free and employs a special trick to get that creamy, thick texture. Get the full recipe here.
Anti-Aging Macadamia White Hot Chocolate
This white hot chocolate gets its rich flavor from macadamia nuts and cacao butter, the pressed oil of the cacao bean. Filled with antioxidants, cacao butter helps reduce oxidative stress, helping eliminate signs of aging. Get the full recipe here.
Immune-Boosting Chai Hot Chocolate
While chai technically means "tea" in Hindi, this chai hot chocolate kicks up the ante even more by blending the black tea and spices with creamy chocolate. If you need a light caffeine kick with a solid dose of immune-boosting spices, this one's for you. Get the full recipe here.
Stress-Busting Classic Hot Chocolate
If you're in the mood for a classic hot chocolate, this recipe's for you. It uses nondairy milk, a dash of honey, and raw, unprocessed cacao for its delicious flavor and velvety texture. Cacao is rich in theobromine, which helps energize the body while eliminating stress (so good during this busy season!). Get the full recipe here.
Hormone-Balancing Maca Hot Chocolate
This super-easy hot chocolate utilizes maca for a malty flavor and a superfood kick. Here at mbg, we love maca for its adaptogenic, hormone-balancing properties (and its ability to boost libido!). Get the full recipe here.
Inflammation-Reducing Golden Milk Hot Chocolate
You know we love golden milk here at mbg, but this hot chocolate takes the Ayurvedic staple to a whole new level. Beyond turmeric, this recipe uses ashwagandha, an adaptogenic herb, to soothe the nervous system and reduce cell stress, reducing inflammation. Get the full recipe here.
Energizing Matcha White Hot Chocolate
While all caffeine increases energy, matcha has special properties that make it worthy of its trendy status. When you drink it, you consume the entire tea leaf (rather than a watery extract), which helps the caffeine release in a slower, more stable way. In this hot chocolate, it's blended with white chocolate for a creamy, seasonal sip. Get the full recipe here.