How To Survive The Holidays With A Thyroid Condition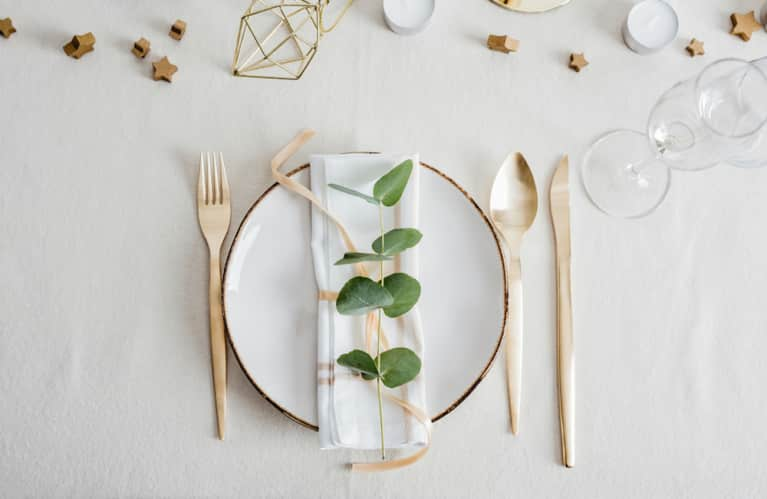 For those of us with Hashimoto's disease (a thyroid autoimmune condition), the holidays can be a challenging time. The many lifestyle changes necessary to support thyroid health—like restricted eating and no alcohol—can feel limiting, especially during this time of year. When others are indulging in an abundance of holiday desserts and drinks, we are often assessing ingredients to determine if they'll create a reaction in our bodies and trying to muster the energy for holiday cheer.
A chronic illness can make you feel isolated during the holidays.
The drastic dietary changes required during the thyroid healing process is something that isn't always understood by our friends and family. And given that most of us spend more time with friends and family during the holiday season, others' opinions, judgments, and skepticism may feel even more prevalent.
Our eating choices can trigger reactions in others: The skeptics question us. The self-proclaimed experts (who usually don't understand our health condition) critique us. Those struggling with their own food issues may judge us. And depending on how far along we are in our healing journey, others' reactions can leave us feeling alone and judged.
Below are five ways I've successfully enjoyed holidays without sabotaging my health.
Autoimmune conditions are connected to our root chakra, which is related to family and belonging. All of us look forward to certain traditions and rituals during the holiday season, and when we can no longer eat Nana Betty's famous apple pie, we may feel left out and cut off from cherished family rituals.
Here are two approaches I've found helpful. First, create new traditions and rituals and include your family in them. Thanks to many paleo food pioneers, you can substitute most pies, cakes, and treats with delicious, thyroid-friendly recipes. Start a new tradition that not only honors your health but makes your guests smile with delight.
Second, appreciate the same old tradition in a new way. Bake that delicious apple pie with your sister without eating it. You can make it, smell it, and enjoy others' reactions to it. This one might be difficult for a beginner, but it's possible!
2. Have a daily well-being practice.
I've found that having a daily well-being practice is critical to my happiness and health. In Kundalini yoga we call this Sadhana. Each morning when I get up I do some yoga and meditation, connect with my body, and set some intentions for the day. This beautiful practice becomes a ritual you'll look forward to and provides a foundation to make decisions aligned with your health. Even if it's for 10 minutes a day, you'll feel a difference!
When we have a method to go within and quiet the inner chaos, we're less likely to stray from our intentions and give in to pressure. Given the heightened level of temptation during the holidays, developing a daily routine to connect with yourself and what's important to you is a critical driver of your health and happiness.
3. Consciously break the rules.
I call this conscious cheating. We can't be perfect with our eating all the time. Instead, know what you can't have and honor it. For example, grains and gluten have detrimental effects on my body, but I can tolerate small doses of sugar and alcohol, even though they're not the best choices for me. Since sugar is easier on my body than alcohol, I occasionally indulge in a delicious sugar-laden mocktail.
When I am out on the weekend or at a celebration, I look forward to my mocktail. Having that sugary drink in my hand as a girlfriend gives me the juicy update helps me feel like I belong in a social ritual—without sabotaging my health.
4. Elevate your inner dialogue.
Through the science of epigenetics, we know that what we say and think affects the cells in our body and will create either illness or wellness. Being mindful of your inner dialogue around the holidays not only affects your health but also your happiness. Additionally, our dialogue—inner and outer—affects our throat chakra and thyroid. So use your dialogue to create good health.
When you walk up to that food bar, you can focus on everything you can't eat, or you can focus on what you choose to eat and enjoy. There's a big difference between those two mindsets, and one puts you in total victim mode: I can't eat that. The reality is that you could eat anything you want. You're choosing not to because you're choosing your health and happiness over a few seconds of eating. The other statement puts you in empowerment mode: I choose not to eat that. I choose to eat this instead. I choose my health. Try saying those two statements out loud or mentally and notice how different you feel when you say them!
5. Prepare ahead of time.
Always research the restaurant's menu before you go and ask your friend what her menu is before you go to her house. Offer to bring a couple of dishes that you can eat. There are plenty of ways to ensure you're eating tasty treats wherever you go.
When it comes to overall health and energy, honor your body's needs. Thyroid fatigue and other symptoms are no joke. Ask for support with your holiday chores or take some things off of your list this year. Eliminate some of the pressure you feel to get everything done by scaling back. When you're feeling healthier, you can ramp back up for future holidays. Conserving your energy for spending time with your loved ones is more important than having perfectly wrapped gifts.
And finally, embrace grace. Don't preach your way of eating and drinking to others. Just as you don't want to be judged for your choices, don't judge others for theirs. Finally, remember that if someone else is triggered by your food and drink choices, allow room to feel your feelings without getting hooked on them. That is a sign of their own insecurity, doubt, or fear around food and drink. And even when it's directed at you, it has little to do with you!