A Health Entrepreneur's Tips For Stress Reduction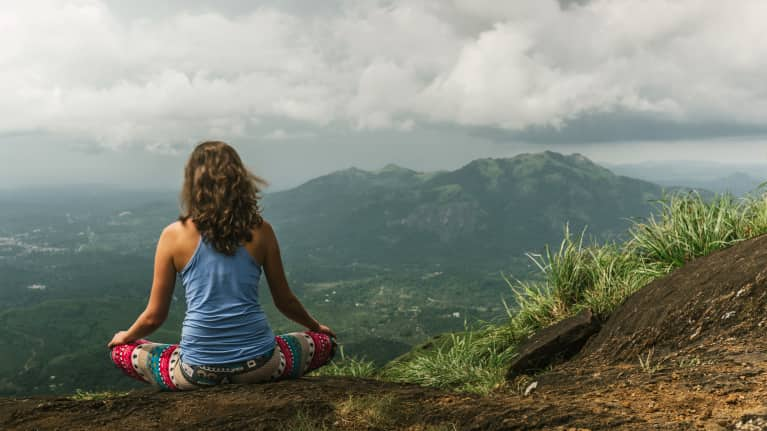 Our editors have independently chosen the products listed on this page. If you purchase something mentioned in this article, we may
earn a small commission
.
Too often, we attach stress to circumstances that are outside of ourselves. When we can more openly accept our experiences for what they are (nothing more, nothing less), and recognize that we are 100 percent responsible for how we feel, we can start to shift our experience. That means it's entirely possible to be in a "stressful" situation and not be stressed.
At HUM we ask thousands of consumers every day about their wellness choices including stress levels. That data has allowed us to see big trends such as the mood of the nation and their unique correlations. So we asked ourselves "has the election moved the needle in terms of stress levels?" The answer is a resounding yes, and you might be shocked by how much.
To draw some conclusions, we looked at the percentage of consumers who indicated that they were stressed every Wednesday (since midweek stress levels are the most scientifically average). Over 2015 that number averaged 48 percent or roughly 1 in 2 consumers.
The year started off as expected with 50 percent of consumers being stressed. That was on January 6, the first Wednesday in 2016.
Over the next few months that figure crept up to reach 60 percent by the beginning of August. Matters then got even worse during the last weeks before the election, with 70 percent (or almost 3 in 4 people) totally stressed out. Interestingly, the week after the election, things changed. You may or may not have liked the outcome, but the uncertainty factor was definitely over. So what happened on November 16? For the first time since August, stress dropped to 60 percent. In the coming months, we expect these levels to drop right back to 50 percent, meaning 32 million of us will be less stressed. Hooray!
So what's the takeaway? Rather than managing stress, manage uncertainty. Here are some actionable tips:
Let's say you have been dwelling on a decision for months and you still can't decide on which way to go. We recommend flipping a coin. This may sound unorthodox, but it's a proven way to reduce anxiety. One can always course-correct later!
If the uncertainty is out of your control, here is how to deal with it. Play through different scenarios in your mind, visualize outcomes, and see how you feel about them. Prepare yourself for some adjustments, and once you come to terms with them, your stress levels will head south as well.
Remind yourself of situations that have worked out in the past. The idea of having complete control is an illusion, so rather than wanting to control the future, look back and positively reinforce that things will be OK.
Lastly, get out of your headspace and be present. Read a book, do some exercise, or rest your mind completely by meditating. And, most importantly, do a digital detox—simply being present will take care of that stress level in no time.