THIS Is The Perfect Holiday Meal (Hint: It Starts With Coconut Butternut Squash Soup)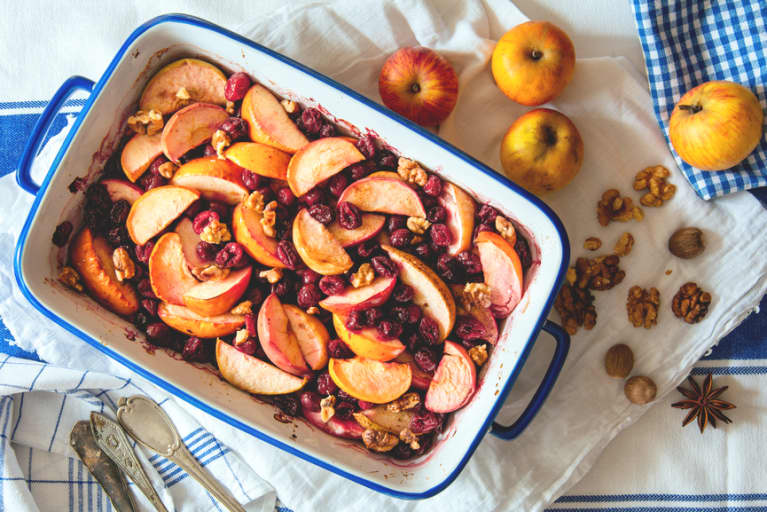 Give your holiday meals a healthy makeover with these nutrient-packed recipes you and your guests will love—and you'll be able to prep them all in no time.
1. Coconut Butternut Squash Soup
2 tablespoons ghee (clarified butter) or refined coconut oil
1 sweet onion, chopped
1 medium carrot, chopped
1 celery stalk, chopped
1 butternut squash, peeled and chopped (you can also buy precut squash)
½ apple, chopped
4 cups water or low-sodium vegetable stock
1 teaspoon pumpkin pie spice (or mixture of cinnamon, nutmeg, ginger, cloves)
¼ cup coconut milk
Himalayan pink salt and pepper to taste
Preparation
1. In a large pot, sauté onion in ghee or oil until translucent. Add carrots, celery, squash, and apple. Stir to distribute heat. Add water or vegetable stock. Let simmer on medium-low for 20 to 30 minutes or until squash is tender. Add spices, then salt and pepper to taste.
2. Stir and remove from heat to let cool. Add coconut milk and, using a hand blender (or regular blender), blend until soup is thick and creamy. Top with a drizzle of coconut milk to serve.
1 cup quinoa, rinsed
¼ teaspoon Himalayan salt
¼ teaspoon dried parsley
juice of 1 lemon
2 cups cubed frozen butternut squash
½ red onion, chopped
¼ cup cranberries
¼ cup slivered almonds
Preparation
1. Prepare the quinoa as directed on the package. When cooked, stir in salt, parsley, and lemon juice. Remove from heat.
2. Meanwhile, in a small skillet, sauté the squash and onions until tender. Remove from heat. Transfer quinoa and squash/onion mixture into a large bowl and stir.
3. Once cooled, sprinkle cranberries and almonds on top.
3. Honey Dijon Roasted Salmon with Sautéed Spinach
2 wild-caught salmon fillets
1 tablespoon honey
1 tablespoon Dijon mustard (no added sugar)
1 tablespoon extra-virgin olive oil
1 tablespoon fresh squeezed lemon juice
Himalayan pink salt and black pepper to taste
Preparation
1. Preheat oven to 350°F. Mix the honey, mustard, olive oil, lemon juice, salt, and pepper in a small bowl. Place the salmon fillets on a parchment-lined pan and brush fillets with mixture.
2. Let sit (not refrigerated) until oven is ready. Bake for about 20 to 30 minutes. Meanwhile, in a small pot, heat extra-virgin olive oil on low heat. Add garlic, sauté.
3. Once garlic is slightly browned, add spinach. Stir until wilted. Check on the salmon. Fillets are done when no longer translucent and flake off easily with fork. For crispy salmon, broil for about 3 minutes. Serve fillets over spinach.
3 large organic Gala apples (or whatever apples you love)
¼ cup organic coconut sugar
½ cup gluten-free oats
¼ cup walnuts (or pecans)
1 tablespoon pumpkin pie spice (or a mixture of cinnamon, nutmeg, cardamom, and ginger)
1 tablespoon coconut oil, melted
1 cup filtered warm water
Preparation
1. Preheat oven to 375°F. Cut apples into thin slices and place in a round or square baking pan. In a small bowl, mix the sugar, oats, nuts, spices and coconut oil. Sprinkle evenly over apple slices. Pour water in sides of pan, so there's about ½ inch of water on the bottom.
2. Cover with aluminum foil and bake for 30 minutes or until water is evaporated and a thick syrup forms. If you want the topping to be browned, bake for an additional 5 to 10 minutes, uncovered.
3. This is delicious on its own, but if you want something really decadent, serve with whipped coconut cream or coconut milk ice cream.
5. Cinnamon Apple Spritzer
Cinnamon vodka
Apple cider (no added sugar)
Plain seltzer
Preparation
Mix equal parts of vodka, cider, and seltzer in a serving glass; add crushed ice and serve with a cinnamon stick.
Like these recipes? Get the full e-book with 15 more delicious, guilt-free holiday recipes here.