The Perfect Christmas Eve Cookie: Dorie Greenspan's Double-Chocolate Recipe
mbg Contributor
By Carolina Santos-Neves
mbg Contributor
Carolina Santos-Neves is a graduate of the Chef Training Program at the Natural Gourmet Institute for Health and Culinary Arts and is presently the chef of Hungry Beast, (CDMX) a kitchen & Juice Bar that focuses on flavors from all over the world with a focus on using organic and local products.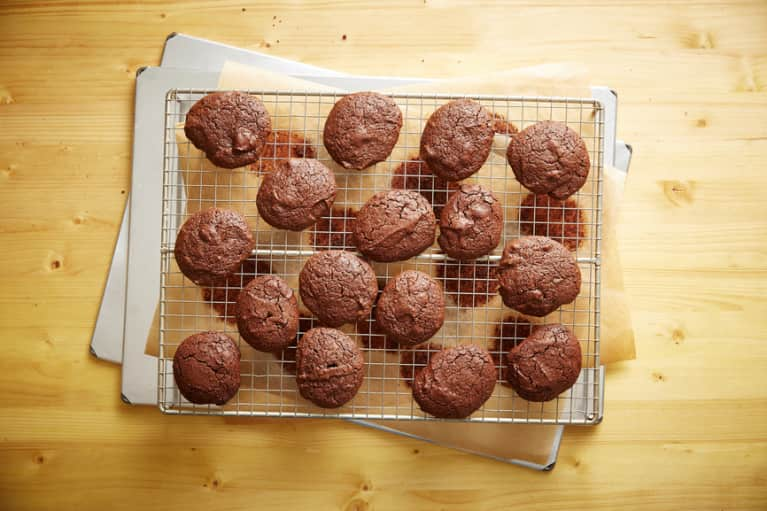 Our editors have independently chosen the products listed on this page. If you purchase something mentioned in this article, we may
earn a small commission
.
Continuing our healthy holiday cookie exchange (check out these chia cookies from Deliciously Ella, these festive cookies from Julia Turshen and these Best Freaking Cookies from Christina Tosi), we're so excited to share this recipe from cookie queen Dorie Greenspan, who wrote the book on cookies (no, really, she did—it's called Dorie's Cookies and it's amazing).
"The buckwheat is the charmer here," says Dorie. "The flour makes the cookies tender and gives them a subtle nuttiness that only buckwheat habitués will identify. No one will guess there's kasha in them, but it gives the cookies their crunch and a fuller flavor than you'd think you'd get from such tiny nuggets. The kasha's got a fabulous texture too. It's a crunch-lover's dream. (But you must use granulated kasha, such as Wolff's, in this recipe; whole or cracked kasha is tooth-breakingly hard)."
Dorie Greenspan's Double Chocolate Buckwheat Cookies
Makes about 80 free-form or 60 round cookies
Ingredients
1 2/3 cups (227 grams) all-purpose flour
1 cup (120 grams) buckwheat flour
1/4 cup (21 grams) unsweetened cocoa powder
2 sticks (8 ounces; 226 grams) unsalted butter, cut into chunks, at room temperature
1/2 cup (100 grams) sugar
1/4 cup (50 grams) packed light brown sugar
1 teaspoon fine sea salt
2 large egg yolks, at room temperature
1 teaspoon pure vanilla extract
1/4 cup (45 grams) kasha, preferably Wolff's medium granulation (see headnote)
4 ounces (113 grams) bittersweet chocolate, finely chopped
2 teaspoons sanding sugar, mixed with 1 teaspoon flake sea salt, such as Maldon, for sprinkling
Preparation
1. If you're going to make free-form cookies, position the racks to divide the oven into thirds and preheat it to 350 degrees F. (If you'll be making slice-and-bake cookies, preheat the oven after the logs have chilled.)
2. Whisk both flours and the cocoa powder together. (If the cocoa is lumpy, sift the dry ingredients, then whisk to blend.)
3. Working with a stand mixer fitted with the paddle attachment, or in a large bowl with a hand mixer, beat the butter, both sugars and the salt together on medium speed until smooth, about 3 minutes. Drop in the yolks and beat for another minute, scraping the bowl as needed, then add the vanilla. Turn the mixer off, add the dry ingredients all at once and mix on low speed until they are almost incorporated. This takes a minute more than you might think it should; at first the dough looks crumbly and then it starts to darken, moisten and come together. Mix in the kasha and chopped chocolate. Use a large, flexible spatula to give the dough another few turns and mix in any loose ingredients.
4. Turn the dough out and divide in half.
5. (SEE NOTE FOR DIFFERENCE BETWEEN SLICE AND BAKE AND FREE-FORM) To make free-form cookies: Shape each piece of dough into a disk. One at a time, place between pieces of parchment paper and roll out to a thickness of 1⁄4 inch. It's the thickness, not the shape, that matters. (I usually go for a rough oval or round.) Peel away both pieces of paper from one piece of dough, then return the dough to one piece of paper and slide it onto a baking sheet (if you don't loosen the bottom paper, the dough will curl during baking). Repeat with the second piece of dough. Sprinkle the dough with the sugar-salt mixture.
5. Bake for 14 to 15 minutes, rotating the sheets top to bottom and front to back at the midway mark, or until the cookies are set — the edges will be more set than the center, which might still have a bit of give when gently prodded. Slide each cookie slab, still on the parchment, onto the counter. Using a pizza wheel or a knife, cut the big cookie into as many cookies of whatever shape you like. I cut it into strips about 1 inch wide and then cut these diagonally so that I end up with diamond-shaped cookies. Slide the cookies, still on the paper, onto a rack to cool to room temperature.
6. To make slice-and-bake cookies: Roll each piece of dough into a log that's 12 inches long. Wrap well and freeze for at least 1 hour, or refrigerate for at least 2 hours.
7. When you're ready to bake, preheat the oven to 350 degrees F. Slice each log 1⁄3-inch thick and place the cookies about an inch apart on two baking sheets lined with parchment paper or silicone mats. Sprinkle with the sugar-salt mixture.
8. Bake for 11 to 12 minutes, rotating the sheets top to bottom and front to back at the midway mark, until the cookies are firm around the edges and give slightly when pressed in the center. Transfer the cookies to racks to cool completely.
Note
If you roll the dough into logs, chill, slice and bake them, you'll get cookies that are firm around the edges and cakey, soft, and almost melty everywhere else. If you roll the dough out free-form, bake it and cut it any which way the instant it comes out of the oven, your cookies will be tender through and through. (Only the thinner edges of the free-form shape crisp.) Whatever you choose, these taste better and look prettier with a last-minute sprinkle of sanding sugar and flake salt.
Storing
If you'd like, you can freeze the dough, either rolled out or shaped into logs, for up to 2 months; be certain to wrap it well. The logs can also be refrigerated for up to 3 days. The cookies can be baked (or sliced and baked) straight from the freezer; add a minute or two to the baking time. The cookies will keep covered at room temperature for about 4 days; they can be frozen, well wrapped, for up to 2 months.
Excerpted from DORIE'S COOKIES © 2016 by Dorie Greenspan Reproduced by permission of Houghton Mifflin Harcourt, Rux Martin Books. All rights reserved.