Can A Relationship Work If Only One Of You Wants To Be Exclusive?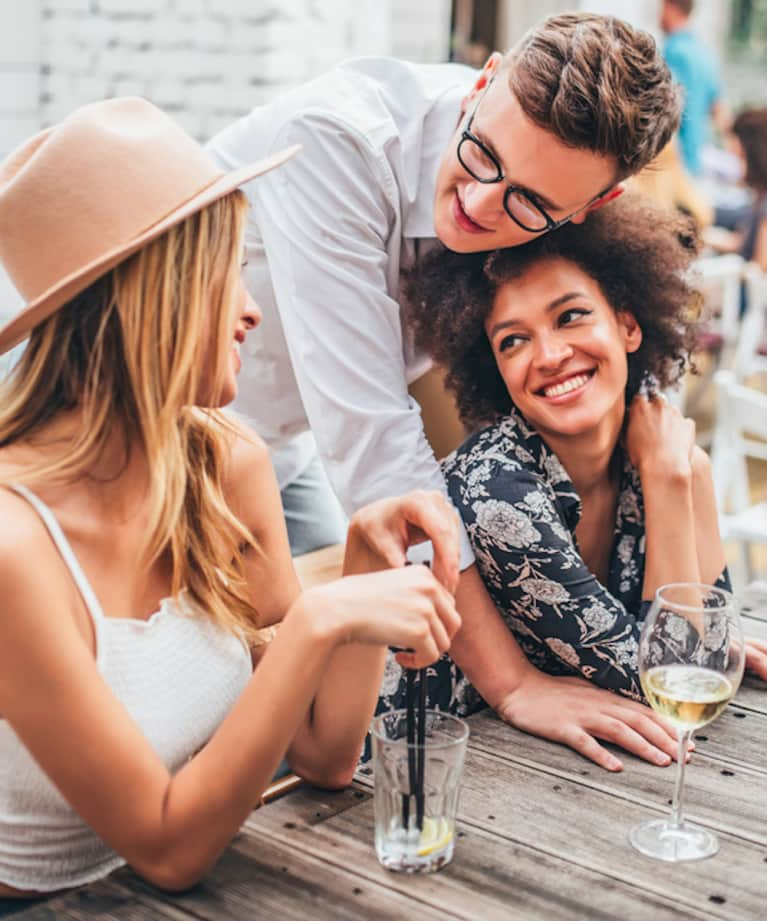 "Joe" started calling me Grasshopper after our second date—the one where he said he wanted to be exclusive. He didn't want to pressure me to do the same. He said, "Be free like a grasshopper and hop around a bit more before deciding if I might be the one for you."
Made perfect sense to me. After all, I had just re-entered the dating world, two years post-divorce after a 23-year marriage. I had no idea how to date yet. He, on the other hand, was divorced four years from his third wife, tired of dating, and ready to settle down again.
Third wife? I can imagine your raised eyebrows, wondering why I might date a guy who was married three times before age 53. It's easy to make assumptions about a man who has been married multiple times. Before I began dating post-divorce, I had nightmares about what types of men I might encounter—boring, paunchy, egomaniacal, scary, lying, cheating. I was seeking a kind, considerate, gentle soul, a bright, fun, introspective, guy—and Joe seemed to fit the bill.
I found the Grasshopper moniker to be quite endearing. I thrive on choice and freedom, and it felt liberating to be able to date other men while deciding if I wanted to be exclusive with Joe. He said he found it amusing to hear about my other dates, and I got a little thrill from revealing the details of my encounters with other men I was meeting online.
It seemed like innocent fun until my high school sweetheart, "Sam," got in touch with me and said he was coming to town for Thanksgiving. He had once been the love of my life. We had dated on and off from ages 16 to 21, and I hadn't seen him in about 30 years. Divorced only six months earlier, he wanted to see me on his trip back east.
Our phone conversations were getting progressively hotter, and I was curious whether we'd still have that incredible chemistry we had years ago. He wanted to spend the night with me at a hotel over the weekend. And I made the mistake of telling Joe.
I didn't realize how hurt Joe would be. After all, wasn't he willing to have an open relationship with me? That's what he said, but it's not really what he meant. He was hoping I'd see how amazing he was and choose him.
Sam ended up meeting me for breakfast at my house Thanksgiving morning. We sat on opposite ends of the room, virtual strangers, even though we had been so intimate in our youth. I couldn't sleep with him. That ship had sailed years ago.
It's been five years since that incident with Joe and Sam, and I've learned so much about how to have a healthy relationship. I have standards for what I want and whom I'll date. I won't sleep with a man unless we are both exclusive and have had STD testing. I know who I am, I value myself, and I want to be inspired by the man with whom I enter a long-term relationship.
In the end, Joe's openness toward my grasshopper dating gave me freedom, but it also opened him up for disrespect. It wasn't fair to him or me, and I would not do that again.
Are you a grasshopper, just starting out dating after the end of a long-term relationship or marriage? Now is the time to have fun, to explore, and to realize you're a woman of value: sexy, attractive, and lovable. This is the time to learn how to date as a high-value woman. You're in the discovery stage of life, in the best school of all—the school of love.
Learn from every encounter, from every flirt, and from every man who loves you or leaves you. Enjoy being a grasshopper as you journey to epic love, with lots of delicious detours along the way.