Finding Love At The Gym
Former mbg Deputy Editor
By Elizabeth Inglese
Former mbg Deputy Editor
Elizabeth Inglese is a writer living in San Fransisco, California. She earned her bachelor's in english literature and cultures from Brown University and her master's in writing from The University of Southern California. She's the former Deputy Editor of mbg, and has also worked for Vogue, Architectural Digest, Bon Appetit, and Good Magazine covering food, health, and culture.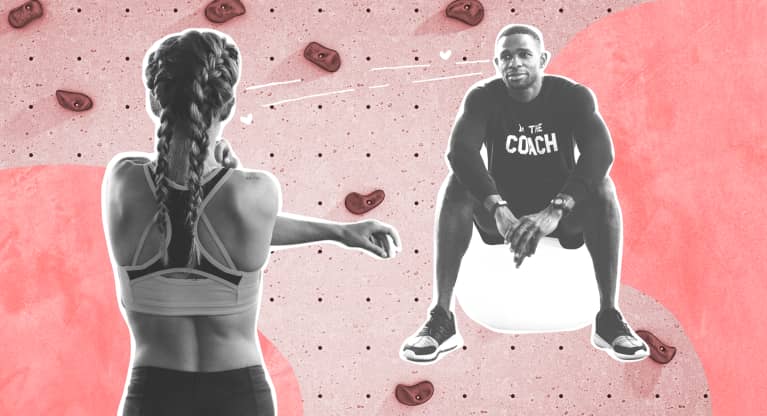 Grace is already blushing. "This all sounds really stupid when I say it out loud," she says. We're sitting on a plush velvet couch, just the two of us, and she's describing her current crush. I want to know how they met. "OK. He set up my weights for me," she sighed. "He'd noticed what I was lifting. It was so chivalrous."
It's Valentine's Day, and if you don't have a sweetheart you may be tempted to reach for your phone and start swiping. But while research shows more and more of us are turning to apps to find someone special (millennials' use of dating apps has tripled in the past 3 years), that isn't the only place where new connections are made. As fitness, sobriety, and wellness continue to rise in popularity, the gym may supplant the bar as our favored meeting spot. "I'm convinced I'm going to meet my husband at the gym. And I'd like for my love story to have that theme," Grace, a 24-year-old Brooklynite, mused. She's not alone. A recent survey by Blink Fitness found that 47 percent of Americans consider the gym a great place to form a romantic connection. One of them is Rachel, a late-20s brand manager living in Manhattan. "You're already in a place where you have common interests with people; you're already doing an activity together. This is essentially a first date. So if you have the nerve to strike up a conversation, it's easy to meet people at the gym." She's met the majority of her partners at Equinox. "Two guys I ended up dating struck up conversations with me while I was weight training. They brought me into their routines. I think that's super sexy because they were teaching me something, and being encouraging, and modifying some things for my needs."
We all care about our fitness and health (no one is doubting that), but according to the numbers our well-being is far from the only reason we lace up our sneakers. Thirty-two percent of Americans say the possibility of meeting someone at the gym motivates them. For Grace that number is higher. "It's half of my motivation for going. Last year, I had a gym inside my apartment building. I never went, because no one was there. I would like to think my fitness is more important than that but there was no, 'Maybe I'll meet somebody.' Then I joined an Equinox and I was there six days a week. The possibility was a motivating factor." And presence of potential partners not only incentivizes us to show up, but it drives us to work harder through our workouts. An attractive guy on the yoga mat next to hers spurs Rachel to push herself just a little further. "It's totally motivating. Nobody wants a quitter!" And it can work. Jamie Krauss Hess, the 36-year-old vice president of a PR company, fell for her husband at Barry's Bootcamp. "During a one-hour class, we fell in love with sweating together. We shot flirtatious smiles back and forth through the mirror while we lifted weights, side-by-side. Eventually when the time came for George to propose, he did so on their treadmills!" Now the duo chronicles the unfolding of their fitness love story on Instagram as @NYCfitfam.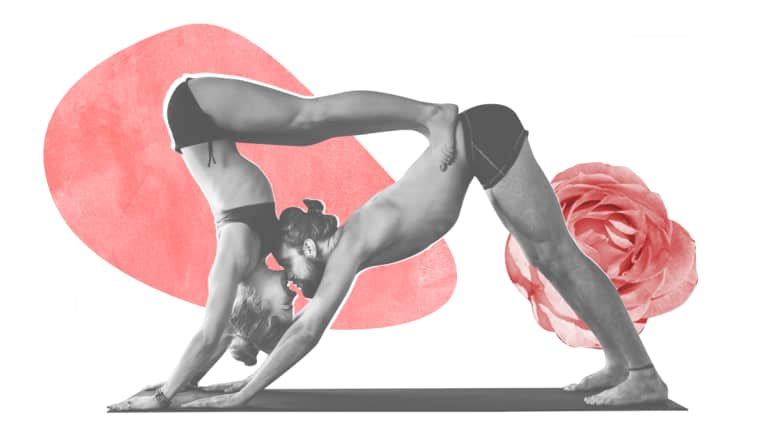 So what makes the gym an optimal breeding ground? It's a physically intimate space. There's the skimpy spandex and the sweat-sheer tanks providing a glimpse of a stranger's physique. There's the heavy breathing, the panting, the grunting. It's a place to be the animals we are, more so than we can be on the city streets. And of course, there's the sweat. Sweat communicates much more than the intensity of your last interval burst. It transmits pheromones, hormones that contain information about our chemical composition and play a large role in sexual selection. Dawn Maslar, the neurobiologist who broke down the science of attraction in a viral Ted Talk, explains the chemistry at play between hetero individuals, "When a man starts working out, his testosterone levels rise. Researchers have found that women rate men as more attractive when exposed to a metabolite of testosterone called androstadienone, a type of pheromone found in his sweat." Not only are men more attractive to women while they're working out, but the increased testosterone in men activates what Maslar calls "the pursuit spot" of the brain, which makes him more inclined to pursuit. "The gym can become a perfect storm of attraction. His increase in testosterone makes him more attractive to her at the same time as it's making him feel more attracted to her."
So there's chemistry on the side of love, but there's more than that. It's a matter of curation. For the wellness-minded, the gym is a place reflective of deeply held principles. It's Sunday service for Christians, the stadium for sports fans, the library for readers. "The fact that we're in the gym weeds out 75 percent of people already. It's a real window into their priorities, and it probably comes along with other stuff, like healthful eating, mindfulness, longevity, good stamina, ability to reproduce," said Grace. For her it's important to find someone who shares those values. In New York, filtering for your type can be a simple matter of selecting your location. Rachel offers a taxonomy of Manhattan Equinoxes: "Brookfield place is great if you're into the finance guys. SoHo if you're into models, same with Greenwich. Flat Iron and Upper East Side are more frat bros. You can take your pick." Who needs online filters when local gyms offer such specificity?
Gyms are aware of the ulterior motives of its members. Equinox offers monthly social programming, Meet & Greets for new members, and Happy Hours for gym-goers, both with alcohol and snacks provided. At least one New York City Equinox is offering a Valentine's Day lunch. Grace went to several events at her local Equinox. "I brought a friend who wanted to come; she wasn't even part of the gym. There were quite a few people there. I met a guy."
Dan Ilani knows some romantics could use a push. He founded Sweatt to aid gym-goers in meeting like-minded singles. The year-old app uses information like favorite form of exercise, typical diet, and workout frequency to match users. It's helping them meet online and in person with events at fitness boutiques and gyms like Barry's Bootcamp, where two of Sweatt's founders met. Ilani says, "People have developed this love/hate relationship with dating apps because while they are a great platform to connect, they're also filled with people who aren't serious and just aren't good matches." By limiting the dating pool to fitness enthusiasts, Ilani hopes increase the likelihood his users will click.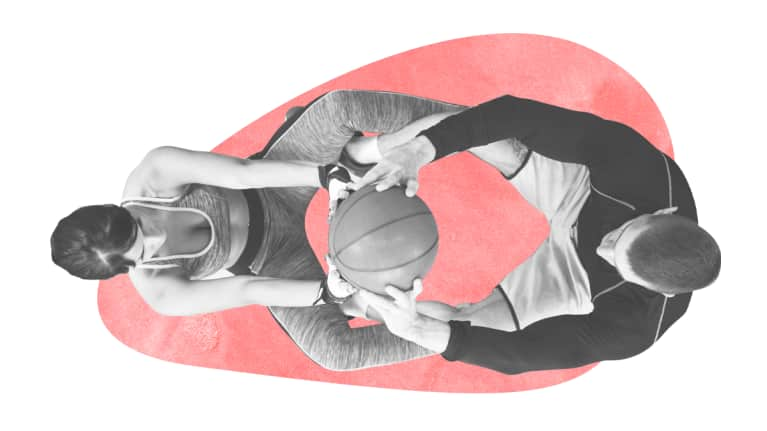 Interested in upping your game at the gym? Take out your earbuds. Headphones out are a big green light, says Grace: "I find that way more people talk to me when I work out without headphones." And if you're a woman interested in men, get out of the Pilates reformer. "I use the boy equipment. I lift weights," says Grace. That's where she makes the most connections. And she dresses for the occasion, in matching sets from Outdoor Voices. Her favorite? A deep shade of oxblood red—a color that gets you noticed. Rachel dresses strategically, too, "Whenever I leave the house I want to feel confident. Do I invest in workout clothes? Definitely! I carry myself a little bit better." Brands like OV, with their minimalist color palettes and cool-girl nonchalance, and Alala, with their sultry sheer paneling, and fashion collaborations like Stella x Adidas make dressing for the gym an exercise in self-expression as well as attraction.
If you're inspired to spark a conversation, use discretion. Not everyone views the gym as a social space, and not everyone without earbuds welcomes attention. Kally, a 30-year-old branding account executive, knows there are attractive men in her twice weekly yoga classes, but she doesn't want to hear from them. "I want some me time," she explains. "Yoga is a very personal practice and I feel like I'm really there to better my mind and come out of a mental fog. Flirting would be the opposite of the goals of my yoga practice." But she acknowledges, "It's probably the one place I might actually meet someone who might be a good fit."
As for Grace, she and her gym crush haven't yet made it past smoldering eye contact and casual hellos. But she's got a plan. "He always works out in the evening so I'll probably go in the evenings more. Is that shameful?" It's not. Wellness is about more than our BMI and resting heart rate. Kally's not about to start chatting up the hot guys in hot yoga, but she admits love is far from antithetical to her wellness goals. "The fitness of my heart needs work, too."