7 Pantry Staples That Moonlight As Beauty Products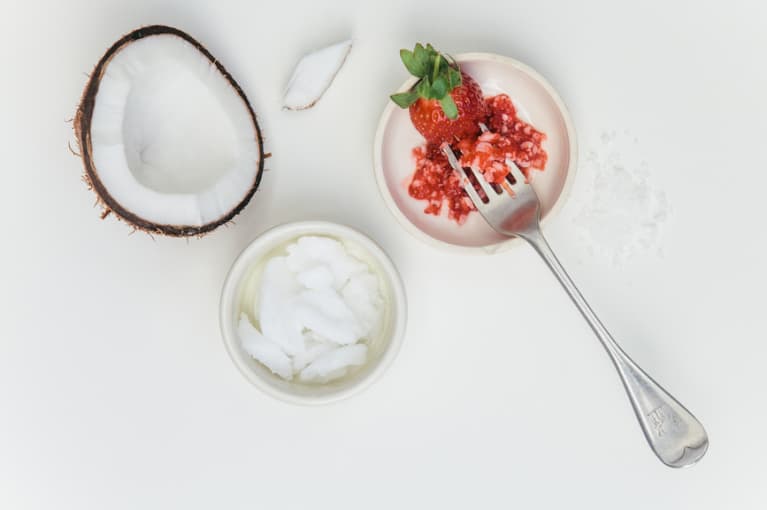 We are product hoarders. It begins with using gels, foams, and shampoos in the shower, and then we move on to slathering our limbs with moisturizers, taming our hair into submission with styling products and using a careful hand to apply makeup. By the time we're done, the average woman has used 12 products with 168 chemical ingredients daily. And these ingredients aren't benign – many contain known carcinogens, and the cumulative exposure to them can put our health at risk.
We spend so much time focusing on what we put on our skin, when in truth the best beauty care regime comes from within. The foods we eat have a greater impact on how we look on the outside than any lotion or potion endorsed by gorgeous celebs in the pages of a magazine ever could.
Here are my favorite seven foods that are awesome for beauty care. These foods are delicious to eat, amazing for keeping our bodies glowing and healthy – and they perform double duty because they can be used externally, too.
Fats are our best beauty care friends. Healthy, nutritious fats are essential to keeping our skin moisturized, supple, hydrated and smooth, and coconut oil is my favorite for eating and applying to the skin. There are so many benefits to consuming and using coconut oil, including:
It keeps our skin moisturized and hydrated
It's anti-microbial, anti-fungal, anti-bacterial and anti-viral, making it great for boosting immunity
It aids with weight loss
It is easily digested and helps with the absorption of vitamins and minerals
It helps heal wounds
It keeps hair healthy and shiny, and can be used topically to address a dry scalp
Coconut oil is easy to find and use. In the kitchen, use it for sautéing anything, spread it on toast, add it to smoothies, baked goods, oatmeal or whole grains. In the bathroom, apply it to your skin as a moisturizer, try it as a makeup remover, use it as a non-toxic personal lube, or combine it with essential oils to make a lovely-scented deodorant.
Yes, I'm giving you permission to eat more chocolate! Raw cacao powder is extremely rich in antioxidants, which are absolutely essential for protecting us from cellular damage caused by free radicals. Antioxidants have anti-aging properties, smooth the skin and help it glow.
Cacao powder is rich in magnesium, a smooth muscle relaxant, and iron, which nourishes our red blood cells, giving our skin a natural radiance and banishing those unwanted bags under our eyes. I love to make a chocolate face mask – a recipe that also serves as a delicious fudge (I recommend making two batches – one for your face and one for your dessert).
And, cacao powder is an amazing self-tanner! If your reflection looks a little pale, try mixing a bit of cacao powder with some coconut oil and blend it into your face or limbs. It gives you that subtle, bronze colour - you'll be surprised at how natural it looks.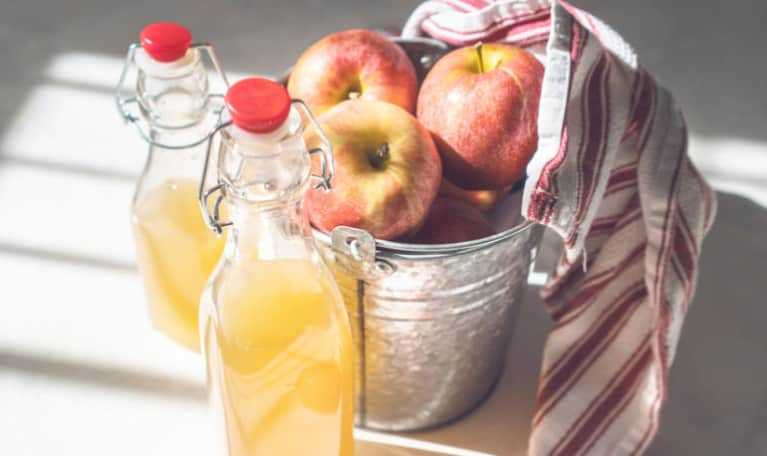 Apple cider vinegar is an alkalizing, fermented food that helps cleanse the liver and stimulates digestion by boosting stomach acid. Why is this important? An often overlooked element of beauty care is good digestion – it's impossible to look good on the outside if we are bunged up with toxins on the inside. Our skin is our largest organ and when we're constipated, those wastes are diverted to other systems – and eventually, our skin bears the brunt. Pooping regularly helps to eliminate wastes effectively, so we can start looking out best. Try adding a tablespoon of apple cider vinegar to 1 cup of water in the morning and before meals and see what happens!
Apple cider vinegar has anti-bacterial and anti-fungal properties as well, so it can be used as an astringent. Combine 1 part apple cider vinegar to 10 parts water and stash in your bathroom to use on your skin, just as you would a store-bought astringent. An economical bonus!
Hemps seeds are rich in omega-3 fatty acids – these are different from the nutritious saturated fats found in coconut oil. Omega-3s are highly anti-inflammatory, so they work to reduce inflammation throughout the body on the inside and on the outside.
Omega-3s can help with inflammatory skin conditions such as acne, psoriasis, eczema and dermatitis, and they can even help protect us against skin cancer.
Hemp seeds are buttery and nutty, and they blend well into smoothies or can be sprinkled atop salads, non-dairy yogurt, granola, dips, or soups. If you're not a fan of hemp seeds, omega 3s can be found in a wide variety of foods, including walnuts, almonds, flax, chia, eggs, leafy greens, salmon, sardines and halibut. Pick your favorites and have at 'em!
Berries contain a wealth of antioxidants and digestive-supportive fibre, but I love them for beauty care because of their payload of Vitamin C. Vitamin C is essential to the production of collagen, which is the elastic tissue in our skin. More collagen in your skin means fewer wrinkles – so loading up on berries will keep your skin strong and smooth.
Other Vitamin C-rich foods are red bell peppers, greens, parsley, citrus fruits and broccoli.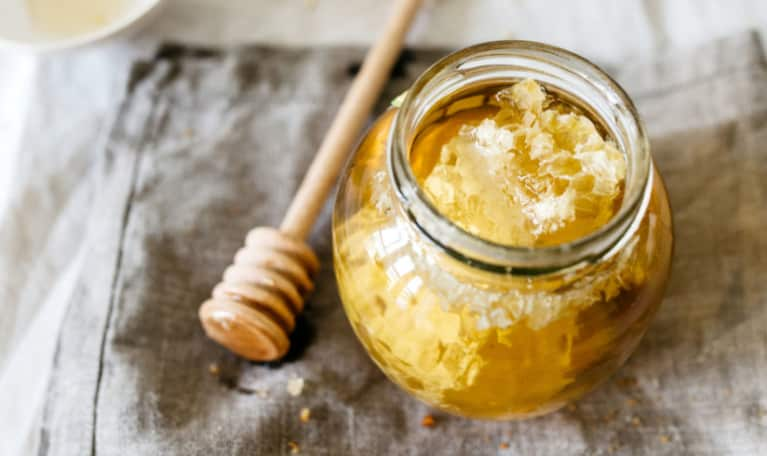 Raw honey contains a spectrum of enzymes that improve digestion, B vitamins to help us reduce stress, and protein to improve skin, hair and nails, plus it has anti-microbial and anti-viral properties. Raw honey helps to moisturize and soften the skin, and it's exceptional at healing wounds, burns and scars when used topically.
If you ever get a burn while cooking in the kitchen (this happens to me often, so you're not alone), dab on some raw honey and a pinch of cayenne right away. The pain will reside and it will help your skin heal faster.
Brazils are a potent source of selenium, a mineral that protects our skin from free radical damage and dryness. It helps our bodies produce glutathione, and super-antioxidant, which neutralizes the free radicals that can lead to the destruction of our skin's collagen and elastin. It's also amazing for the health of our hair and nails.
You can also find selenium in mushrooms, beans and gluten-free whole grains, so eat up.
Incorporating these foods into your beauty care regime can have an enormous impact on the way you look, and also on the way you feel. And when we feel great, that's when our true beauty can shine on out.