Sometimes Pregnancy Really Sucks. Here's How To Navigate It With Grace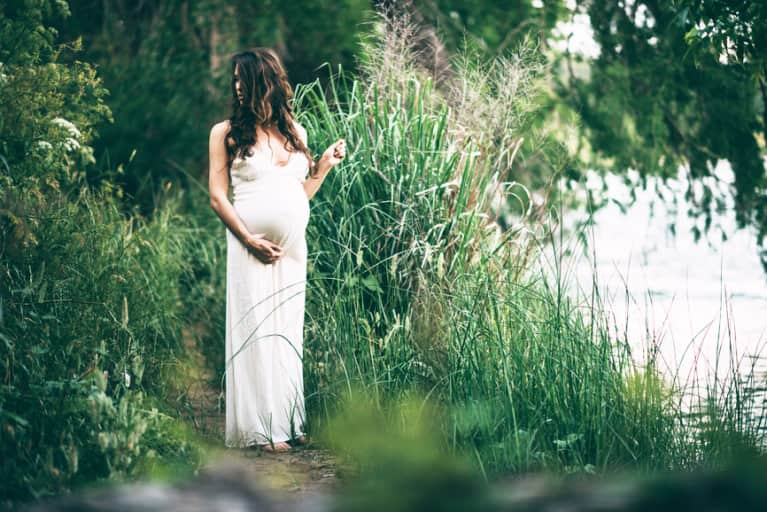 After nine years together, seven of them married, my husband and I decided it was time to expand our tribe. We started trying in July, and just three months later I was pregnant.
I didn't expect it to happen so fast, but I was thrilled. All of the initial endorphins started flowing right in—I was going to have a baby! I soon found out that once you realize you're having a baby, everyone around you is an expert. But here's the thing no one tells you: Sometimes pregnancy sucks.
Now, don't get me wrong; the opportunity to give birth is one of the greatest blessings in life, and I am so incredibly grateful to be here. But pregnancy is not all glamorous, it's not pretty, and it's absolutely not what I expected.
The aspect of pregnancy I wasn't prepared for was the real, everyday struggle with my emotions.
You hear the typical warning signs: Your body will change, your hormones will rage, you will be exhausted all of the time, and oh yeah, there's actually a laundry list of things you cannot eat, drink, or do. (God bless my sweet grandma who had seven boys in 10 years.) The aspect of pregnancy I wasn't prepared for was the real, everyday struggle with my emotions.
My nights are full of crazy dreams and bathroom breaks that leave me feeling like I didn't sleep at all. I've started to cry all of the time, and not just over feel-good things. I have never been one to scroll through my news feed feeling depressed that my life doesn't look like everyone else's, until now. And the worst thing, which I feel incredibly guilty about, is that I don't feel connected to the child inside of me.
The problem is that society doesn't like to talk about this not-so-pretty side of things. It's frowned upon to say you're not enjoying your pregnancy, or even worse, that you don't feel attuned to your baby. But these feelings are real and they're exactly why we end up feeling alone when life hands us spoiled lemons and everyone else's always seem to be perfectly ripe. We live in a world where this glorified expectation of perfection constantly stares us in the face. Heck, we don't even have to get out of bed before it starts. There's no room to feel, no room to be who you are without thinking you're not good enough.
I knew I couldn't stay in this place of sadness and loneliness forever, so I asked someone I consider a mentor for advice. "Dig down deep into your soul and search for all of the strength and the courage you have left, because you are not alone," she said. She was right; I am not alone. You are not alone. And if you're feeling the same way I was, and still am to an extent, this is my advice to you:
I pushed through my fears and I bared my soul in an honest article on my blog and learned, through the overwhelming support that followed, that I am not alone. Women from around the world came out and shared their experiences with me. Their stories were very similar to mine—the good, the bad, and the really ugly. The power of sisterhood went raging through the internet and all the compassion and support I had always hoped to give by helping other women was now helping me.
Through sharing my story, I realized it was OK for me to be weak. It was OK for me to be vulnerable. It was OK for me to be less than. It is OK because there are amazing women out there waiting to lift me back up. These women reminded me that the struggle will be worth the outcome and that everything I had been feeling was normal. Most importantly, they reminded me that I am strong enough to push through this short-lived struggle.
Life is always going to happen, and what matters is how you react. There will always be something throwing you off course, something ripping you from the driver's seat, but you hold the power to bounce back and overcome.