5 Cozy Pairs Of Socks You'll Want To Wear To Every Single Yoga Class
mbg Contributor
By Leigh Weingus
mbg Contributor
Leigh Weingus is a New York City based freelance journalist writing about health, wellness, feminism, entertainment, personal finance, and more. She received her bachelor's in English and Communication from the University of California, Davis.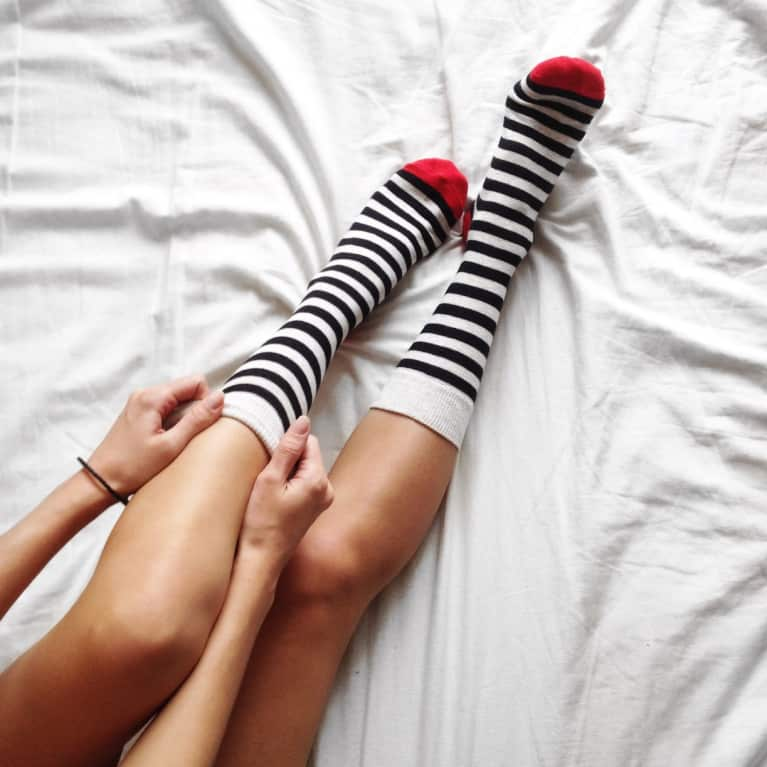 Nothing brightens up a frigid, dark winter day quite like a pair of cozy socks.
A lot of factors go into the perfect pair of winter socks, and we prioritize socks that are supportive and soft to the touch. They need to slip easily into our boots and keep us warm, cozy, and stylish on the yoga mat.
Here are five pairs of socks you'll want to wear all winter long.
Be Strong Marbled Grip Socks
While grippy socks are most commonly used in barre classes, the Be Strong Marbled Grip Socks will also fit cozily into boots and sneakers. And if you can count on any socks to not slip straight off your yoga mat, it's these ones.
Want socks that spark joy? These stripes will do the trick. They're the perfect pop of color with your minimalist, all-black yoga wardrobe. The Happy Socks Stripe Sock is made of combed cotton that's soft, tight-fitting, and comfortable.
Target Women's Plaid Cozy Socks
From their festive look to their comfy feel, these Women's Plaid Cozy Socks are the ideal winter sock. Whether you're wearing them on Christmas morning or during a restorative yoga class, it's hard to go wrong.
J. Crew Authentic Camp Socks
These soft, hand-knit socks will keep your feet warm, and their distinct vintage look make them fun to show off. The J. Crew Authentic Camp Socks are the ultimate Savasana socks, because who wants cold feet while they're trying to relax?!
While Bombas ankle socks are perfect for summer runs, Bombas Women's Calf Socks are ideal for cold mornings when you need something warm to slip your feet into before yoga. Complete with a honeycomb arch support system and a tab that prevents blisters, these socks are as comfortable (and as colorful) as it gets.