How To Generate Inner Heat When It's Freezing Outside
Written by
Leigh Weingus
Leigh Weingus is a New York City based freelance journalist writing about health, wellness, feminism, entertainment, personal finance, and more. She received her bachelor's in English and Communication from the University of California, Davis.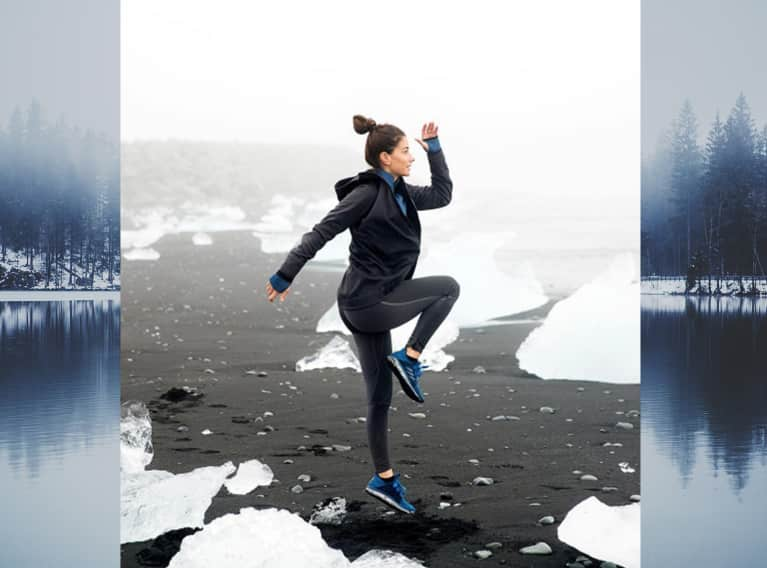 Winter officially has us in its freezing cold claws, making simple tasks like running to the grocery store grueling without hats, gloves, scarves, puffy coats, hand warmers ... you get the picture. While we empathize with the urge to curl up in front of your heater and hibernate there until the spring blossoms arrive, there are very simple ways to generate heat in the body when mother nature is dumping snow on the ground.
As with many things in life, yoga is here to save the day. We consulted three of our favorite yogis—Mike Taylor, Heather Lillseton, and Chloe Kernaghan—to get advice on how to generate inner heat when the weather is freezing.
Here's what they had to say.
If you have even a small amount of space and some stretchy pants (yes, pajamas count), there are a few poses that will generate heat more quickly than others. Chloe recommends cat/cow. "The undulation of the spine and use of faster inhales and exhales starts to really build and move heat around," she explains. "Then, I'll move on to a few sun salutations to further open and warm the body."
If you're feeling more ambitious, use this opportunity to practice your inversions. "A good few moments of donkey kicks or handstands with or without the wall, on repeat, for about a minute is also a heat builder and can help reset the mind if you are overwhelmed or overthinking," Heather notes.
Yes, we do understand that some might find it odd if you suddenly dropped to your hands and knees to do yoga in the middle of the sidewalk or even your office. Luckily, utilizing breathing techniques is another great way help heat move through the body quickly.
Heather suggests kapalabhati kriya, a cleansing practice that builds heat in the body, refreshes the lungs, and clears the mind. "Short, sharp exhalations through the nose on repeat. The inhale is passive," she says. "It is not hyperventilating! Stay focused on the exhale."
Chloe also uses kapalabhati breath when temperatures drop. "You can take different arm variations (arms raised up in a v-shape, eagle wrapped arms, cow-face arms, etc), which can help with circulation and jump-start the body to produce heat," she notes.
A breathing exercise to try right now.
"There's a wonderful practice for winter warmup called breath-body connection," says Mike. "It's central to releasing energy-draining tension from both our bodies and minds, healing what needs healing, and warming what needs warming."
He suggests softening your body enough so that it's movable before taking in a long, unhurried breath. "Allow this breath to give your whole body a lift and some extra energy," he says. "Hold for a moment at the top, and then let an even longer exhale soften through every part of you, making it just a bit easier to be where you are."
"This one has worked for me every step of the way in high-altitude mountaineering," he adds. "Whether you're navigating on snow and ice or winding your way through a windy city, give it some practice and see what you find!"
Good luck!