My 35-Pound Weight-Loss Journey Had Absolutely Nothing To Do With Calories
mbg Contributor
By April Workman
mbg Contributor
April Workman is a holistic nutritionist and received her B.S. in Biochemistry from St. Edward's University.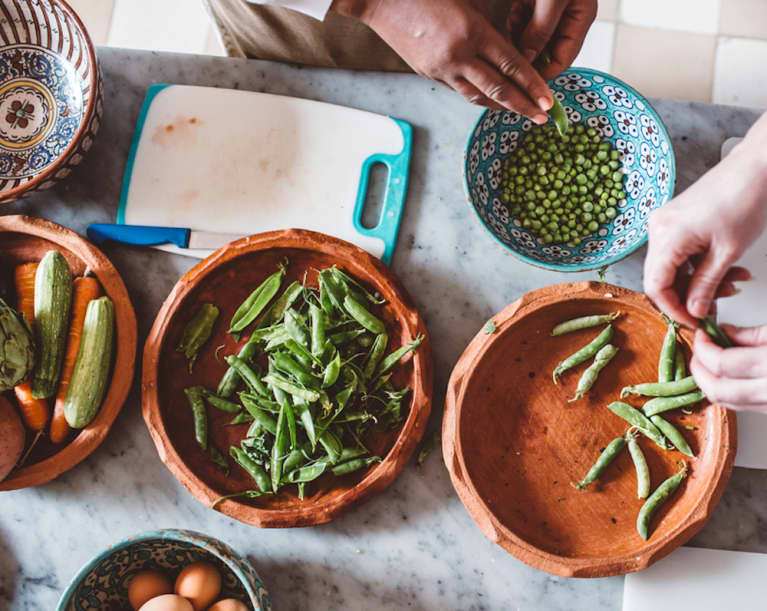 When I was diagnosed with ulcerative colitis in 2013, I was close to 180 pounds; at 5 feet 6 inches, my body was severely inflamed. After the diagnosis I was quickly prescribed a list of eight medications that included steroids, suppositories, enemas, antibiotics, and anti-inflammatory drugs.
Despite all the drugs, I continued to get worse, and finally I asked my doctor if changing my diet would help or if it would be beneficial to get a food-sensitivity panel. His response was "By the time the food reaches the lower part of your colon, it has already been digested, so what you eat doesn't matter." I was also told that this was a lifelong disease only to be regulated by medication—and that was not an answer that set well with me.
Never take "no" for an answer when it comes to your health.
After seeing a few members of my family follow a holistic healing approach for their ailments, I knew there was more to food and healing than what my doctor had led me to believe. I decided to go on an elimination diet, in hopes that my constant stomach spasms, unpredictability, and urgent trips to the bathroom would stop. I felt like everything I ate was a land mine and I was always nervously searching for the nearest restroom. I never knew whether or not I would make it to work—and I lived only 6 miles away.
My experience with the elimination diet
At the time, I didn't even know how to hard-boil an egg, so the thought of cooking at home for an elimination diet completely terrified me. But having an accident in my pants in public scared me just a little bit more, so I went for it—I eliminated wheat, gluten, dairy (plain yogurt only), sugar, alcohol, fruit (to regulate candida), nuts, seeds, legumes, and grains.
What's left, you ask? A wide array of vegetables, meat, fish, eggs, seafood, and healthy fats like coconut oil and olive oil. My breakfast began with eggs, avocado, and salsa, followed by celery sticks or cucumber slices for snacks. For lunch I had hard-boiled eggs, plain yogurt, and I would add stevia and lemon juice or herbs to make a dip. Dinners were simple and either a repeat of breakfast or fish/chicken/turkey with sautéed zucchini, squash, or green vegetables.
I started feeling better immediately and felt lighter every single day.
Within the first few days of my elimination diet I felt a positive change. I wasn't having to run to the bathroom, and a few bites didn't cause my stomach to turn. And while it was hard to stick to, I credit my fiancé with helping support me and keep me on track when I desperately wanted to eat something off the plan. He would say, "It's not worth it. You've come so far."
Every single day I felt a little lighter, and within four months of staying dedicated to my plan I had lost 35 pounds of fat and inflammation. It was like it all just melted away pound by pound—it felt totally effortless.
My sugar cravings lingered, but eventually I discovered the power of real food.
I lost my cravings for sugary foods in about two weeks, and I started to crave water instead. Through this massive lifestyle change I learned how to cook, discovered the amazing power of real food, felt my body healing from within, and ultimately learned how to regulate my autoimmune disease and achieve freedom without medication…something my doctor didn't even think was possible.
Elimination diets are extremely beneficial when you reach a health crisis, and I was able to lose 35 pounds in just a few months. I would never have had the same success by counting calories. This way of eating can be taxing in its own way—we have so many emotional ties to food and it's hard to really dive in unless you have support and motivation—but in the end, I promise it's absolutely worth it.