How Writing Helped Me Overcome The Trauma Of A Miscarriage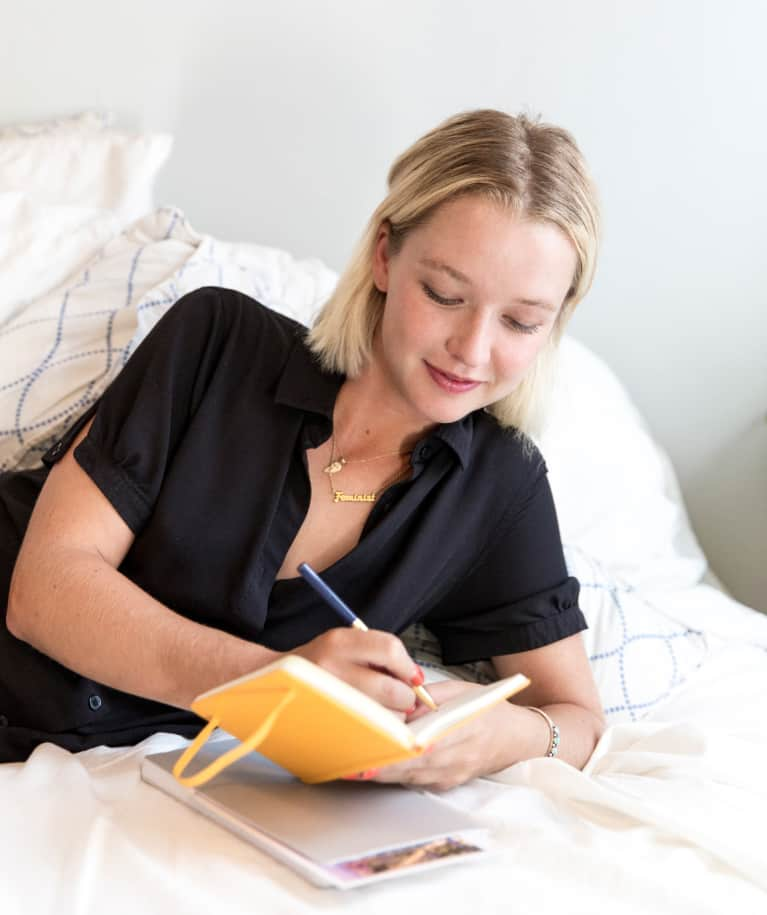 I originally saw writing as a welcome distraction from the stuffy history of art I was studying at university. I never dreamed it would help me heal from one of the most traumatic times of my life.
Before I knew it, I was writing about Amy—the baby I had given birth to 14 years earlier. Amy, whose heart did not beat outside of my womb, whose eyes did not open, whose legs stopped kicking. Big fat tears fell as I wrote. Reflecting on my miscarriage hurt like hell, and opening the musky-smelling bag of baby clothes I had kept gave me a distinctly painful physical sensation. I felt like an elephant's foot was on my chest. My throat was a snake that had swallowed something too big.
I hadn't expected the immense healing that came through the process of telling my story. Writing about the pain I had been trying to avoid over the years somehow helped distance me from it.
Here is the process that allowed me to write my way toward emotional recovery.
Allow all lingering emotions to surface.
Don't hold back or worry about grammar or whether it makes sense at this stage. Just write the words, thoughts, memories, and images that arise. You can scribble, draw, swear, and rage on the page. You can cry, shout, scream, and punch pillows. (I even broke my son's lightsaber at one point during this exercise.) Take big, deep breaths. Journal how you feel, reminding yourself that it was in the past and is not happening now.
Once you're done, read over your story. Read it aloud. Record yourself.
Note the words, phrases, and memories that seem most poignant, jotting these down on a separate piece of paper. Finally, think about if you have old photographs or items you associate with the event you're writing about. Looking at them can feel like the last thing you want to do. However, facing up to any physical objects you have is important—it reminds you to accept that the event did indeed happen. Surrounding yourself with any of the photographs or physical relics you may have, start writing out your story.
Turn your past into a narrative story.
Think about where you want your story to start and to finish. Consider its structure. Do you want to have the action at the start of the story then work your way back? Or do you want to create a rise in tension? How old are you when you are telling this story? Are you a child?
Use your sense to deepen the narrative, describing what you saw, tasted, touched, smelled, and heard. Using any memories of what was said and to whom, write out some dialogue. Sometimes, it can feel too overwhelming to call up moments like this. If that happens, be kind to yourself and take a break.
Once you're done, read over your story. Read it aloud. Record yourself.
Finally, consider whether your story could help others. Put it on a blog, send it to a creative writing website, or submit it to a magazine. Sharing your story and hearing others' responses to it can be very healing. And putting it out in the world may even help others realize that they are not alone.
In writing about trauma, our reality doesn't change. My daughter still died, and what happened in your life still happened. However, our perception of ourselves can change once we put a pen to paper. We realize our own courage and bravery in surviving a time of adversity. This knowledge alone is powerfully transformative.
Keep reading: