Healthy Comfort Food: Moroccan-Spiced Sweet Potato Soup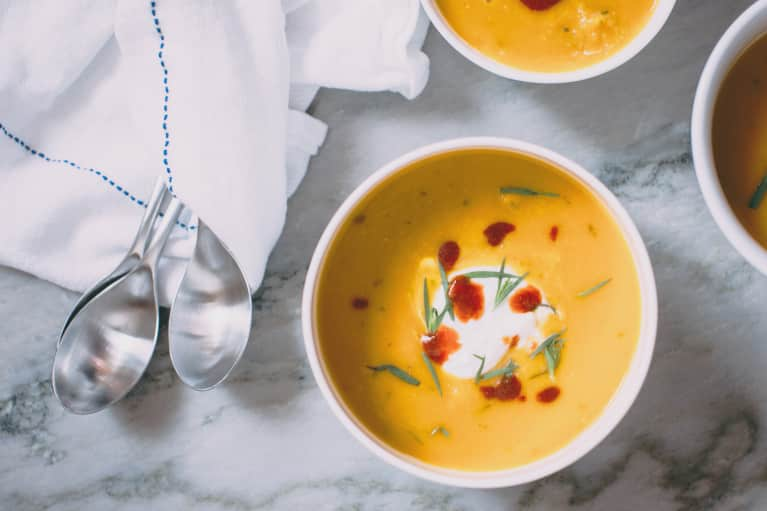 It's winter, and that means it's officially soup time! This sweet potato soup is lusciously creamy, sweet, rich, and filling without any icky ingredients.
The Moroccan spices also add warmth and depth to the soup, and the ginger packs some heat. And, for a finishing touch, the sweet and spicy pumpkin seeds add the perfect touch of crunch. It's the perfect bowl of comfort food!
Ras el hanout, the main spice in the soup, is a Moroccan spice mix. It literally translates into "head of the shop." Traditionally, it's a spice blend made by the owner of each spice shop with their favorite spices.
The blend I use contains cumin, coriander, paprika, turmeric, cinnamon, cardamom, caraway, ginger, fennel, anise, nutmeg, clove, black pepper, chili, mace, and star anise. If you can't find ras el hanout, you can make your own spice mix with a variety of the above ingredients (don't worry, it doesn't have to be all of them!).
Moroccan Spiced Sweet Potato Soup With Sweet + Spicy Pumpkin Seeds
6 servings
Ingredients for the soup
1 tablespoon coconut oil
1 yellow onion, diced
1-inch piece of ginger, minced
2 teaspoons ras el hanout spice mix
¼ teaspoon cinnamon
4 medium-size sweet potatoes, large dice with skins on
1 can full-fat coconut milk
2 cups water, more as needed
Salt to taste
Ingredients for the pumpkin seeds
½ cup raw pepitas or pumpkin seeds
1 tablespoon maple syrup
¼ teaspoon ras el hanout
pinch of cayenne pepper
pinch of black pepper
generous pinch of salt
Preparation
1. Heat oil in pot. Add onion with a pinch of salt and saute for 5 minutes, until translucent.
2. Add ginger, ras el hanout, and cinnamon and cook for an additional 2 minutes. Add sweet potatoes, coconut milk, and enough water to just cover the sweet potatoes. Add another pinch of salt.
3. Bring to a boil, then lower heat to a simmer. Cook for about 20 minutes, until sweet potatoes are tender.
4. Blend the soup and adjust seasoning.
5. For the spiced pumpkin seeds: Preheat oven to 325°F. Mix all ingredients in a bowl. Taste and adjust seasoning if desired.
6. Place on a baking sheet and cook for 7 minutes, until pumpkin seeds are toasted. Sprinkle of top of soup.