Your Festive Menu Won't Be Complete Without These Almond Flour + Cacao Snow Balls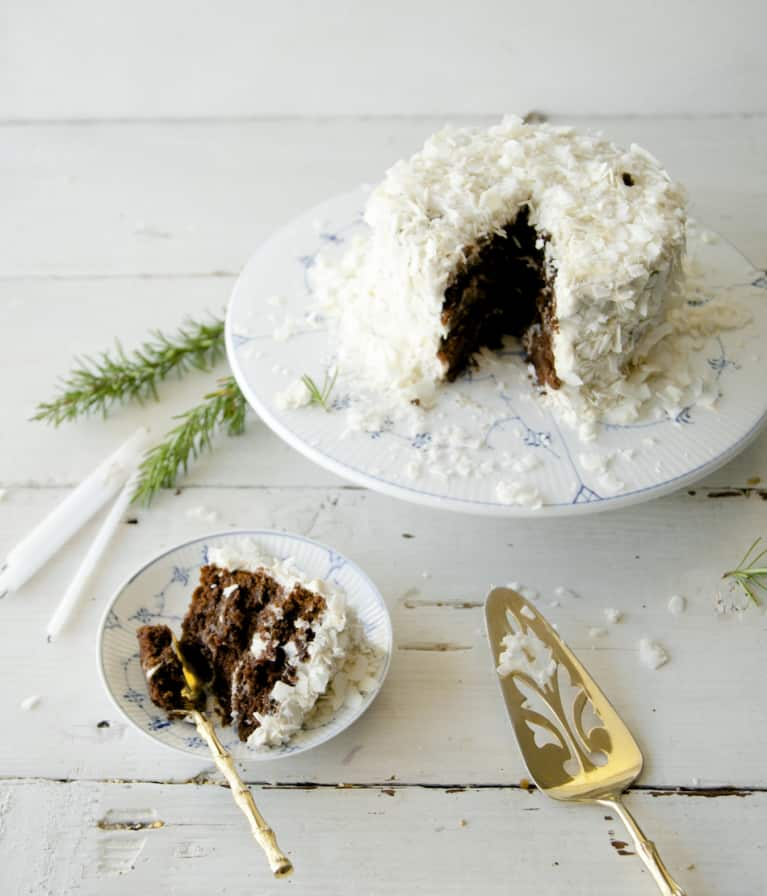 Laurel Gallucci is the baker behind L.A.'s Sweet Laurel Bakery, where she creates whole-food-based treats that are often gluten- and refined sugar–free. This season she's sharing some healthy holiday treats that look good enough to gift.
2 1/2 cups almond flour
1/4 cup cacao
1 teaspoon baking soda
1/2 teaspoon Himalayan pink salt
2 eggs
3/4 cup maple syrup
1 tablespoon vanilla extract
Ingredients for the frosting
4 cups cashews
1 cup water
1/4 cup coconut oil
1/4 cup maple syrup
1 tablespoon pure vanilla extract
1/4 teaspoon sea salt
Preparation
1. Preheat oven to 350°F. Grease one 8-9 inch pan or two 6 inch pans with coconut oil.
2. Mix almond flour, cocoa, baking soda, and salt in a bowl. Add eggs, maple syrup, and vanilla. Stir until batter forms. Pour into prepared pans.
3. Bake for 25 minutes. Remove from oven and allow to cool completely before frosting.
4. For the icing: Blend all ingredients in Vitamix or high-speed blender until smooth and creamy. Refrigerate until use.
5. To finish: Place one cake round on a cake plate. Cover with frosting. Repeat with next layer (if you chose to make a two-layer cake). Smooth frosting all over cake, covering tops and sides. Top cake with coconut flakes. Enjoy!