Standing Rock Rejoices As Feds Block Drilling Of The Dakota Access Pipeline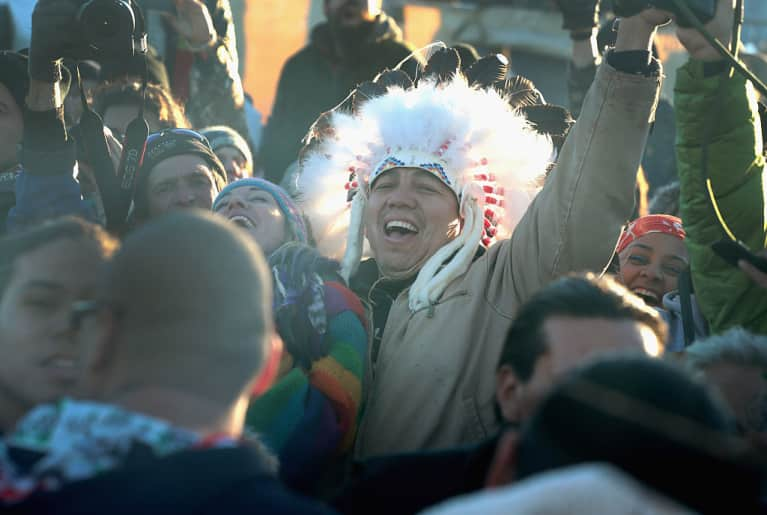 December 5, 2016 — 14:53 PM
On Sunday, the Standing Rock Sioux tribe along with thousands of supporting protesters, including roughly 2,000 U.S. military veterans celebrated a hard-won victory in their battle to block the Dakota Access pipeline from being drilled near their reservation. Crowds erupted as news reached the camps that the Department of the Army would not permit the $3.7 billion pipeline to be drilled under a section of the Missouri River called Lake Oahe near the Standing Rock Sioux reservation. In a statement, Jo-Ellen Darcy, the Army's assistant secretary for civil works, said, "The best way to complete that work responsibly and expeditiously is to explore alternate routes for the pipeline crossing."
Protesters objected to the pipeline's path through privately owned property and ancestral lands fearing that its proximity to the river could jeopardize their water supply. Any spill, they say, would pose a significant risk to the tribe and the 17 million more who rely on that source for their drinking water. The tribe argued in court that it had not been adequately consulted about the pipeline, nor had the consequences of its path been fully investigated. Darcy admitted that some information related to the plans, including studies about the risk of a spill, had been purposely withheld from the tribe. Public attention has fixed on the scene, with activists, celebrities, and politicians weighing in on the conflict, as images of protesters being sprayed with tear gas and freezing water flooded social media.
While Darcy's statement signals hope for the tribe, it's unclear what the final outcome of the pursuit of a new path will be. While President Obama has supported rerouting the pipeline, President-elect Trump, who owns stock in Energy Transfer Partners, the company building the pipeline, says he supports finishing the plans. The review could take months to years to complete.
The brutal North Dakota winter has plagued protesters, who have camped in tents, yurts, and teepees. While the Corps of Engineers had ordered the camps to close, crowds refused to leave despite grueling conditions. Standing Rock Sioux tribal Chairman David Archambault II told supporters, "It's time now that we move forward. We don't have to stand and endure this hard winter. We can spend the winter with our families." It's unclear whether protesters will disband or hold their ground as the Army conducts their investigation into new options for the pipeline's route. Kandi Mossett of the Indigenous Environmental Network, told the Los Angeles Times, "This is a victory. But we must remain vigilant."