The Simple Way I Lost 160 Pounds (And Kept It Off)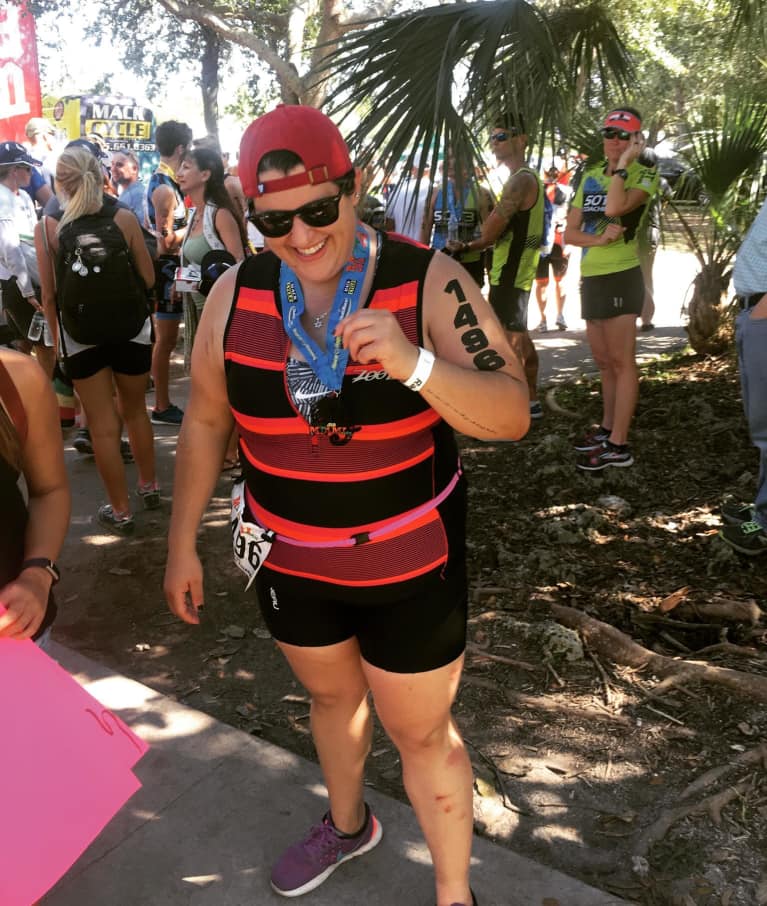 I remember when I started training for my triathlon someone told me, "It's supposed to be hard; the hard is what makes it great."
Looking back, I could have never ever imagine that something so difficult would feel so incredibly rewarding. This mantra has also become a theme for my life overall and not just for the triathlon I ran. I look at the difficult and hard moments and challenges, and I find inspiration and motivation in them. It is that motivation that has driven me past any expectations I have ever had for myself and created the person I am today.
My journey began about 26 months and 160 pounds ago. I still remember stepping on the scale and watching the numbers flutter and finally land on a very scary 350. In September 2014, at age 24, I weighed 350 pounds. I still remember seeing my doctor following some blood tests he had strongly encouraged me to have done. The results had come back, and he told me very frankly that I would not make it to 30. The tests showed that I was clearly pre-diabetic, had an enlarged liver, thyroid abnormalities, and severe asthma in addition to the presence of sleep apnea, which for about eight years of my life prevented me from sleeping more than four hours a night.
At that time, the only option I was presented with was the gastric sleeve surgery, which involves the surgical removal of half of my stomach and an intensive six- to eight-month recovery process. I had struggled with my weight my entire life, so I didn't know or understand the first thing about dieting or even eating healthy for that matter.
Both my doctor and surgeon would later strongly emphasize to me that there was a 99 percent chance that I would never lose the weight on my own, and this was the best and only option to ensure some sort of improvement to my deteriorating health and poor quality of life. It's scary, at 24 years old, to feel completely helpless and to have allowed myself to get so sick.
The pre-surgical process was grueling. It entailed several months of extensive tests, going from one doctor to the next, and continuously receiving the same grim prognosis: I was morbidly obese, and this was the only thing that could save me. I was scheduled to have my surgery done on January 26; however, the Friday before, my uncle tragically passed away.
This personal loss changed the course of my life for the better.
In some weird way, I saw it as a sign that this surgery was not meant to be and was not the right thing for me. My surgery was cancelled indefinitely, and I began significantly changing my lifestyle and immersed myself in healthy habits by overhauling my diet and intensifying my fitness regimen. I completely quit smoking (I had been smoking for six years!), which was probably the hardest thing for me to do.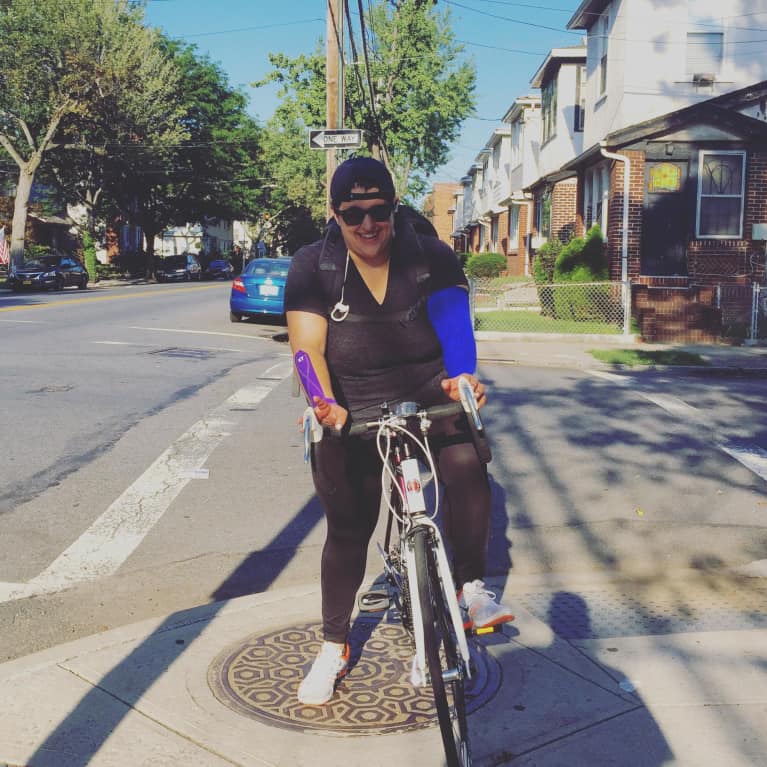 For the first time in my life, I recognized that health, wellness, and happiness came from positive choices I'd made in my life. By April 2015, I had lost approximately 75 pounds, without any surgery or outside assistance. Pure determination and a drive to live a long and healthy life were my motivation to continue even when I felt frustrated or wanted to give up. That's when I found the group fitness community. I met some unbelievable instructors who not only shaped me personally and athletically but to this day remain some of my most important friends and motivators. They helped me find confidence in myself and saw something in me that I didn't even know was there. Most importantly, they directly influenced the creation of the foundation that has supported my journey over these past few months. When I find the desire to quit creeping up, I always fall back on that foundation and allow its incredible influence on my life to guide me in making positive choices.
Fast-forward about 12 months and an additional 80 pounds: A friend's mother had mentioned an Olympic distance triathlon to me. Without even thinking twice, I signed up. I think the panic set in a week or so after I signed up, but I found it so incredible that every single person I spoke to seemed to have this incredible amount of faith in me and truly believed that I would run this race and finish strong.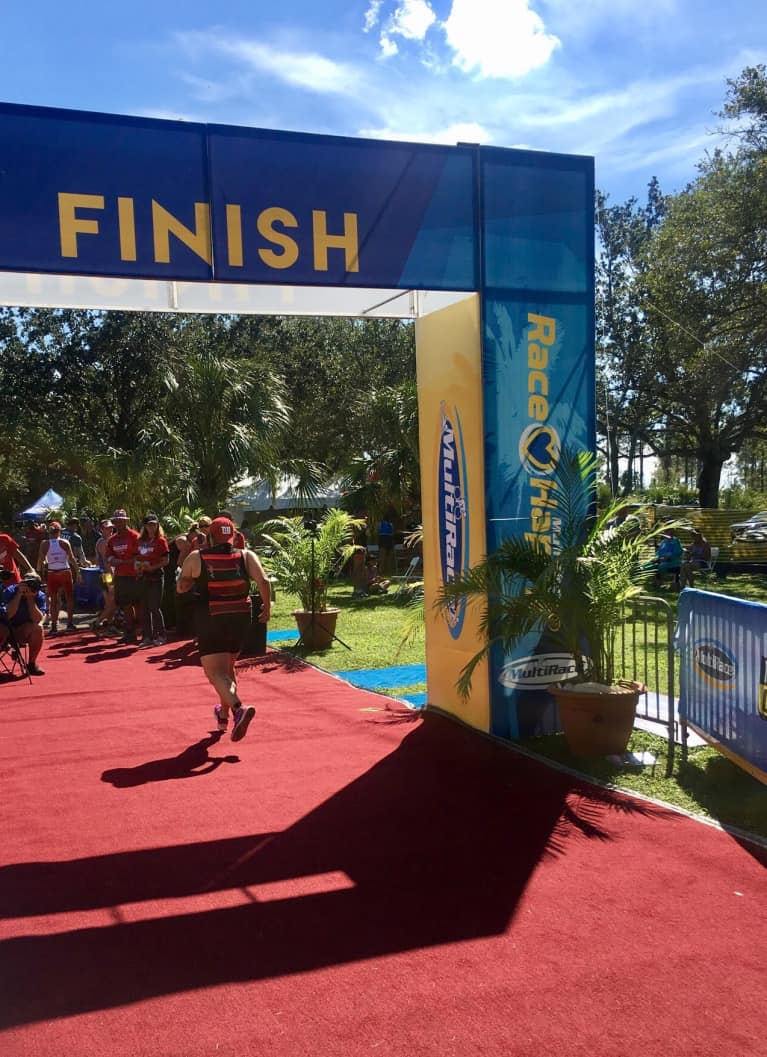 The months leading up to the race were probably some of the most emotionally and physically draining. Intense training sessions, long runs in the early morning, intense conditioning workouts (including many hours on the rower or a spin bike), and grueling late-night swims all became my new normal. There were many moments when I felt so physically exhausted that I just did not think it was possible for me to run this race. The crazy thing about the human body is that it is so much stronger than you think it is. Your mind will constantly try to quit well before your body will, so finding balance both nutritionally and emotionally is critical during the training period.
The days leading up to the race were the most fun, in my opinion. Everyone around me showered me with support, hugs, well wishes. I felt like a rock star, and, honestly. all that love went a long way when things got tough during the race, so I appreciated every single kind word. When it got difficult and when it felt too hard, I remembered every single person who supported me and thought of all the people who look to me for some sort of inspiration, and I pushed harder, ran faster, and finished strong. The greatest feeling of all was not just crossing the finish line but the anticipation of doing it again.
Looking back, people ask me how I felt during the race, and the only way to describe it is pure happiness and completely grateful. Two years ago I couldn't walk up a flight of stairs, but at that moment I was running a race only the strongest athletes chose to endure. How lucky am I to have had this incredible second chance at life? It's a question I haven't been able to answer yet, so I hope that at the very least my journey toward health and balance will be an inspiration for those who think it is not possible—because I am proof that it is.