The Wintry European Vacation That's Begging For A Spot On Your Bucket List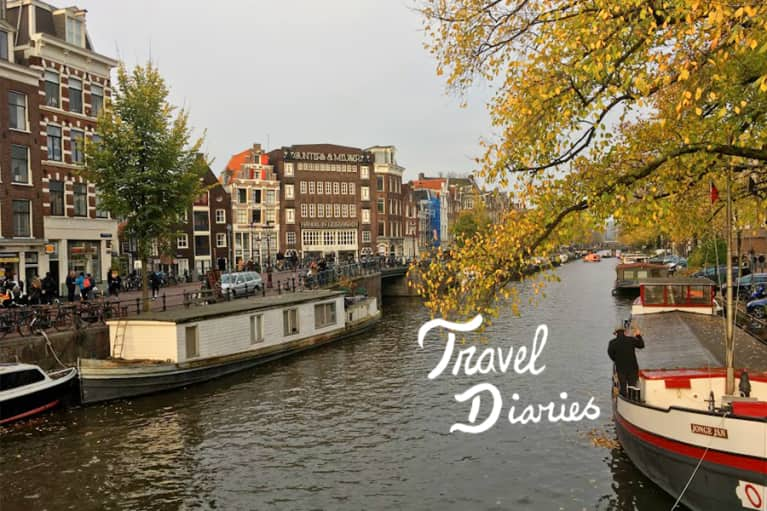 Just because the warm weather has faded doesn't mean your wanderlust needs to. To kick off the winter, our Travel Diaries series is highlighting the places our contributors are heading to for some R&R this season. This week, we're tagging along with wellness writer Andrea Bartz on her Amsterdam escape.
Before I visited Amsterdam, my image of the Dutch city involved tall, good-looking people biking over cool bridges on adorable fixed-gear bikes, wearing wooden clogs and carrying bouquets of tulips in their bikes' baskets. I finally made it out there this November, and I was only sort of wrong; the wooden clogs were noticeably absent, and November's certainly not tulip season, but otherwise, the rumors are basically true.
I visited the city for a long weekend, meeting up with a friend who's based in France. I left wishing I'd had a few more days there—we managed to cover the downtown area, but I heard rumors of beautiful hidden gems tucked just outside the city center (and sometimes accessible only by ferry).
I loved everything about Amsterdam: The windy, Gothic streets; the canals lined with gold-leafed trees; the tall, friendly, helpful (and did I mention tall?) locals bustling by on foot or bikes; and all the cozy, inviting shops, restaurants, and bars welcoming people in from the cold.
The wind and chilly temps were a bit off-putting, since I didn't bring a full-on down jacket (I failed to take into account that the Netherlands are pretty dang northern, duh!), but with some warm accessories and a good attitude, you can totally enjoy a visit to Amsterdam even outside of its sunny spring and summer tourism season.
1. Snap up amazing finds from Dutch designers.
I don't consider myself a huge shopper, but the shops lining Amsterdam's picturesque downtown are so cool. They have tons of home goods and chic clothes, all at reasonable prices. I picked up cool glassware for 8 euros, a pretty velvet dress for 40 euros, and an organic soy wax and essential-oil candle for 16. When I marveled at the abundance of bargains to a taxi driver, he explained that culturally, the Dutch are super practical and down-to-earth—not very interested in luxury labels and pricey designers.
To score some deals yourself, wander the main arteries of De 9 Straatjes (The 9 Streets), taking care to stop in The New Label Project for cool clothes, accessories, and knickknacks from local designers. Another must: Check out X Bank, a massive space that's part gallery, part store, tucked inside the W Amsterdam. The chic space, which opened earlier this year, houses art, fashion, and decor from 180 designers, 95 percent of whom are Dutch, and most of whom don't have stores (or even space in stores) elsewhere.
2. Explore Amsterdam by boat.
A trip through the canals on a boat that looks like the seafaring version of a hop-on-hop-off bus sounds corny, but enough in-the-know friends recommended it that we dutifully booked a one-hour tour. We learned a ton about the city's architecture and history and got a totally new perspective on the beautiful canal houses and Dutch architecture from inside our toasty-warm ferry. You'll see stands shilling boat tours all over downtown; my impression is that they're all pretty similar. Expect to pay about 15 euros.
Amsterdam is home to loads of great museums and cultural sites, including the Anne Frank house, the glorious Rijksmuseum packed with Dutch masterpieces (don't miss the weird dollhouse room!), the National Maritime Museum, and the hip EYE Film Museum. Wandering around downtown, you'll also notice cute little shop-museum combos featuring info and goods: We passed a cheese museum, a tulip museum, a Buddha museum, and a Delftware (that's the painted blue china) museum, too.
4. Dork out with a cheesy photo shoot.
Near the main train station, we spotted a teeny little storefront plastered with images of regular old tourists starring in their own versions of classic Dutch paintings (Girl with the Pearl Earring, The Milkmaid, et al). The name: MUSEUMFOTO. Now, I'm not normally one to pony up for one of those take-a-photo-in-old-timey-garb setups, but this one looked like too much fun! For 10 euros apiece, a friend and I starred in our own masterpiece, decked out in costumes the sweet Dutch couple who run the place had handmade themselves. Looking at the photo cracks me up every time.
5. Explore the Red Light District.
I insisted we go see women in windows and then, as my friend predicted, immediately felt gross about it. The combo of drunk tourists and bored-looking young women wearing lingerie sitting in glass boxes bummed me out. Still, the region is one of the city's oldest areas, and if you push past the pot shops and girls for sale, you'll be rewarded with beautiful views of the city's twisty medieval streets. A friend who used to live there had us follow the Oudezijds Achterburgwal south to its end, where a bunch of windy streets collide.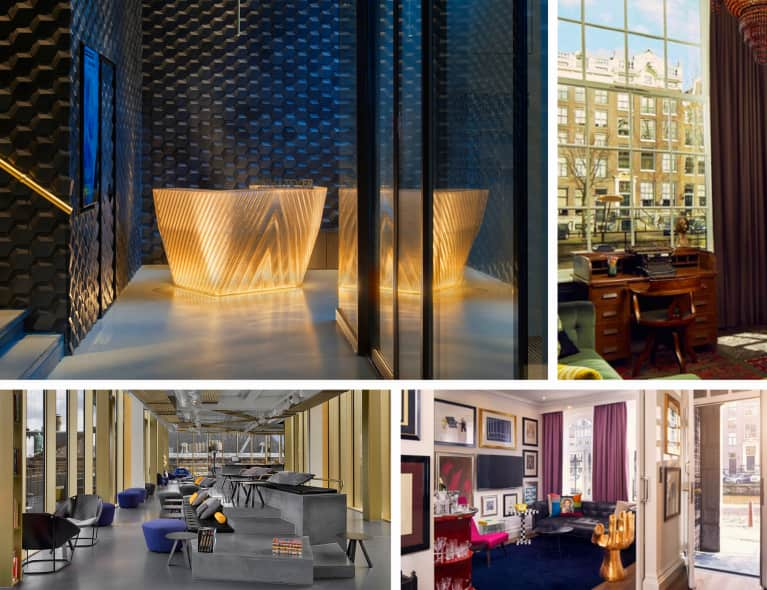 We stayed at the stunning W Amsterdam, a hip, modern five-star hotel built in two classic buildings: a former telephone exchange and a massive old bank next door. I loved seeing nods at the property's past: old-timey security deposit boxes flank the check-in desk, saunas and treatment rooms are nestled inside former safes, and more. The location is also unbeatable: It's in the middle of downtown, a few minutes from the Anne Frank Museum and train station.
If you care about ecotourism, Element Amsterdam is the spot for you. Located outside the city center, in Amsterdam's business district, the comfortable, modern hotel is all about going green, from its sustainable certifications to its refillable shampoo and soap dispensers all the way down to its handsome lampshades, crafted from recycled cardboard.
3. The Pulitzer Amsterdam
Few spots capture Amsterdam's quaint, whimsical charm like The Pulitzer. The luxury hotel is cobbled together from 25 interconnected canal houses, dating back to the 17th and 18th centuries. Each suite features unique furniture and downright adorable decor, with cozy seating, playful artwork, and bright colors reminding you these apple-cheeked Dutch folks have top-notch senses of humor.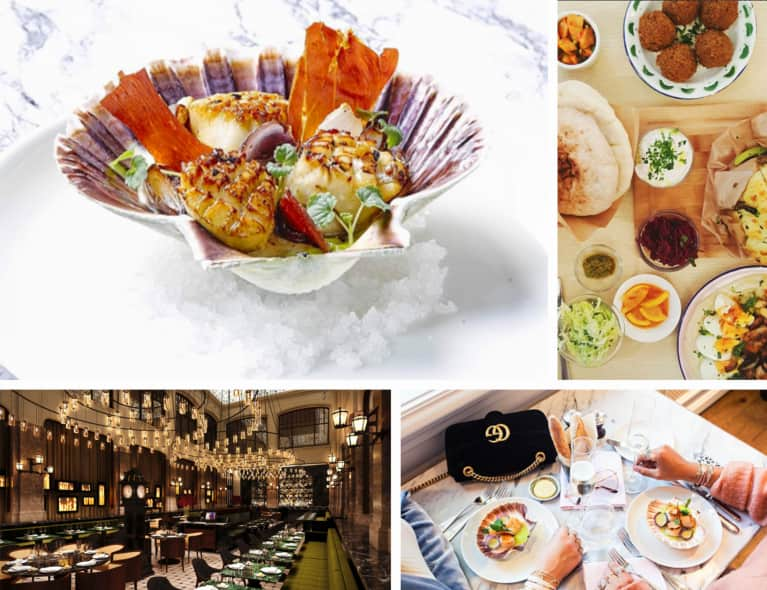 This casual, comfy cafe serves up great Israeli food in the picturesque Jordaan neighborhood.
One of those rare spots where every dish is unbelievably Instagram-worthy—and also tastes as good as it looks.
Make this the spot for your fancy dinner. Its fresh ingredients, creative combinations, and beautiful setting made us feel like royalty. (The extremely tall, extremely attractive servers didn't hurt, either!)