Better Sleep + Other Benefits Of Picking Up A Good Novel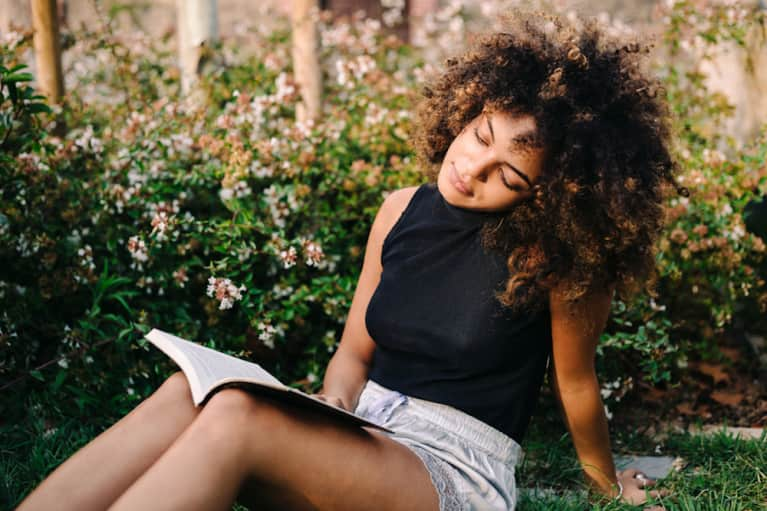 Reading is a great way to unwind, learn about new things, and transport your mind into another world. What you may not know, however, is that recent research has shown that reading has a number of exciting health and wellness benefits, too.
Reading can help motivate you and build empathy.
Research shows that people who read about characters pursuing certain goals are more likely to emulate those activities in their own personal life. When you read a book and engage with a story, you are vicariously experiencing life through the characters. For example, when you read about a character who wants to climb Mount Everest, you may be inspired to pursue such a goal in your own life, and by reading about a character with a certain disease or condition, it will increase your understanding of not only the disease but the people who suffer from it in real life.
Studies have shown that reading literary fiction can facilitate your ability to recognize what the people around you are thinking and feeling. This increase in emotional intelligence will build empathy, which is bound to improve your interpersonal relationships, so go ahead, allow yourself to get completely immersed in that book you've been eyeing.
Reading improves memory and staves off dementia and Alzheimer's.
Reading gives your brain a good workout. A book often consists of many different characters, each with their own background, history, personality, and ambitions, and each story has a timeline, main plot, subplots, and arcs. To follow such detailed information, the brain's short-term memory and recall abilities are strengthened.
In a study published in Neurology, it was shown that frequent brain exercises were associated with a 32 percent reduction in mental decline for the elderly. And another study published in the Proceedings of the National Academy of Sciences found that elderly patients who played mentally stimulating games or read books were two and a half times less likely to develop Alzheimer's, a disease affecting millions of Americans.
A chapter or two before bed increases brain activity the next day.
In a study done at the Emory's Center for Neuropolicy, researchers followed subjects who read 30 pages of a book the night before. An MRI of the subjects' brains was taken the following morning, and results showed a heightened activity in the left temporal cortex, a brain region associated with language and intelligence. Despite the fact that the subjects were not actively reading the book in the MRI machine, the MRI of their brains displayed retained activity in this region.
Poetry has also been shown to be beneficial for stimulating neuronal pathways as complex poetry can influence networks in the brain regions that affect emotion and memory. Poetry reading encourages mental effort, stimulates the verbal expression of thoughts, and demands intense focus.
Reading will reduce stress and help you get better sleep.
It turns out that reading is more than just a good way to unwind after a long day. In a study conducted in 2009, researchers showed that reading could reduce stress by around 68 percent. And if you make reading a regular ritual before bedtime, it will signal your brain to prepare for relaxation and eventual sleep, helping you maintain a more regular sleep schedule.
Reading can help with depression.
Depressed patients in the mental health ward at the Vauxhall Health Care Centre displayed significant improvement when they read stories out loud. In this study done in 2008, patients reported feeling better and having a more positive outlook after the reading. The patients' self-esteem and confidence levels were also increased, and they exhibited better communication skills. This was true for even those patients who were not able to read but only listened to the stories read aloud.
Your children will thank you for reading to them.
Research shows that children whose parents read to them throughout their childhood years are more likely to become adult readers. According to the report, 41 percent of frequent readers ages 6 to 10 were read aloud to at home, while only 13 percent of infrequent readers were being read to.
As the days become shorter and the weather gets chilly outside, this time of year is the perfect opportunity to pick up your favorite novel, read to your kids, or start exploring a new genre you've been curious about. Research shows that your health, happiness, stress levels, and children will thank you for it!