Want Radiant Skin? Try High-Vibe Facial Steaming With Crystals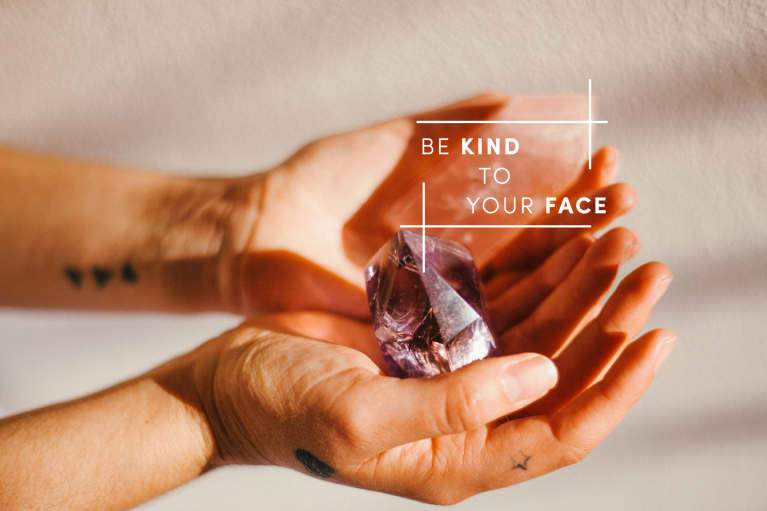 In life we are constantly striving for balance, whether it's with work, relationships, food—so why should beauty be any different? Here at mbg, we take an inside-out, outside-in approach to beauty, because we believe that the more we take care of ourselves, the better we feel. This week, we're focusing on the self-care rituals that help you take care of your skin. Instead of treating skincare as a chore or an indulgence, try embracing it for six days and enjoy the act of caring for your skin, and thus yourself. We bet you'll be surprised at how good it feels. Let us know!
To kick off "Kind To Your Face" week, we're spotlighting one of our favorite self-care rituals, facial steaming. It's an integral part of skin treatments at spas, and for good reason. It helps purify pores, promotes circulation and revitalizes skin. But you don't have to spend big bucks to reap the restorative and radiance-boosting benefits in the comfort of your own home. Soulful skincare is definitely one of our most beloved New Age trends—which is why we're taking facial steaming to the next level by incorporating one of Mother Nature's most holistically transformative elements.
High-vibe crystals offer a multitude of benefits for your spirit and skin—from elevating mood to promoting detoxification (hence why gemstone-infused skincare are popping up everywhere). Energetic blockages can be just as detrimental to your complexion as blocked, congested pores. By incorporating crystals into your facial steaming practice, you can actually cleanse your skin of environmental toxins and toxic energy. Ready to imbue your steaming ritual with intention?
Each crystal has its own unique properties. Some are rather brilliant when it comes to specific skincare concerns—and then, of course, there are energetic considerations. Keep in mind, there's no rule that says you must choose one single stone. Just as you blend different oils to reap the aromatherapeutic benefits, you can marry a few crystals to create the right vibe for your facial steam. Warning: While it's fine for most, some gems can't be submerged in water, which can actually dissolve the stone (e.g., gypsum, halite, pyrite, calcite). And some stones have sensitivity to sunlight. Before selecting a stone, make sure water and sunlight won't damage your crystals. Don't worry, all of the below are OK!
A symbol of youth (perfect for anti-aging), it's also a cooling stone, believed to soothe inflammatory skin conditions, like eczema and rosacea.
This gemstone inspires peace, tranquility, and the release of stress, anxiety, and muscle tension.
A stone of beauty with positive effects for skin, hair, and nails.
This crystal purifies blood and boosts energy. It also helps to overcome lethargy, negative thoughts, and self-doubt.
An extremely detoxifying rock, both for the skin and spirit.
This beautifully colored red gem stimulates blood flow and ignites the root chakra.
The stone of love emits vibrations of unconditional love (for yourself and others), inner and outer beauty, and compassion.
Helps to break up tension and energy blockages in the face.
Now that you you've selected your stone, it's time to get your steam on. Keep in mind that gemstone steaming, unlike traditional facial steaming, is a two-part process. Here's how to do it:
Ingredients
• 1 quart purified, filtered water
• Crystal or gemstone of your choice
• Essential oils (of your choosing)
Directions
1. Rinse your crystals with water a few times to dislodge any loose particles and make sure they're adequately cleansed.
2. Place stones in a heat-resistant glass bowl and cover with purified, filtered water.
3. Set the bowl in direct sunlight at sunrise and let them absorb the sun's energy until sunset.
4. Remove stones.
5. Pour crystal-infused water into pot and bring to a boil.
6. Add essential oils of your choosing.
7. Let the water cool slightly, then pour into heat-resistant glass bowl. Gently stir and let steep for one to two minutes.
8. After cleansing skin, position your face about 12 inches above the bowl. Drape a towel over your head to tent the steam in for one minute.
9. Remove the towel and remove your face from the steam. Breath deeply. Repeat this process for a total of three minutes.
10. Finish with a splash of cool water and your normal skincare routine.