Going For Gold (And Silver, Copper, & Platinum): Why Metals Are The Latest Buzz In Green Beauty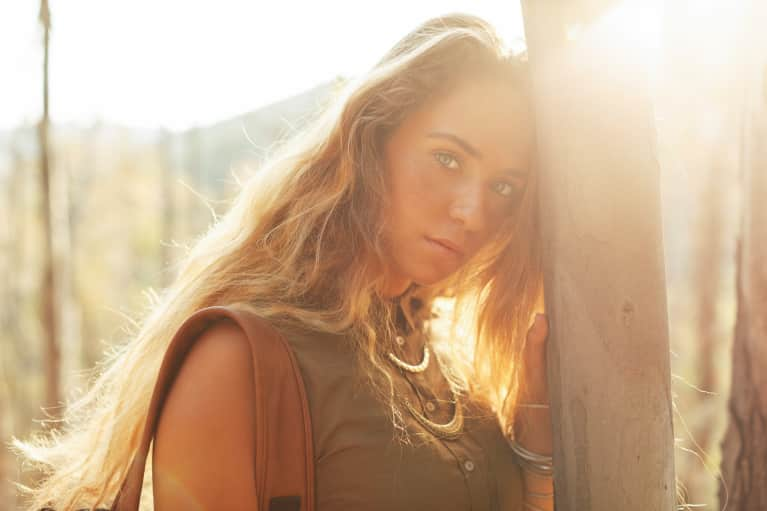 Our editors have independently chosen the products listed on this page. If you purchase something mentioned in this article, we may
earn a small commission
.
The beauty industry is constantly searching for the next crop of miracle ingredients. The latest trend? Precious metals. Gold, platinum, silver, and copper aren't just for jewelry, they wow when it comes to skincare, too. Wondering how much these luxe formulas will set you back? A lot less than you might think (for the most part).
Natural beauty brands are starting to infuse formulas with precious metals—meaning you don't have to spend a fortune on spa treatments to get gorgeously glowing, youthful skin. From copper-spiked creams to gold-flecked oils, these opulent products will leave you looking and feeling like a million bucks (sans the six-figure price tag).
Ready to turn back the clock on your complexion? Gold brings with it soothing vibrations that aid healing. When it comes to skincare, gold-infused serums, creams, and cleansers will make you feel like royalty, while revitalizing your skin. This glam mineral exhibits anti-inflammatory abilities that are shown to slow the effects of free-radical damage and premature aging while improving elasticity and brightness.
Try: An elixir that nourishes skin with a combination of rose hip and pumpkin seed oils, vitamin E, and pure 24k gold flakes? Yes! This one from Farsali is packed with yummy orange peel and lemongrass oils to uplift. Farsali 24K Rose Gold Elixir ($35)
The medicinal benefits of silver date all the way back to ancient Egypt and Greece, where it was reportedly used to heal wounds. This metallic element has stood the test of time. Today, it's still touted for its potent antiseptic, antimicrobial and anti-inflammatory properties. And it's no slouch when it comes to calming inflammation. Not surprisingly, it's often used to treat blemish-prone and highly sensitive complexions.
Try: Hylunia's combines the healing powers of colloidal silver with the relaxing properties of lavender water. A few spritzes leaves skin soft and soothed. Hylunia Colloidal Silver Mist ($34)
There's no denying that copper has curative powers—physically, emotionally, and spiritually. Wearing copper jewelry is said to open the flow of blocked energy and support the process of repair. Not to mention, atomic number 29 is an essential part of healthy skin—copper peptides are integral to the production of hyaluronic acid, elastin, and collagen. But as we age, our natural copper levels deplete, which is why copper-infused skincare is so genius and necessary! When applied topically these formulas are a regular fountain of youth, boosting elasticity and fighting fine lines and wrinkles.
Try: Give your go-to products a youth-restoring kick with Skin Perfection. Simply add a few drops of this 1% concentration of copper peptide to your favorite cream, serum, or moisturizer. Skin Perfection Copper Peptide ($28.95)
Meet the newest precious metal to join the anti-aging category. Platinum—the ultimate antioxidant—acts like a bodyguard for your skin, offering powerful protection against free-radical damage. It also reduces inflammation caused by UV rays and environmental pollution. Plus, it's a pretty awesome team player. Platinum nanoparticles bond to other active ingredients, helping to enhance their efficacy in skincare formulas.
Try: Luxotic is the only natural moisturizing cream that uses bioavailable forms of platinum and gold! These precious metals team up with botanical extracts to leave skin healthier, stronger, and brighter. Luxotic Organic Face Moisturizer ($69.97)