Let's face it: It's no fun giving (or receiving) a half-hearted holiday gift. While the expectations around gift-giving this time of year can make shopping feel like a chore, selecting something meaningful for the people who matter to you can be a powerful act of love. In our view, what makes a gift special isn't its monetary value, it's the thought that counts! We know being thoughtful amid so. many. things. can be overwhelming, so our editors have curated four gift guides with our namesake values in mind: mind, body, and green. Check out the rest of our gift guides as they publish throughout the month here.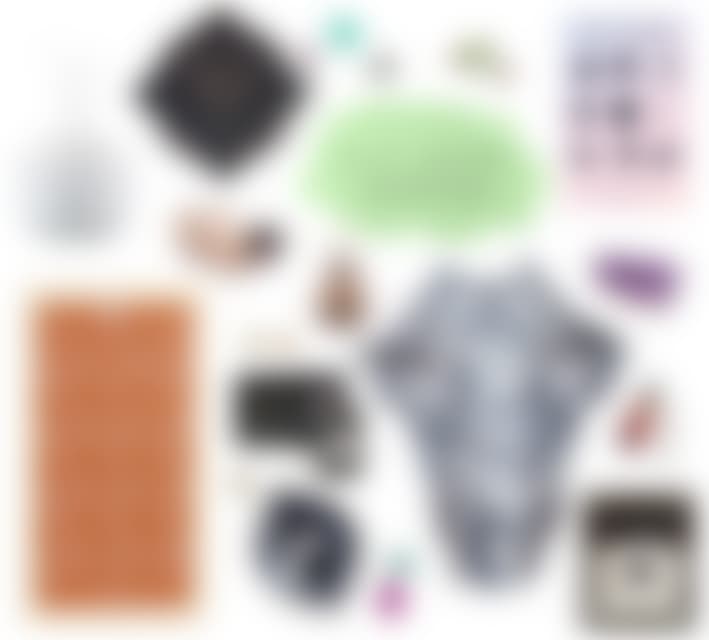 We know how much you love reading about the moon, the stars, and everything in between. Our celestial-themed gift guide is for the budding astrologer who dreams of hosting a moon ceremony, who lives and dies by her horoscope, and you know, maybe she keeps a secret crystal in her bra. Even if she hasn't gone that far (yet...), these gifts will delight any HSP in your life. They can and will appreciate the good vibes because these stellar gifts are imbued with the highest of them all.
1. Many Moons lunar workbook
This lunar workbook is a essentially a moon calendar and guided journal combined. We love how it explains the energetic nuances of each moon phase and guides you through how to best set intentions to harness lunar energy. If you've ever wondered how a full moon is different from a real moon, why people are obsessed with moons, and how the moon's magic really works—you may want to get a copy for yourself too. Modern Women Many Moons 2017 Vol. 1 ($22)
2. Tarot Keepsake Box Set
This is a perfect gift for the amateur mystic in your life, whether she already has a Tarot deck or has just been dabbling online. The Wild Unknown's deck set is an excellent choice because it provides direction on exactly how to read these special, hand drawn cards. If your pal wants to go deeper, the "Guidance" section of their website was created to empower these readings and rituals. The Wild Unknown Tarot Keepsake Box Set ($40)
3. Small vintage Pakistani ritual bell
A bell enhances rituals of all kinds and is a meaningful gift for the meditator, yogi or yoga teacher, mindful parent, therapist, or anyone who holds sacred space for others. We love that this bell is vintage, holding good vibes from long ago. Loved Adorned Small Vintage Pakistani Bell ($35)
4. Essential oil diffuser
We love running our essential oil diffusers during the day (and burning incense by moonlight), but if you have a friend who isn't into open flame or is turned off by the strength or smoke of incense, an essential oil diffuser is a high vibe alternative. And if your pal loves incense, even better, because a diffuser really does take scent to the next level. It's great for someone with (maybe stinky) pets, the feng shui enthusiast, or really, anyone who could use a little mood boost. We recommend the sandalwood and vetiver blend. Aura Cacia Aromatherapy Mist Ultrasonic Room Diffuser ($64.99)
5. Upstate tie-dye caftan
The celestial-obsessed friend is bound to attend or host a moon ceremony in the new year. Lunar folklore and Kundalini tradition prescribe wearing white, blue, black, or silver. Why not combine a few of those for a super-chic and comfortable look she can wear to other events, too? We love Upstate's handmade and dyed garments for their gorgeous pigmentation and ethical sourcing and production. UPSTATE Caftan ($220)
6. Stellar "planisphere"
Just like we had in grade school, but cooler and somehow now more relevant. Use the rotating wheel to line up the timing to see which constellations are visible in the sky right now. This is perfect for the star-gazer, dreamers, scientists, and universal believers. Margins Planisphere ($35)
7. Lunar ceramics
One of the foundational stages of a moon ceremony is creating an altar to charge crystals, jewelry, and sacred items with renewed lunar energy. Even if you don't have an offering planned, this would make a gorgeous ring or jewelry catch-all, incense dish or spoon rest for the friend who loves all things lunar. It's handmade, and each one is unique; no two are the same. CHAPPO Spirit Eye Dish from MOCIUN ($48)
8. Moon calendar
Similar to checking the weather, having a handy guide for the moons can be a helpful predictor to how a particular day, week, or month will unfold. Of course yes, there's always the Google, but we love how these posters are small batch and artisanal. It's much more fun the old fashioned way. Get it framed for an extra-special touch. Margins Moon Calendar (from $20)
9. Incense bundles
This sensual bundle includes incense, pressed palo santo wood, and an essential-oil-infused bar of soap all meant to be used during a bath. But don't let that limit you, it could also be burned during Tarot readings, moon ceremonies, meditation, yoga, and other rituals. Incausa Bath & Meditation Incense Bundle (includes Breu resin, Palo Santo, White Sage, Chacrona & Jagube, $36)
10. Vision oil
Especially created for any intention-setting practices, Vision Oil is meant to be dabbed on the third eye and temples to manifest vision in the mind's eye. It's great for yogis, meditators, or anyone who has a regular ritual of any kind and can be used as a reminder of your intention. Star anise, mugwort, and other essential oils give it a rich scent and spiritual boost. Moon Nectar Vision Oil ($18)
11. Sun, Moon & Earth book
An illuminating and often referenced text that explains how celestial rhythms affect us here on Earth, Sun, Moon & Earth is fantastic the person who wants to go deeper than her horoscope and birth chart reading to understand the forces at play that shape us and affect our behaviors. Sun, Moon & Earth ($12.50)
12. Healing crystals
One can never have too many crystals. We recommend buying from a store that keeps them energetically safe, as they can pick up vibes from passers-by and anyone who handles them. Our current favorites are black tourmaline to help with grounding, quartz for clearing the mind, and turquoise for clear communication. For more crystal ideas, check out our guide. Crystals from Stick, Stone, and Bone (price varies depending on size, shape, type)