The Coziest Cable Knits To Invest In This Winter
At the first sniff of snow in the air (why, yes, Lorelai Gilmore we, too, "smell snow") no matter how die-hard a fashionista we might think we are, schmaltzy visions of cream cable-knit sweaters start to dance in our heads. And it's no wonder, this iconic knitwear style harks back to a simpler time and can conjure up strong feelings of nostalgia. The bittersweet emotion of sentimentality is actually used by some psychotherapists as a tool to help alleviate anxiety and depression. Here's why:
By focusing on a positive memory, you create a positive feeling.
When we reminisce, life feels more meaningful, we feel better about the present and more hopeful for the future.
Nostalgia helps us to feel connected to others; when we feel connected to others it increases our sense of well-being and optimism.
Wow! A sweater can do all that? Yes and more…sartorially, the timeless cable-knit sweater oozes understated chic, is the ultimate clean-cut-but-not-too-straight-laced item, encapsulates the concept of the not-so basic basic, and, to top it all off, it looks sexy as hell with a pair of jeans. What's not to love?
So, pop on some Bing Crosby and get shopping…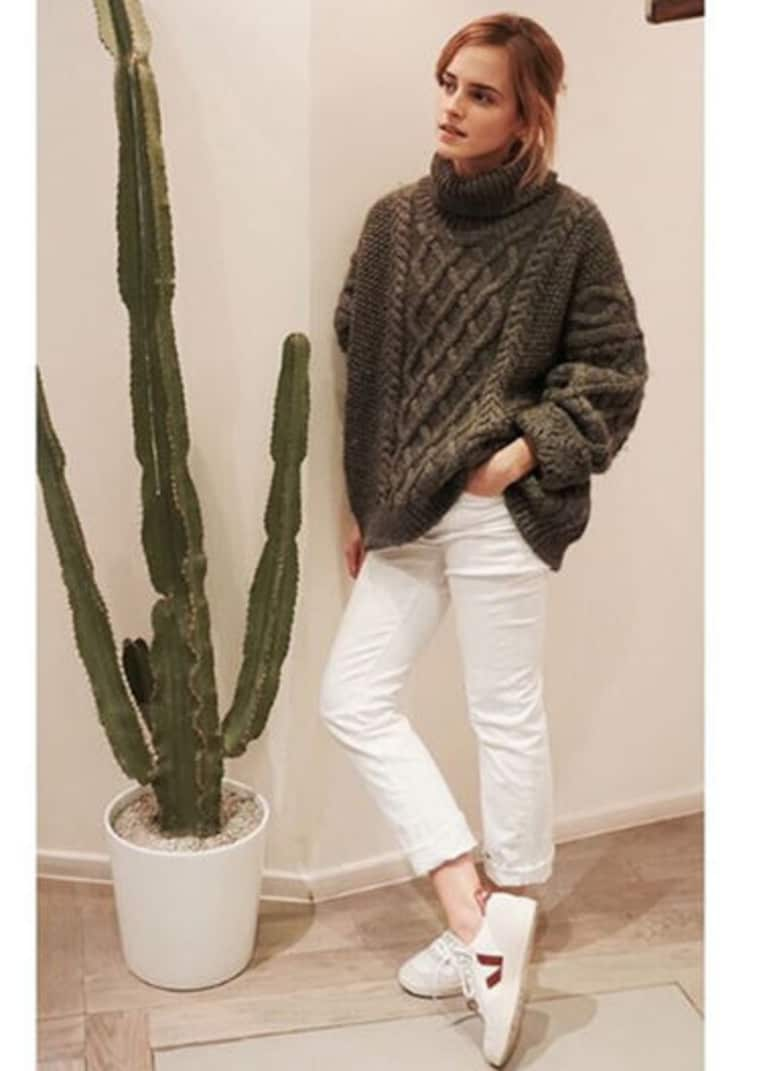 Not all knits are created equal—some are too slouchy, some are too slim, and some pill after one wear. But this roll-neck cable is the just-right sweater your friends will be eyeing (and maybe stealing) on you all season. Last year, Zady announced the launch of a project called "The New Standard," a platform that disseminates important information about the extensive issues that stem from production in the fashion industry. Your eco-conscience has never looked better. Zady Roll-Neck Cable Knit ($250)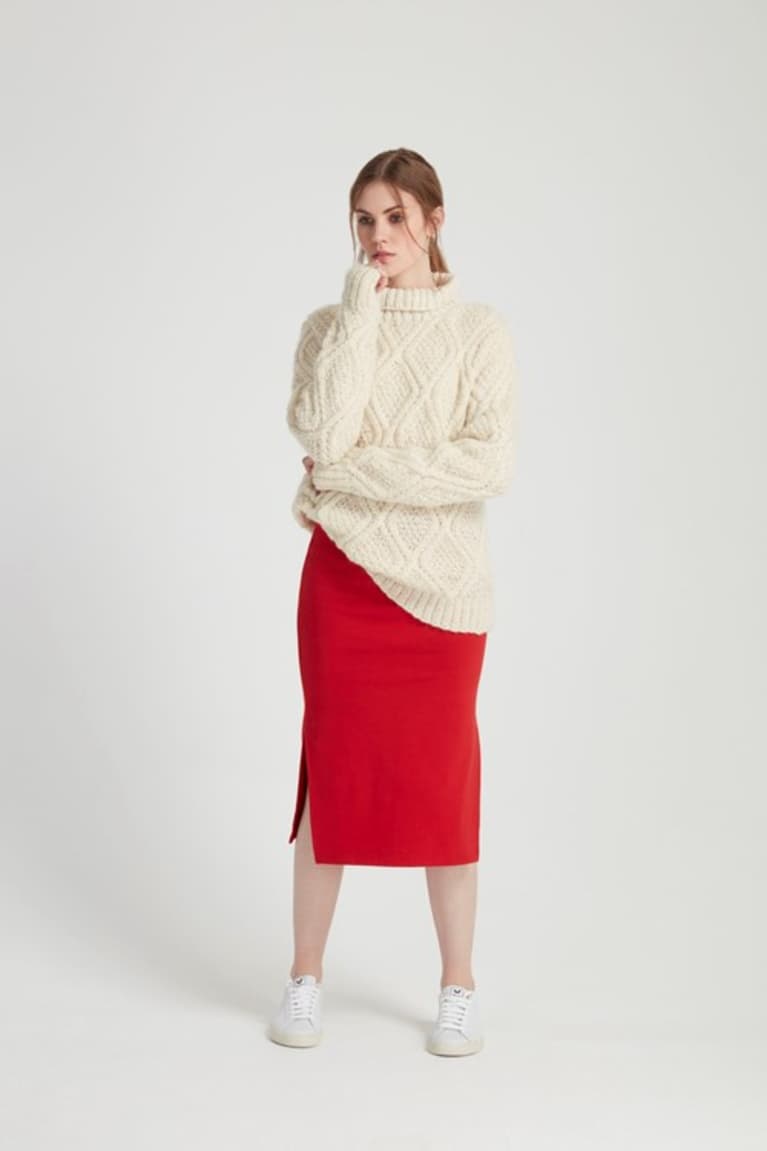 Offering proof of the transformative power that comes with supersoft sweaters, this iteration will streamline your cold-weather wardrobe in a jiffy. This unbleached argyle from the ethical and environmentally sustainable fashion brand, People Tree, embraces the oversized look we love—a perfect one-size fits all for transitional layering to embrace the season. Pair up with your favorite jeans or maxi skirt for maximum impact. People Tree Hand-knitted Sweater ($270)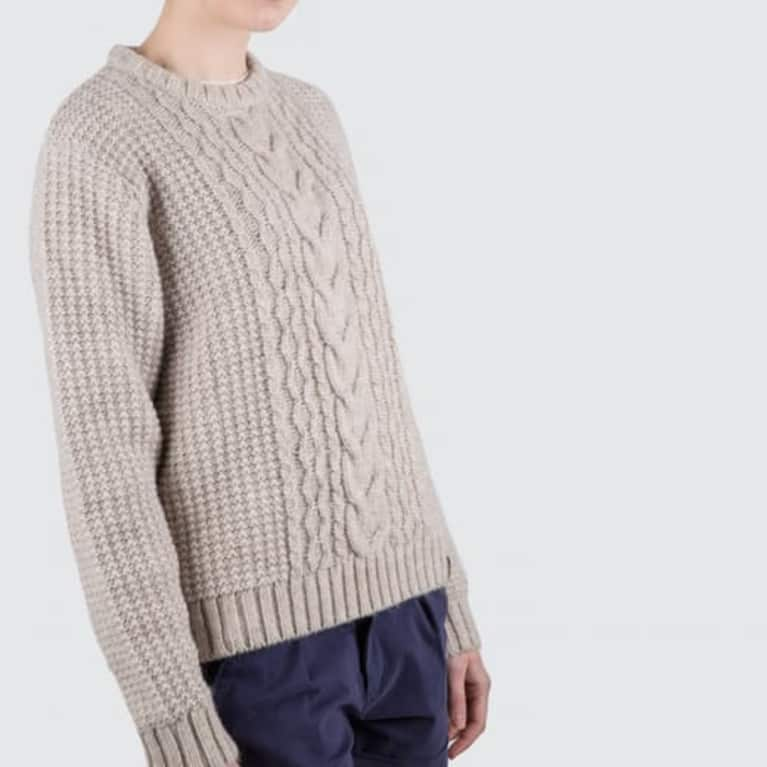 Huckberry is a platform for innovative, built-to-last apparel constructed responsibly and inspired by misty seashore mornings. Dreamy. This sweater by cold-water surf brand Finisterre, has come to be one of the most respected brands in the UK amongst hardcore thrill-seekers and the style-conscious alike. Plus their mission of sustainability and simplicity seeps through whole design process, while an in-house repair service is the proverbial cherry on the cake. Huckberry Alkan Jumper ($126.98)
Maison de Mode is a hybrid luxury ethical fashion retailer fusing concept brick and mortar experiences alongside a seamless and luxurious online boutique, specializing in unique ready-to-wear. Amour Vert's burgundy merino wool sweater, embodies the holidays in a timeless- weet spot, somewhere between fresh-off-the-loom and vintage classic. Amour Vert Merino Wool Sweater ($228)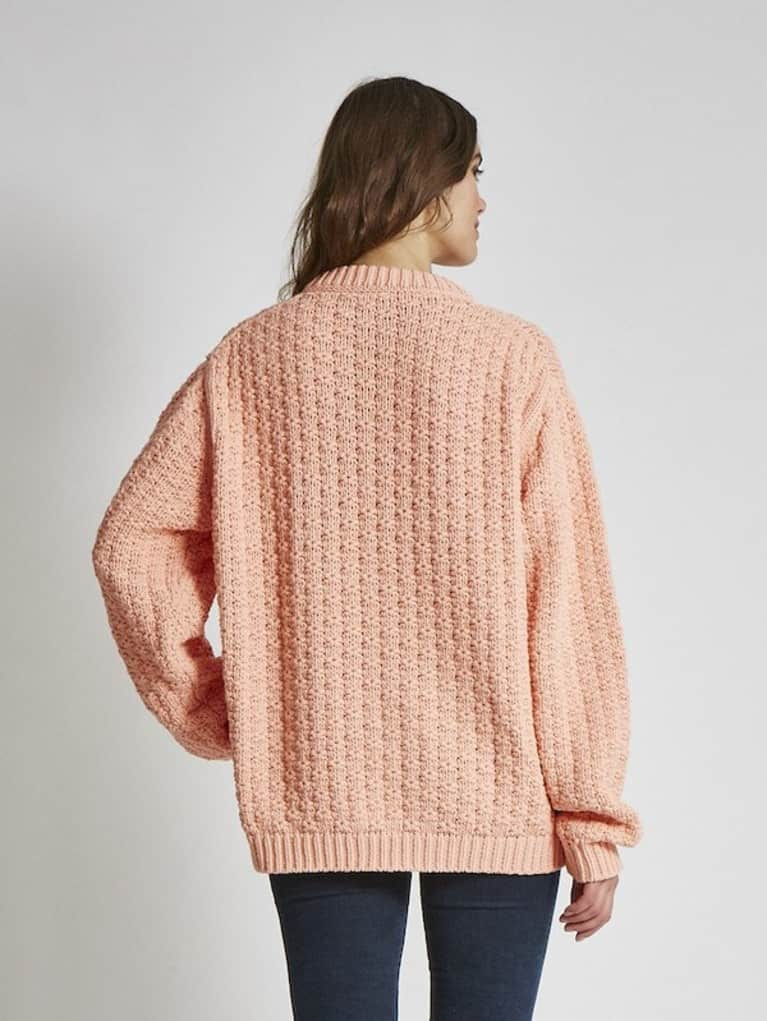 Vegan, eco and made in NYC? It's happening for the first time! You can wear this apricot beauty again and again, because well-spun knitwear is forever. It's the opposite of fast fashion—recycled yarn made from industrial waste cotton—and this sweater "dress" is the perfect oversized modern shape made by from one piece of continuous yarn, so there's zero waste. Vaute Sweater Dress ($243.74)