These Sweet And Simple Swaps Will Satisfy Any Sugar Craving
Former mbg Deputy Editor
By Elizabeth Inglese
Former mbg Deputy Editor
Elizabeth Inglese is a writer living in San Fransisco, California. She earned her Bachelor's in English Literature and Cultures from Brown University and her Master's in Writing from The University of Southern California. She's the former Deputy Editor of mbg, and has also worked for Vogue, Architectural Digest, Bon Appetit, and Good Magazine.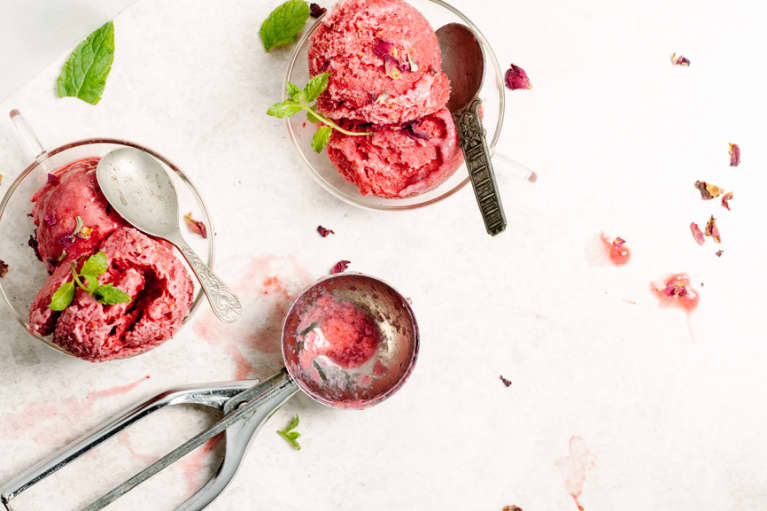 It's 3 p.m. when it hits: that craving that only a sugary sweet treat can satisfy. In this scenario, celery sticks won't do. And they don't have to. Because it's easy to get the flavors of your favorite indulgence in a much healthier package. We know that whole grain, high-protein, plant-based foods help us feel our best. And we know that refined sugars, saturated fats, and white flours hold us back. These sweet and simple alternatives leave the bad behind and replace them with ingredients that fuel a healthy body. Feeling better is just a swap away.
Instead of biting into a chocolate chip cookie, whip up a Vegan Chocolate Chia Cookie.
Ground almonds, hazelnut, and raw cocoa make these a delectable alternative to conventional cookies. The healthy crunch of chia seeds make them unforgettable.
Instead of reaching for the peanut butter cups, grab a Larabar Peanut Butter Chocolate Chip Fruit & Nut Bar.
With just four ingredients (dates, peanuts, chocolate chips, and salt) these vegan, non-GMO, and gluten-free bars are a much healthier, more wholesome version of a guilty-pleasure candy.
Instead of scooping out an ice cream sundae, churn your own High Vibe Nice Cream.
Ripe, frozen strawberries and bananas form the base of this frosty favorite, making it a vast improvement over the cream-based classic. The added tocotrienols gives it a detoxifying kick.
Instead of tearing into a bag of gummy bears, go for Annie's Bunny Fruit Snacks.
Portioned out in grab-and-go packs, these organic, vegan, and gluten-free gummies are made with fruit juice and vitamin C.
Instead of carving out a corner brownie, mix up Sweet & Spicy No-Bake Vegan Brownie Bites.
You don't even need to fire up your oven to enjoy these vegan, gluten-free, and paleo marvels. Plus they're protein-packed and sweetened with medjool dates.