What A Health Coach & Vegetable Enthusiast Eats In A Day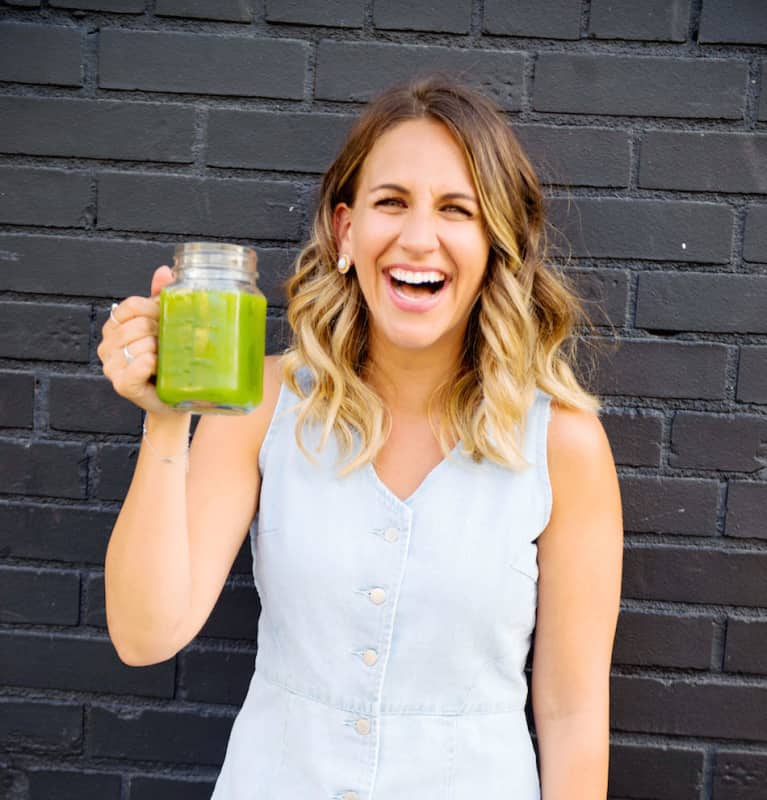 mbg's What I Eat In A Day series is all about peeking into the daily lives and plates of our favorite wellness advocates, foodies, and fitness experts—and getting some delicious ideas along the way.
Since my brand, coaching business, podcast, and cooking show are all called Party in My Plants, you probably won't be shocked to see how many plants make their way into my day-to-day life.
Keep in mind, my M.O. is that healthy eating shouldn't suck, so as you scroll down, you'll notice nothing about the way I eat is difficult, stressful, complicated, or impractical. I hope it helps you see how you can easily eat more plants, so you, too, can have a life as fabulous as a party!
7:30 a.m.: Digestive Goodness/Pre-Workout Drink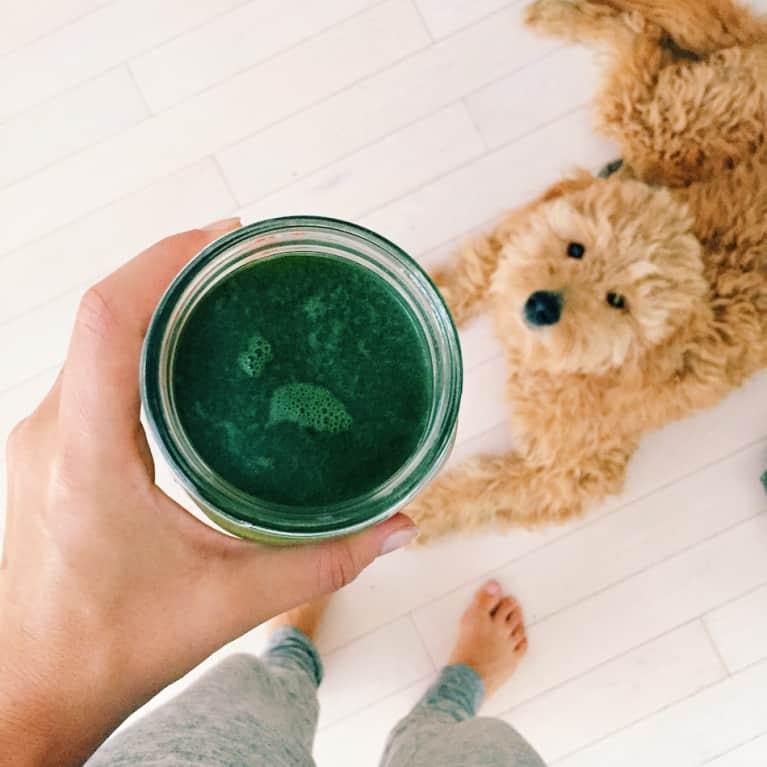 I treat both my digestive system and my heart first thing in the a.m. My digestive system gets pampered by my morning ACV drink, which is a sexy combination of apple cider vinegar, water, stevia (or naturally sweet and hydrating coconut water), and Amazing Grass' Energy Greens Powder, which gives me some caffeine from yerba mate and matcha to power me through my morning run. I shake this all together in a shaker cup and drink it on up.
Oh and the treating my heart part? That gets accomplished with my morning cuddle sesh (post-morning walk) with Tommy, my golden doodle pup.
This is also when I do my most important writing task of the day. I find that I'm most creative and courageous in the beginning of the day, so if I have any out-of-the-box podcast episodes to write, nerve-racking pitch emails, or just have an overflowing amount of funny ideas for a recipe video, now's when I'll do that.
I try to limit myself to one important task per morning and then pry myself away from the comp and hit the gym (or pavement if it's warm enough out to run).
10 a.m.: Post-Workout Breakfast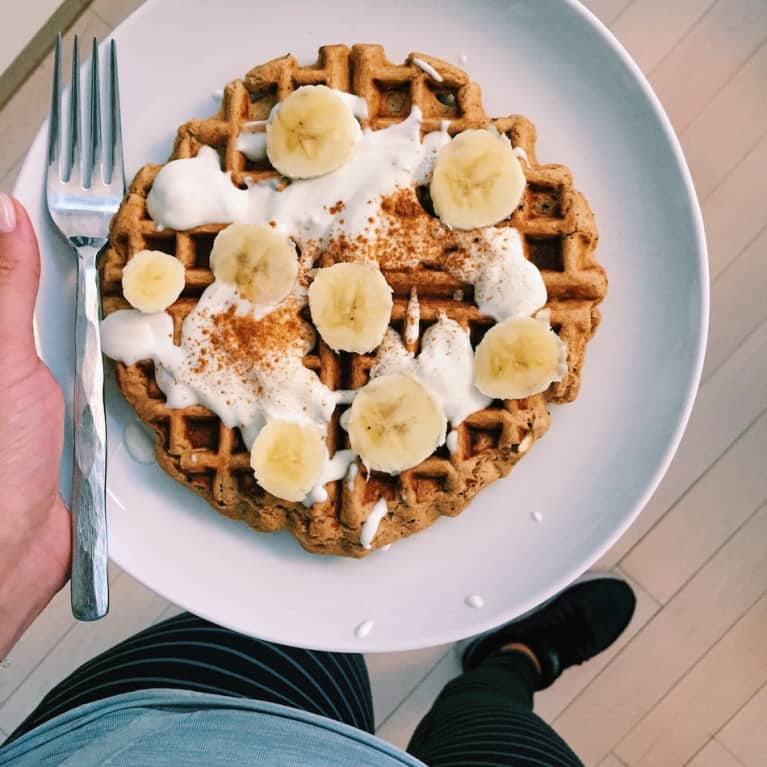 Every single morning after my long run (and today, after a bonus vinyasa yoga class as well), I come home sweaty and psyched for my protein waffles.
They're incredibly filling (since they're packed with protein) and extremely versatile, as I vary the fruit toppings, extracts, and spice flavors to keep my taste buds on their toes. Today I added cinnamon, ginger, and cloves to the batter to give it a gingerbread flavor since we're officially in the ho-ho-holiday season. Plus, they take only 3 minutes to make, and they feel DECADENT!
I love topping them with some unsweetened dairy-free yogurt with some added stevia; I'm currently obsessed with Kite Hill's almond milk yogurt.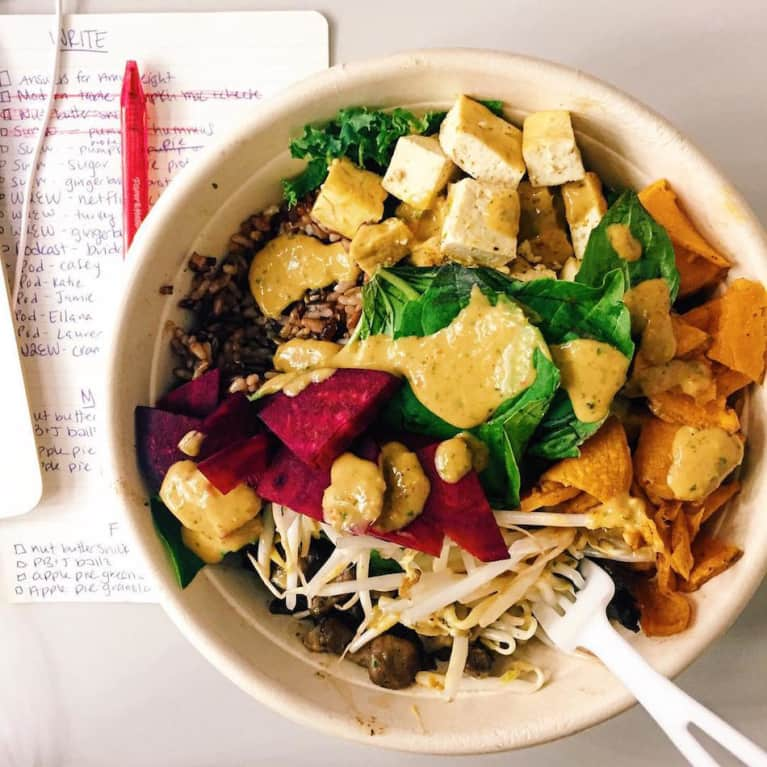 Because I eat breakfast so late (and my protein waffles are so filling), I never need a morning snack. But lunch is, honestly, my hardest meal of the day. I sometimes get so caught up in my calls with coaching clients, video, or podcast recording or editing, that I totally forget about lunch!
Plus, it doesn't help that I work at home, because I don't have the cue of co-workers leaving for lunch to remind me to get my butt out of my loft-ice (loft office) chair and eat something.
I've struggled with digestive issues, which is where my whole healthy-eating ways stem from and it's harder on my digestion to eat while I'm super stimulated.
Midday, when work is at its peak is when I'm most stimulated, so it can be hard on my sensitive little tummy to eat. I tell my coaching clients (who come to me for practical digestive help) the same thing I do for myself—to wait until I'm in a calm mental place to eat and not just force something in my mouth hole because it's "lunchtime."
That said, I usually hit sweetgreen for the sweetest bowl o' greens! Pretty much every salad of theirs in a winner; I just replace any animal protein with tofu, step away from my computer/intense work, and dive right into a big bowl of plants.
3 p.m.: Afternoon Snack No. 1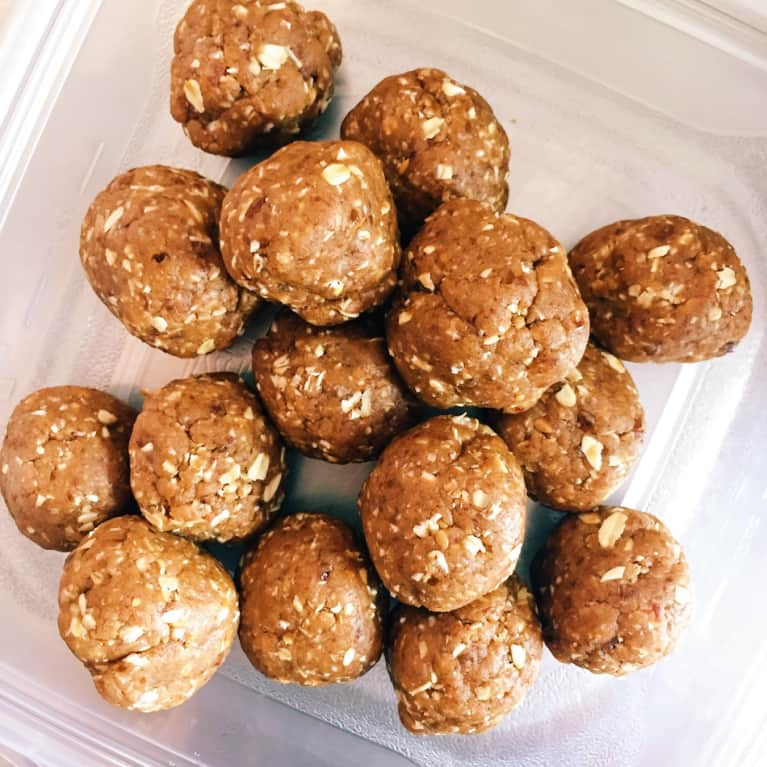 If diamonds are a girl's best friend, then balls are a plant-lovers No. 1 pal! Peek into my fridge at any given moment and you'll see a collection of energy balls sitting there ready for the snackin'.
Talk about a perfect little boost! The instant energy from the dates, the long-lasting fuel from the nuts, and the amazing tastes from however I flavored this batch is snack perfection.
I grab 2 to 3 to munch on in between coaching calls (but am definitely guilty of munching on them DURING coaching calls since, thankfully, they don't crunch!).
5 p.m.: Afternoon Snack No. 2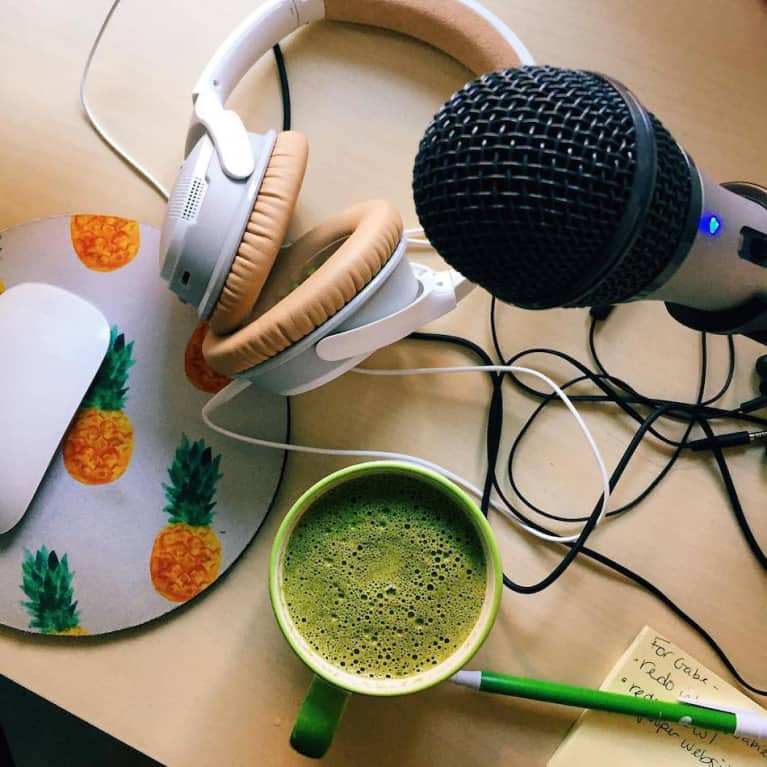 Not many of my days come and go matcha latte-less! Even though I live down the street from New York's first matcha cafe (woot, Williamsburg!), I mostly make my own, since doing so is incredibly quick and simple. Here's how I make them.
A matcha latte's the perfect boost to help me bang out that final podcast interview of the day (and if you've heard my brand-new podcast, you'll certainly hear the energizing effects of my healthy matcha lattes).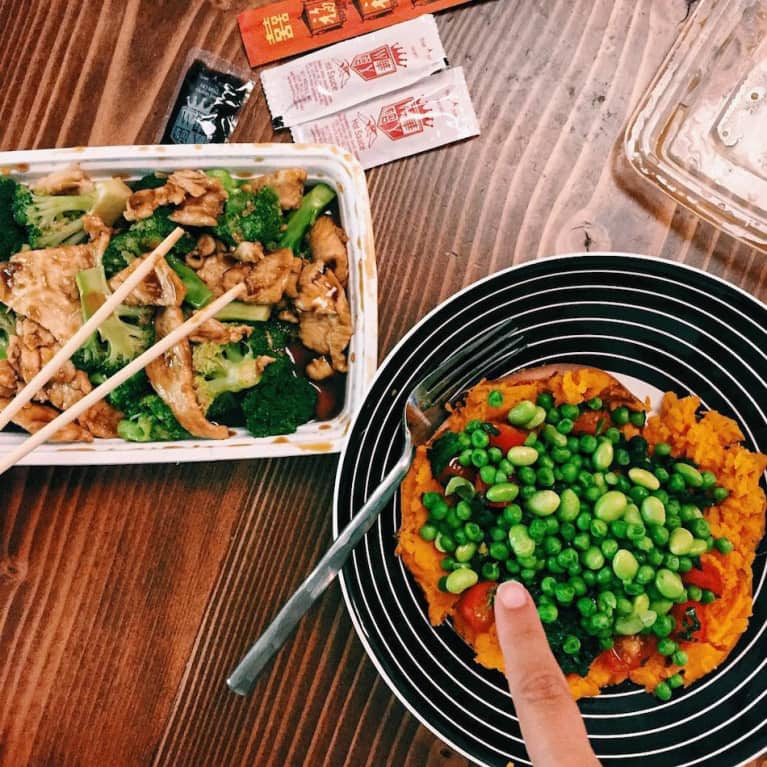 I live with a true New Yorker. My man grew up right in NYC and, until I met him four years ago, only had ketchup in his fridge and plastic silverware (is it called silverware if it's plastic?) in his drawers.
So even though he eats an extraordinary amount of plants these days (he seriously makes juices at home way more than I do!), he still has an affinity for takeout.
But not me! So sometimes for a quick weeknight dinner, when his go-to is delivery Chinese, I go with my go-to: a stuffed sweet potato.
I simply bake it, smear some butter-flavored coconut oil on it (which is the best healthy culinary invention of the year), and load it with any plants I have around the pantry/fridge/freezer, always making sure there's a protein in there, which in this case, is frozen edamame.
We'll have a toast with wineglasses full of kombucha and recap our days.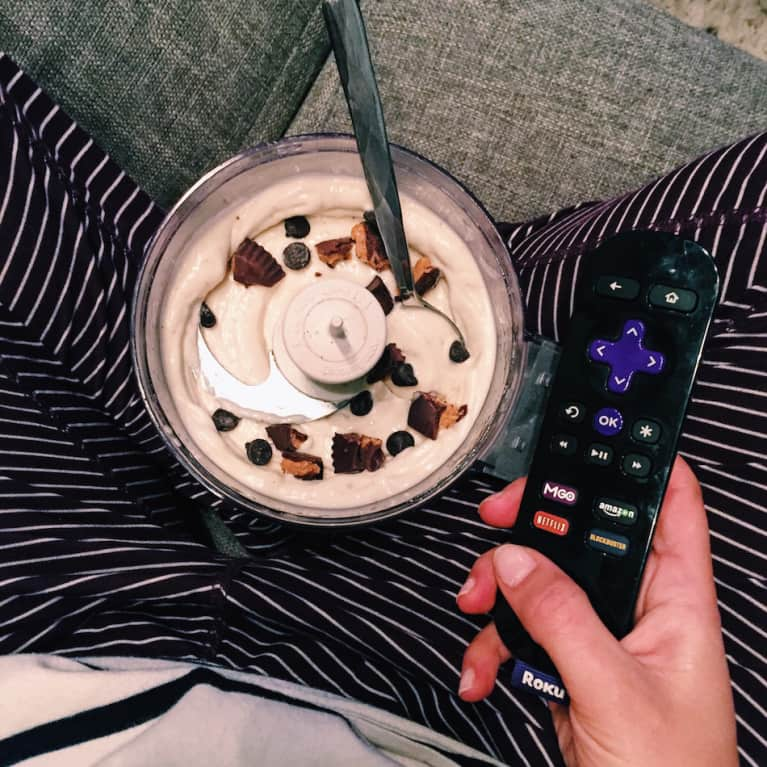 Pretty much the only dessert you'll find me with at home is banana ice cream—eaten right out of the mini food processor because why dirty an extra bowl?
I've loved ice cream my entire life (hence my first-ever job being a singer/scooper at Cold Stone Creamery), and making it out of only frozen bananas (I usually use 1 or 1½ bananas per portion) is how my dairy-free and processed-crap-free self gets to still enjoy my beloved ice cream!
If my man lets me pick the evening TV show (my current addiction is Bates Motel), then I generously let him have some bites, too.
10:30 p.m.: Pre-Slumber Sip
Around 10:30, I usually hop into bed with my mug, a book, and my teddy—I mean puppy. In the mug is some magnesium powder mixed with warm water, which I drink to help me sleep soundly and poop beautifully! (TMI? Sorry.) I'll put my phone into airplane mode and fasten my seat belt, put my tray table back, and prepare to take off into a deep slumber.