Tea Infusing: Winter's Coziest Cooking Technique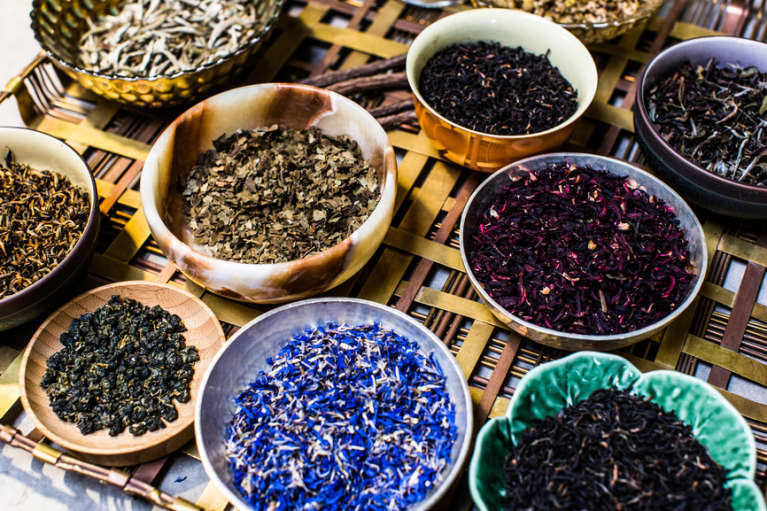 Black or matcha, tisanes or lattes—there's nothing like the warmth and fragrance of freshly steeped tea leaves. If you're someone with a mug permanently in hand, consider incorporating tea into your diet in new ways. Tea lends its flavors generously to any number of recipes and is simple to use. Experiment with the varieties you love. They sky's the limit.
Tea-infused butter will transform your cookies, pie crust, cakes, or breads. Oh, and it's great for slathering on toast. To make it, let your butter come to room temperature. Grind tea leaves with a spice grinder or mortar and pestle, then mix into the softened butter. Reshape the butter and store in the refrigerator to firm. Try an earl grey butter in a shortbread recipe; you won't be sorry.
Steep tea leaves in barely simmering cream for 15 minutes and strain to create wildly decadent ice cream, crème anglaise, custards, crème brûlée, or whipped cream. Keep some on hand to stir into oatmeal for a rich morning treat.
Instead of using chicken stock, consider steeping green or ginger tea in water and using that as the base for a chicken soup. Play with the flavors of the tea by adding complementary herbs and spices.
Whether you make oatmeal with water or milk, heat your liquid to simmering and add a small pinch of tea leaves. Allow them to soften before straining out, then make your oatmeal as usual. You won't need half as much sweetener or mix-ins for a satisfying bowl.
Grind smoky tea leaves into your favorite meat rub for added depth of flavor when making pork, lamb, or beef.
Wondering whether your favorite tea could ever moonlight as a smoothie? Steeping tea in water or milk, then freezing them into cubes will give you a way to add them while keeping your drink frosty.