The Crystal Rituals That Will Amplify Your Astrological Potential This Month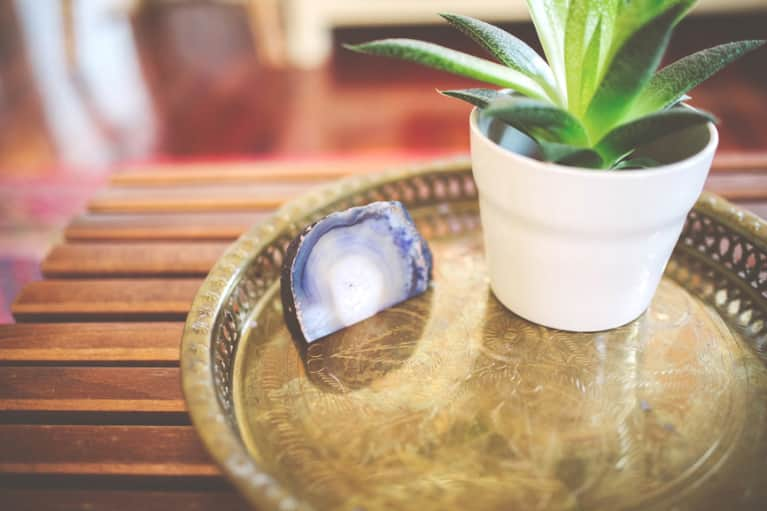 In this new series, Heather Askinosie, the holistic healer behind Energy Muse, will share her advice on how to harness the power of crystals to fulfill your astrological destiny. She'll work off monthly forecasts from the AstroTwins, forming one heck of a spiritual duo. Get ready to cleanse that rose quartz and hold tight to that tourmaline because you're about to see crystals in a whole new way.
From deep within our souls to the frosty tip of our noses, the arrival of the holiday season awakens every fiber of our being.
With the sun in Sagittarius, an energy of optimism and adventure now fills the air. As we look up into the night sky and gaze at the stars, we can feel confident knowing that Mother Earth, supporting us below our feet, is a source we can tap into to navigate the astrological energy of December.
We have a supermoon in Gemini on December 13. Hold a piece of labradorite in your hand to tap into your inner, fun-loving personality. As you bathe in the moon, ask that she infuse you will her luminous grace and light. May all your words be clear, your heart open, and your spirit be free.
Mercury goes in retrograde again from December 19 until January 8. It's the perfect time to reflect, redo, restructure, and re-evaluate. As Mercury appears to spin backward in the sky, many of the new endeavors that we take on at this time seem to backfire. Rather than jumping into things during this off-kilter period, take a step back. Use a combination of hematite, for grounding, and blue lace agate, for staying calm, to guide you through the uneasiness of retrograde. Resist the beckoning for progress that so often results in flighty failures, and hold tight to these minerals that will aid in your reflection. Ask yourself how you can restructure the situations that you are compelled to change, and rest in the knowledge that after this compulsive time passes, you will have the fresh perspective necessary to create an intentional transformation.
Capricorn season commences on December 21, washing away our feverish Sag impulses with a calming tide of calculation and resourcefulness. On December 29, a new moon in Capricorn brings a more determined energy. As you dispel the energy of Sag, hold onto ocean jasper. Invite the tranquillity of the stone to dilute your tempered emotions. This stone will help you embody the essence of fluidity in your transition toward quiet conviction. Take advantage of your sense of purpose during this new moon to set intentions with clear quartz. Hold the crystal as you manifest your New Year's objective under the grace of the moon.
Placing a quartz crystal cluster on a table in the center of your home will help to bring in opportunities and a lighthearted energy into your environment. The holidays can often bring up suppressed emotions, so knowing that you have some extra light infusing your space will help keep your inner light shining bright.
The Christmas-Hanukkah weekend will bring with it some interesting dualities. On December 24, Uranus and Saturn will mix old and new as they enter activity-centered fire signs. Due to Uranus and Saturn having such different ideologies, it's important to embrace the ebb and flow of this time rather than fight against it. Facilitate your ability to hold on to intentions and release anxieties with tourmalinated quartz. The natural duality connects to the opposing forces present at this time.
The second trine formed by Venus and Jupiter on December 25 will deliver a loving gratitude in the spirit of Christmas. As you consider all of the people and blessings that you treasure, hold a rose quartz to your heart. This stone links with the heart chakra. With the mantra, "What do I have to be grateful for?" remind yourself of your good fortune. Sit for a moment as the unconditional love and joy of this crystal infuses you with the energy of the day.
The Lead-Up to New Year's Eve
The following day could be one filled with mood swings due to the rare faceoff between Jupiter and Uranus. To combat the erratic feelings this could impose, mix the energies of smoky quartz and onyx. The smoky quartz will help to stay connected to the earth and clear your energy so situations can easily move through you. With so much coming forward in the new year, we have the opportunity to decide how we show up to each situation—either as confrontational or observational. Smoky quartz provides a serene disposition that will help you be reflective rather than reactive. The onyx is for protection against the anxiety of the unknown. With uncertain energy bouncing around, onyx grounds you and reminds you that life is never all or nothing. Even in a time of change, we don't lose as much as we grow, expanding our pond of experiences to reflect on later.
New Year's Eve is a pressure-packed night. An expectation of grand plans builds and collides with the anticipation of what the new year will bring. Bronzite protects, stabilizes, and strengthens self-esteem. Use it on New Year's Eve to inspire confidence. This assuredness will shift your energy from an anxious state to one that is excited to take on the opportunities of a new year's beginnings. As you hold onto bronzite, tell yourself that the best is yet to come.
Keep reading: