Here's How You Should Actually Warm Up Before Your Run
mbg Contributor
By Leigh Weingus
mbg Contributor
Leigh Weingus is a New York City based freelance journalist writing about health, wellness, feminism, entertainment, personal finance, and more. She received her bachelor's in English and Communication from the University of California, Davis.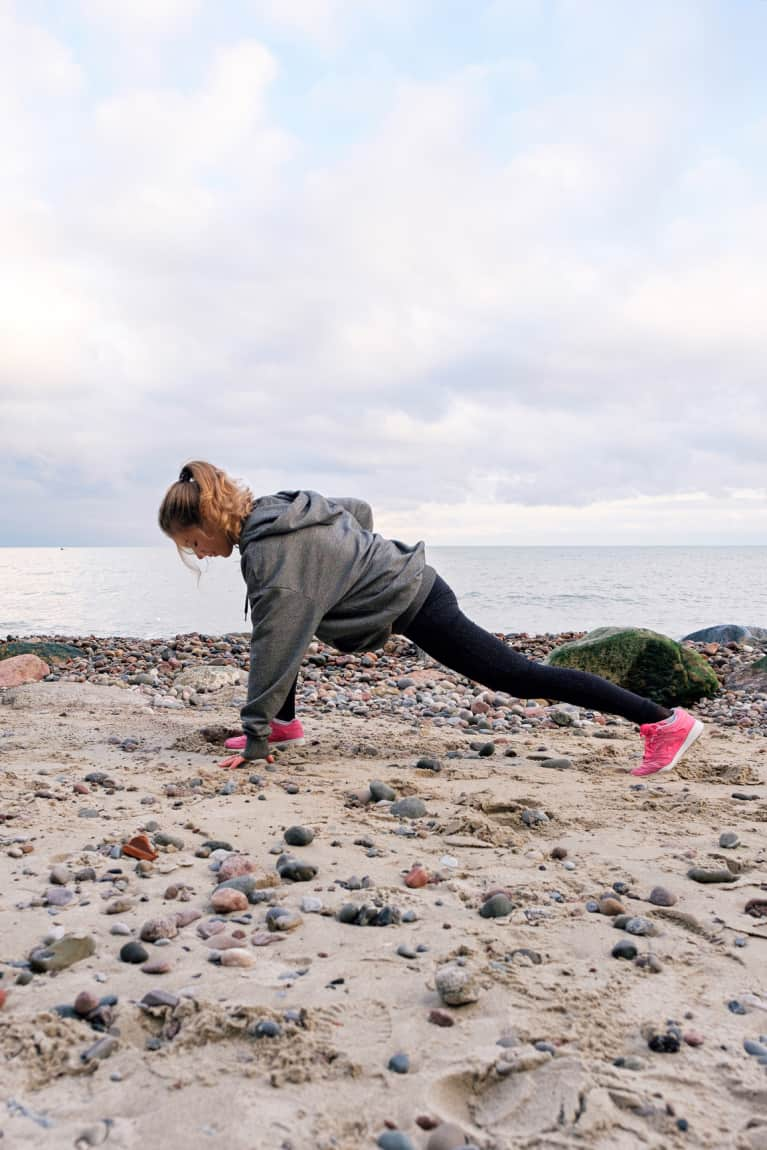 From shin splints to torn hamstrings, every runner knows that one wrong move can send you straight to the sidelines for months, where you're left cheering people on in the half marathon you were supposed to run. It's never fun.
Injuries may seem random or inevitable, but trust us, they're not. While runners know they need to stretch post-run, many forget about the importance of warming up—especially as temperatures drop.
From what to eat to how to move, we consulted two running experts—professional athlete, sports and conditioning coach Andia Winslow and Nike trainer and Barry's Bootcamp NYC founder Rebecca Kennedy—about everything you should do before hitting the pavement.
Here's what they had to say.
Practice dynamic stretching.
Don't spend the minutes ahead of your run lying on the floor lazily stretching your hamstrings—do some dynamic stretching instead. This form of stretching is all about building momentum and priming your muscles for movement, and it often means you break a sweat before you even start running.
"Dynamic stretching is stretching through several planes of motion simultaneously," says Andia. "In this way, athletes are priming their bodies for the real motion required during races/workouts. It requires CNS (central nervous system) firing, the recruitment of core (lower back and abdominals) and helps to stimulate blood flow and oxygen transfer through the body.
Further, because dynamic stretching can at times be laborious, the heart rate and body temperature are elevated, and muscles are better readied for sustained physical activity."
Andia recommends ankling (rolling ankles clockwise and counterclockwise), calf stretches, caterpillar walks (hands walk out, feet walk up), walking lunges, ankle holds, and Frankenstein walks (straight-leg marching).
If you incorporate dynamic stretching into your running routine, your brain-body connection will be stronger, and your body will have better response times, narrowing the risk for injury and resulting in faster runs.
Eat right and dress properly.
As important as dynamic stretching is, there are other factors that go into getting your run off to a good start.
"Try not to eat a meal less than two hours before a run, especially items (meats) that take longer to digest and are heavier," says Rebecca. "Pre-workout, I say go natural and have half a grapefruit for an energy boost that digests quickly."
She also emphasizes wearing the right clothes and tracking your runs. "Layer up in colder weather. You want your body temperature to be about 20 degrees higher than the temperature outside when running, so dress for that weather." She also notes that tracking your pace is important. "You don't want to go out of the game too fast. And track your distance!"