The Essential Feminist Reading List Curated By NYC's Women-Only Social Club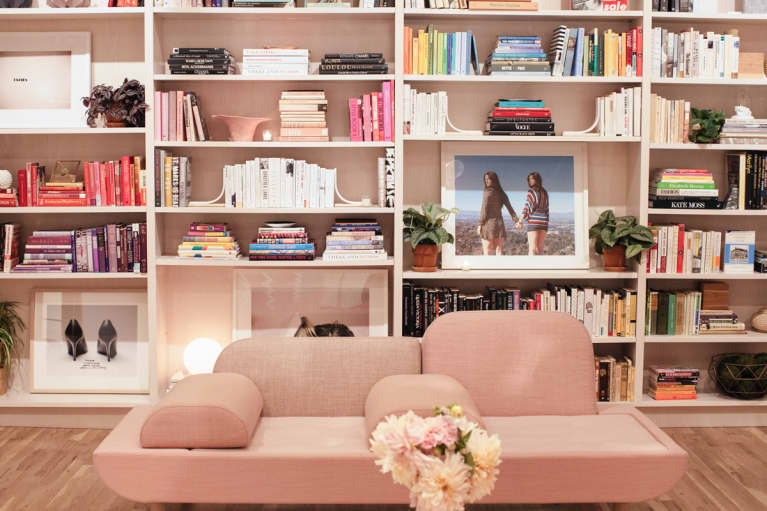 Audrey Gelman's blush-toned, women-only workspace, The Wing, is anchored by a sprawling bookshelf bursting with familiar female iconography. Writer and librarian-in-residence R.H. Lossin curated the collection, which is now available to club members. Whether you're looking to hunker down by a fire and expand your thinking or searching for a thoughtful gift that transcends the material, these books will fit the bill. Lossin explained the process of creating her collection to Girls at Library:
"I just started making a list of books by and about women, starting with my own bookshelf and moving on to books I had been meaning to read, and then books about topics that I thought were important and biographies of amazing women. I went through the women's studies section at the Strand as well as their poetry and fiction and really cleaned up in the literary biography section. I also included some books that were important to me when I was young such as Are You There God? It's Me, Margaret and Anne of Green Gables. I really disliked Little Women, but I included that as well as a biography of Louisa May Alcott, who was this badass woman who actually supported herself and her mother with her writing. I tried to make sure that I was attending to different time periods and genres—I have my strengths and weaknesses, so earlier than the 19th century and history (embarrassingly) was hard for me."
The Beauty of the Husband and The Glass Essay by Anne Carson
Landscape for a Good Woman by Carolyn Steedman
The Alexandria Quartet by Lawrence Durrell
The Robber Bride by Margaret Atwood
More Work for Mother: The Ironies of Household Technology from the Open Hearth to the Microwave by Ruth Schwartz Cowan
Housekeeping by Marilynne Robinson
The Year of the Death of Ricardo Reis by Jose Saramago
Alias Grace by Margaret Atwood
Feast of Snakes by Harry Crews