All The Festive Flavors Of The Season Without All The Sugar
Former mbg Deputy Editor
By Elizabeth Inglese
Former mbg Deputy Editor
Elizabeth Inglese is a writer living in San Fransisco, California. She earned her bachelor's in english literature and cultures from Brown University and her master's in writing from The University of Southern California. She's the former Deputy Editor of mbg, and has also worked for Vogue, Architectural Digest, Bon Appetit, and Good Magazine covering food, health, and culture.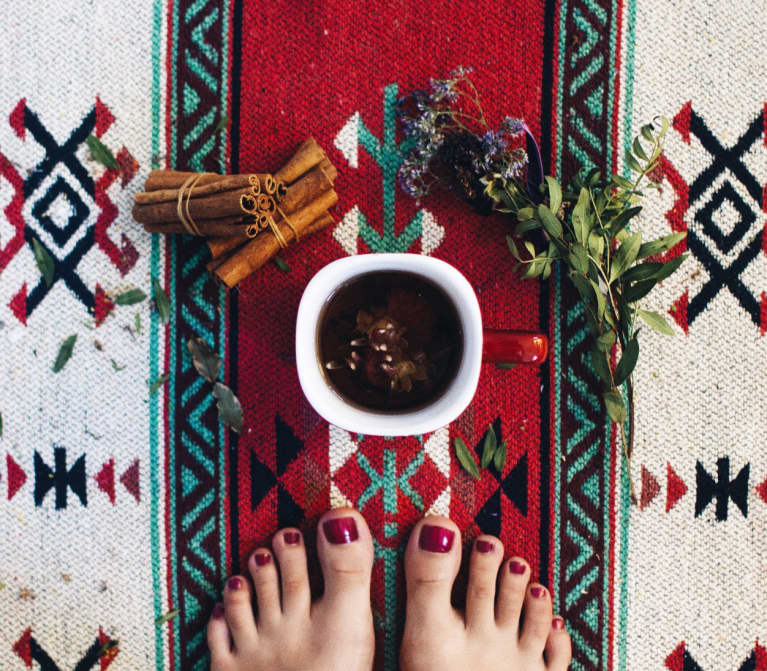 Enjoying the flavors of the season doesn't have to mean indulging in unhealthful, sugar-laden drinks. Swap out your go-to treat with one of these drinks and you'll get all the heady nostalgia you associate with a mug of super-sweet cocoa without the crash. Sharing a nutritious holiday mug with your loved ones is a great way to celebrate the season and nurture healthy habits. Cheers to that!
2 to 3 bags black tea
2 pods black cardamom
5 to 6 pods green cardamom
1 teaspoon fennel seeds
1 teaspoon caraway seeds
5 cloves
1 cinnamon stick
thumb-size ginger peeled and roughly cut
almond milk *optional
Place the green cardamom, black cardamom, fennel, and caraway seeds in a mortar and grind the ingredients with the pestle.
Fill your kettle halfway with water, adding the contents of the mortar along with the cloves, cinnamon stick, and ginger.
Bring to a boil. Remove from flame and add black teabags.
Let seep 5 to 8 minutes.
¼ cup raw, organic almonds
1 cup purified water + 1 cup for soaking the almonds
½-inch piece of fresh ginger
¼ teaspoon cinnamon
Place the almonds in a small bowl and cover with 1 cup purified water. Allow the almonds to soak for 4 to 12 hours.
Drain the almonds and place them in a Vitamix or high-speed blender.
Add the remaining ingredients into the blender and turn to highest setting. Allow the blender to run until the mixture is warmed through, about 3bminutes. On a Vitamix you can tell when it's heated by slowing the speed and lifting the lid—if steam appears, it's finished.
Pour into a mug and enjoy!
Raw & Creamy Cashew Chai Latte
1 cup raw cashews (soaked in water for 1 hour)
3 cups of filtered water, infused with your favorite chai tea
1 pinch of cinnamon
After soaking your cashews, discard soaking water and rinse carefully.
Place your cashews, your tea (slightly warm or cold), and a pinch of cinnamon in your high-speed blender and blend until nice and creamy.
Top up with some cinnamon powder and cacao nibs.
Serve warm or cold and enjoy!
Anti-Inflammatory Green Tea With A Peppermint & Nettle Kick
This green tea packs an antioxidant punch, pairing deliciously with flavorful peppermint leaves and anti-inflammatory nutrient-rich nettle. Brew hot tea for a lovely, low-caffeine alternative to coffee, or serve iced for a deliciously hydrating summer drink. If you need some sweetness in the iced version, add a splash of 100 percent fruit juice or a small amount of pureed fruit.
Ingredients
Bulk green tea leaves
Dried nettle leaf
Dried peppermint
Mix green tea leaves, nettle, and peppermint in a glass Mason jar with 1:1:1 ratio for a supply that will last from weeks to months.
Cap tightly and shake to mix.
Use about 1 tablespoon of tea leaves per cup of tea. Adjust based on flavor preference.
Enjoy!
1 cup unsweetened almond milk
½ heaping teaspoon cinnamon
½ teaspoon ground ginger (use ¼ teaspoon if you'd like it a little less gingery)
½ tablespoon 100 percent pure maple syrup
Chai tea bag
Boil water in tea kettle (or however you like to warm up water). Place chai tea bag and hot water in a measuring cup so it's easy to pour into your mug later on. Let teabag steep for about 5 to 10 minutes, depending on how strong you like your tea.
Blend almond milk, cinnamon, ginger, and maple syrup in Vitamix for 3 to 4 minutes, which makes the mixture hot. If you don't have a Vitamix, no worries; just heat the mixture on the stove on medium heat.
Pour the gingerbread mixture into your favorite holiday mug, filling the mug about ¾ full. Then fill the rest of the mug with the hot chai tea.
You can play with more or less of the chai tea and mixture to see what you prefer.
You can also just drink the warm gingerbread mix without the tea for a noncaffeinated treat.
Top with cinnamon.
Cheers to gingerbread, the holidays, and warm, sweet treats!