How To Make Gluten-Free Desserts Without Weird Ingredients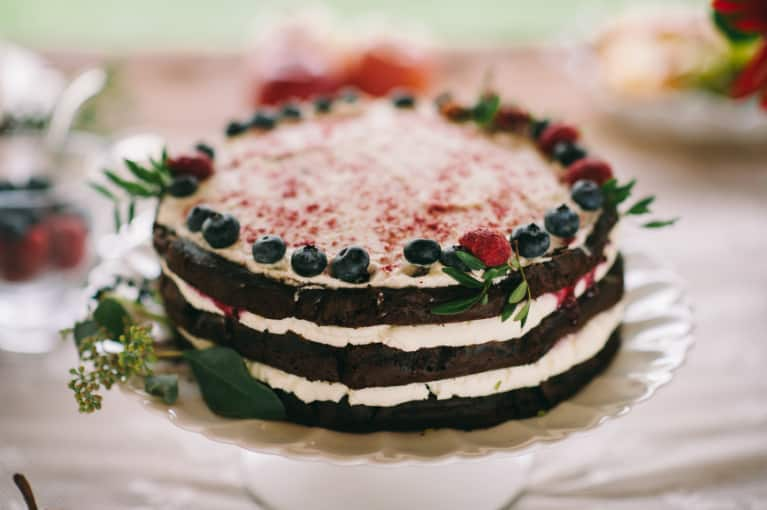 Our editors have independently chosen the products listed on this page. If you purchase something mentioned in this article, we may
earn a small commission
.
Did you know that it's possible to be intolerant of gluten-free goodies? I found out the hard way that I need to be free of gluten-free—at least when it comes to standard 1-to-1 flour substitution and store-bought gluten-free flours.
I was developing gluten-free desserts for a food magazine using store-bought swaps and ended up doubled over in pain at the end of each day. After some gut-wrenching trial and error, I discovered the culprit was xanthan gum, a binder commonly needed in gluten-free flour mixes.
And after some research, I found that it's a pretty common intolerance. When I began creating recipes for my cookbook, Better Baking: Wholesome Ingredients, Delicious Desserts, I wanted to make some sweets gluten-free for family and friends who don't eat gluten or grains—and avoid any gums or additives in the process.
I bake because I love to feed others and give them joy through food, especially those whose dietary restrictions have made them feel like they have to settle for subpar desserts. I made it my goal to develop the most delectable desserts possible for gluten-free friends. Here are some of the tricks I discovered along the way:
Finely ground nuts and seeds can act as "flour" and deliver a super-tasty richness. Ditto nut butters. And I'm talking all nuts: almonds, pecans, hazelnuts, walnuts, pistachios, and everything in between. I use nut flours and butters in pastries from cookies and cakes to pies and bars.
2. Fun with coconut flour
Ground from defatted dried coconut, this fiber powerhouse can be used with nut flours to create light, fluffy textures. I blend it with almond flour in flourless blueberry muffins, which lots of friends have declared way tastier than regular ones.
3. Chocolate every which way
Cocoa powder serves as a great swap for flour with the right ingredients, and melted chocolate firms back into a solid in cookies and other small bites. Together, they can provide enough structure for cakes, too.
The proteins in egg whites act as superglue in baking. They're strong enough to hold together gluten-free ingredients in a range of desserts. Mixed lightly, they make for soft and chewy cookies. Whipped to peaks, they can turn into crunchy cookies and airy cakes.
5. Alternative flour options
If you're still OK with grains and just not gluten, you can try recipes that take advantage of other flour options. Flours ground from oats, cornmeal, buckwheat, and rice have enough structure to make goodies gluten-free if used in the right proportions with the right ingredients.
As a bonus, they have more complex flavors than plain wheat flour and usually result in more delicate, tender textures.
Honestly, a lot of the gluten-free desserts in Better Baking weren't originally destined to be flourless. Through lots of experimentation, I found that less is more when baking.
Flour sometimes mutes the toasty tastes of nuts or the richness of chocolate. And that epiphany led to another: We should all enjoy the same sweets regardless of what we can and can't eat, especially around the holidays.
Unity around the table is a beautiful thing, even if it's just in partaking of the same dessert together. The gluten-free and grain-free desserts I created weren't intended to be substitutions or approximations of something else but are truly delicious original sweets in their own right.
They'll satisfy everyone around the table, bring joy to all, and nourish body and soul.