Go Green With Dessert: Vegan Pistachio + Pear Pudding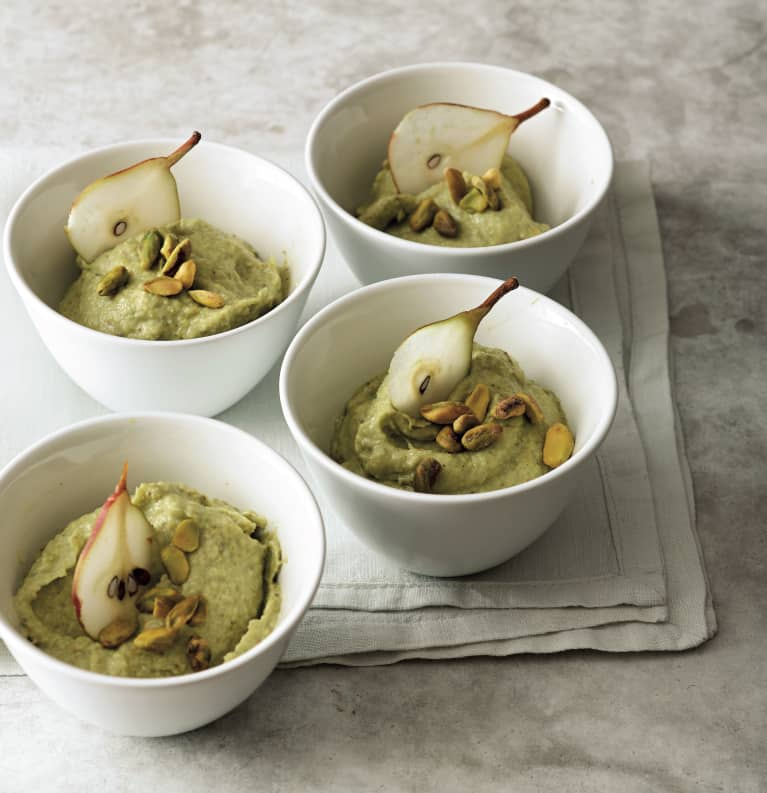 Even though this from-scratch pistachio pudding doesn't take much longer than a boxed mix, it's far more delicious. The toasty richness of the nuts shines when blended with creamy avocado and soft pears, which also lend a honeyed sweetness.
This modern take on an old-fashioned favorite makes for a light dessert. For a velvety, airy smoothness, thoroughly puree the pudding, stopping only when you taste the right texture.
TIP: The softer and juicier the pear, the creamier the pudding. Firmer pears will result in a stiffer texture.
Pistachio Pudding with Pears
¾ cup (96 g) shelled roasted unsalted pistachios, plus more for garnish
5 tablespoons (70 g) sugar, or more to taste
7¼ ounces (205 g) ripe Hass avocado (1 medium), quartered, pitted, and peeled
8 ounces (226 g) very ripe green D'Anjou pear (1 large), cored and chopped, plus pear slices for garnish(optional)
1 teaspoon pure vanilla extract
1 teaspoon fresh lemon juice
Preparation
1. Combine the pistachios and 2 tablespoons of the sugar in a food processor and process until fine crumbs form, scraping the bowl occasionally. Add the avocado, pear, vanilla, lemon juice, and the remaining 3 tablespoons sugar, and process until very smooth, scraping the bowl occasionally. Taste and pulse in more sugar if you'd like.
2. Transfer the pudding to serving dishes, cover tightly with plastic wrap, and refrigerate until cold, at least 2 hours.
3. To serve, garnish the pudding with pistachios and pear slices, if you'd like.
MAKE AHEAD: The pudding will keep in the refrigerator for up to 1 day. If the tops of the puddings brown, simply scrape off the discoloration before serving.