Energy-Cleansing Rituals To Help You Emerge From This Year Stronger Than Ever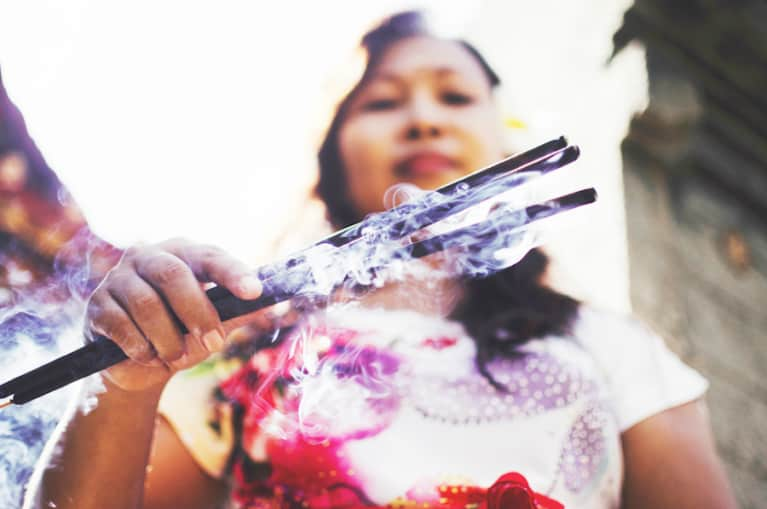 Watching the ball drop, blasting corks off Champagne bottles, dancing the night away as crowds roar around you—these are all exciting ways to celebrate the entrance of a new year. But the days leading up to New Year's Eve should look a little quieter. Consider this a period to reflect on the year that's passed and plan fresh intentions.
The new year is a time to create a clean slate mentally, physically, and spiritually. A time to let go of the "old you," honor it for all it has done, and push forward feeling refreshed and renewed. Give these rituals a try this week and wake up January 1 feeling motivated to make 2017 your best, most authentic year yet.
1. A burning ritual for cleansing
Every experience from the past year, positive or negative, carried a lesson. We should honor these moments, then allow them to be cast away.
Burning has long been used as a ritual of release and can be a liberating way to let go. This week, gather yourself and friends around a flame-proof bowl or outdoor fireplace (or make your own campfire) and write down some negative moments of this past year, speaking from the heart. Then, cast them into the flames. You can finish with the words, "I release you" or any other affirmation. This is an opportunity to reflect on those significant times and leave space for new, more positive ones to come your way.
2. A smudging ritual for renewal.
What better time to get in touch with your spiritual side than the new year? Cleansing the spirit using herbs is a great way to reflect and rid your body and your space of lingering negativity. Light any of the following herbs and walk through your home, allowing the smoke to fill every corner. Or, let your herbal smudge stick burn out in a bowl.
Sage cleanses bad spirits, feelings, or influences
Cedar protects from negative energy
Palo santo promotes well-being
Sweet grass protects the spirit and feminine energy
3. A sweat ritual for detox.
Sweat in its many forms can symbolize cleansing. Bringing in the new year with a good sweat can allow the body to feel refreshed and the mind cleared. Over the next few days, get to a challenging HIIT or bootcamp class to release endorphins and motivate yourself to take on the big night. Or, if you're looking for a more mellow approach, try an extra-long vinyasa flow or kundalini yoga class. These will help you tap into your body and emotions, and begin to center yourself. If you're after a stationary sweat, a relaxing sauna could be just the thing. All you have to do is sit and let your physical and mental impurities melt away.
4. A vision board ritual for motivation.
The power of positive thinking can go a long way, and making a vision board is a great way to picture everything you want in the new year. Clarify your desires by displaying a mix of images, words, and to-do lists that represent whatever you want to be, do, or have in your life. Think of it as an open invitation to the universe.
As part of my ceremony last year I created a board that displayed my goal of having an article published online, and voila! These words acted as daily reminders; sentiments that reaffirmed my visions and instilled hope that one way or another it would come to be.
5. A meditation ritual for strength.
This transition time between past and future is an opportunity to stay mindful. Tapping into your breath with meditation will allow you to stay grounded and focus on the present moment. Find a quiet and soothing space where you can sit and slowly acknowledge your breath. And ask yourself, "What would I most like to be or have in this coming year?" Hold this intention in your heart and allow it to be the main focus as you give power to the new year and all its endless possibilities.
May your new year be happy, healthy and prosperous. Cheers!
Keep reading: