Injured? You're Not Out Of The Game. Here's Your Action Plan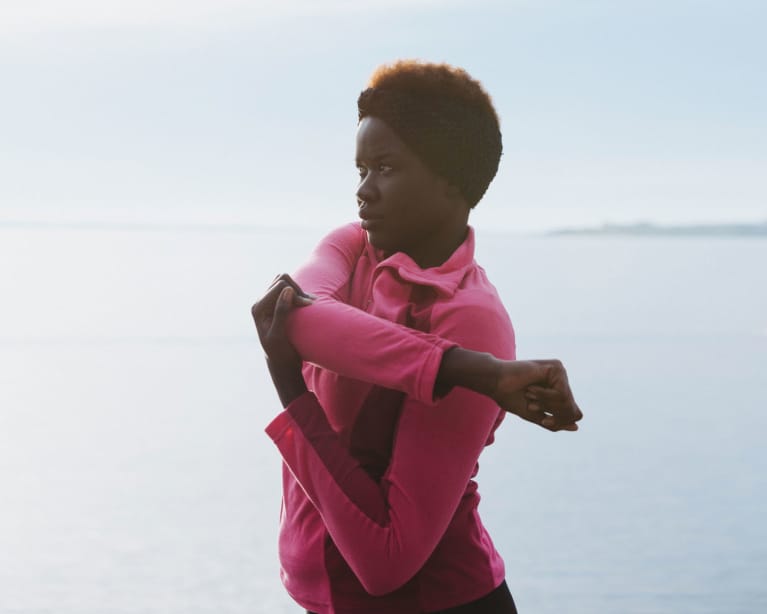 All of us have had an injury at one point in our lives. It could be from sport or even from silly accidents in your daily life. Once we have an injury, surgery, or accident, the physical damage is done while we wait for our body to heal. However, our headspace and attitude toward the injury is something that can constantly evolve and even make the downtime an enjoyable experience.
As a professional mountain biker, injury is a part of my job that I accept although I minimize it as much as possible! I've had my fair share of setbacks and injuries over the last decade of my career. I sheepishly admit that some of my actions around my injuries were incredibly shortsighted—trying to race with concussions and even racing with broken bones. What was my deal? Why was I being so stubborn and somewhat self-destructive? Was I being brave, or was I being stupid?
The reason we prematurely rush to get back to activity or feel depressed around our injury is fear. More specifically, it's the fear of missing out, loss of identity and purpose, or simply fear of becoming less fit. There's also anxiety around injuries and surgeries because it is frustrating and inconvenient to lose mobility.
This year, I went to New Zealand to defend my World Champion title. I had a stupid and unfortunate crash two days before the race and landed on my head. It was disappointing to say the least, but I showed up as a volunteer the day of the race instead of with the defending champ number plate on my bike. I was gut-wrenchingly disappointed as I watched the race start without me, but I knew I had made the right long-term decision. It's always disappointing when things like this happen, but it's important to think big picture.
How did I break the trend of pushing through injuries? After some serious introspection, I found that my sense of self was coming from my activities, and I was afraid I was going to miss out on an opportunity. Also, I had to participate in physical activity to feel good about myself.
It was time to take action and find other ways to find joy in my life that are unrelated to exercise. I grew up playing music, so I decided to learn a new instrument—guitar. I spent a lot of time reading nonfiction books and learning about things I was interested in—I love learning. Through a regular self-awareness practice, I was able to come to a place where I was comfortable being Sonya, not "Sonya the Athlete." It was an important time because I learned how to self-soothe and feel good when I couldn't move my body with yoga or a sport.
I recently had foot surgery and couldn't walk at all for one month. People would say to me, "Oh, you must be so depressed. You must be going stir crazy!" The truth was that I was perfectly at ease and happy. I was excited to have more time to do other things I loved to do or simply nothing at all! I actually sat on the window seat and simply watched people go by outside or the bright yellow leaves slowly fall from the trees. I took time to reflect on my goals and on my reasons for those goals. I also took time to let my brain and body rest. My attitude toward my injury was all a matter of perspective.
Most of the time, we can't anticipate our injuries or time away from what we love to do. So, here's how to master a positive mindset during a setback:
1. Don't throw a pity party.
It's a downward spiral of negativity. It's OK to feel disappointed, but don't tell yourself stories around the emotion. It is important to process and feel your emotions rather than bottle them up, but don't let them consume you.
2. Realize that nothing is permanent.
Once you are healed, the downtime will seem so far away. Even if your injury was life-altering, there is always a way to find happiness. You see people do ironman triathlons with one leg or people in wheelchairs who still ski. I can't imagine how hard it would be to go through a change like that, but there is always a way.
3. Spend more time with friends and family.
Having support and feeling a sense of community is important. If you feel good, you will heal faster.
4. Take up new hobbies and revisit old ones.
This is the time to build new hobbies that enrich your life. Go for it!
5. Don't worry about becoming less fit.
Part of the fun is building it back up again. The reason we set goals is so we have something to work toward. If you had a setback, you improve rapidly, and seeing that improvement is rewarding.
6. Take care of your body.
Eat a plant-based diet, sleep 8 to 10 hours per night. It'll make you heal faster.
7. Make the choice to be happy.
It's not always easy. When negative stories and thoughts come into your mind, try to retell the story in a different way.
For example, say it's raining outside. Here's a negative thought: "I hate the rain. I'm going to be cold and wet. I'm going to be uncomfortable."
Now, here's a positive thought: "It's raining! It's beautiful and it smells so good. The air is fresh, and we need the moisture. I'm excited to try out this rain jacket!" It's not always easy to reframe a situation in a positive way, but if you work at it, it gets easier.
Injuries and setbacks happen, but an opportunistic, positive mindset around the setback is a choice!