What NYC's Chicest Mass Meditation Taught Us About The Profound Power Of Sound
mbg Sustainability Editor
By Emma Loewe
mbg Sustainability Editor
Emma Loewe is the Sustainability Editor at mindbodygreen and the author of "The Spirit Almanac: A Modern Guide To Ancient Self Care."
December 14, 2016 — 19:02 PM
It's a bitingly cold New York night, and nearly 2,000 wellness junkies have gathered in a grand, lavish ballroom uptown. The vibe is slightly Gatsby-esque, but instead of champagne and flapper dresses, there's kombucha and vegan salads as far as the eye can see as the group eagerly awaits The Big Quiet's latest mass meditation.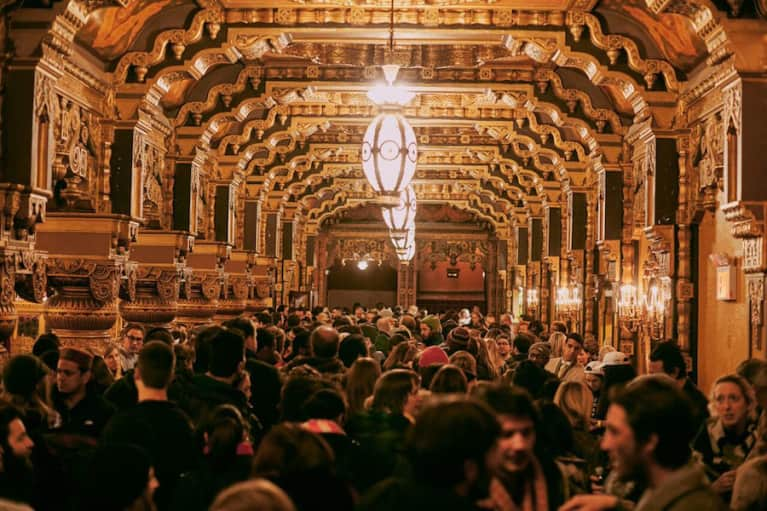 These large-scale meditations, previously held in iconic locations like Central Park and the Statue of Liberty, give New Yorkers a chance to escape the city's buzzing energy to look inward and take a collective exhale. They are opportunities to gather, be still, and celebrate connection.
On Monday, Big Quiet attendees were invited into the United Palace Theater in Washington Heights to take off their shoes, close their eyes and meditate for 15 minutes before enjoying stunning instrumental and vocal performances. The theater's acoustics heightened every note, and the audience was wrapped in sound throughout the event.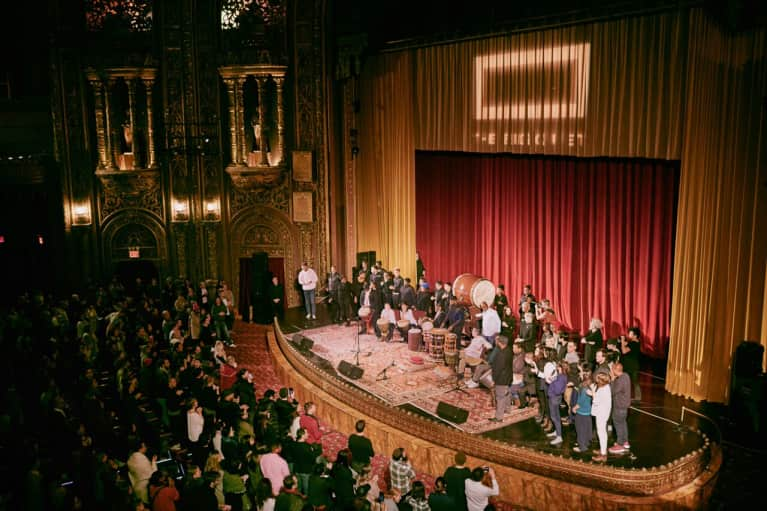 During the meditation itself, sound therapy practitioner and meditation teacher Sara Auster filled the space with low tones intended to help the crowd look inward. Auster curates the sound for every Big Quiet event, treating the gatherings like canvases on which to craft her meditative music.
We picked up some of her tips on how anyone can use music to maximize their meditation—whether they're in a ballroom or a boardroom.
Sound can help quiet the mind and relax the body.
Auster uses a combination of singing bowls, tuning forks, shruti boxes and percussion instruments to produce resonant sounds that help listeners quiet their minds. "One of the reasons I think sound is a powerful tool for meditation is because it offers a point of focus. It's especially helpful for people who are new to meditation," she explains. "The act of listening deeply is a meditation in itself."
Singing bowls in particular have been lauded for their soothing sounds for centuries. Typically made from a mix of copper and tin, these bowls produce uniquely deep, rich tones when struck with a mallet. Their sound vibrations are thought to impact our nervous system and promote relaxation and stress relief, and you can find these auditory pleasures in altars, temples, monasteries and meditation halls around the world. Often used to promote a sense of calm during holistic healing treatments like reiki, the bowls are now starting to pop up in more mainstream medical settings, too. A recent trial even found that the sound therapy improved cognitive function and mental health in breast cancer patients.
It's easy to introduce sound into your home practice.
Incorporating singing bowls into your own meditation practice is clearly a great idea—and plenty of recorded tracks capture their power. (Here are a few of Sara's!) However, everyone's sound preferences are different so Auster recommends playing around with various instruments and tunes to see what works best for you.
"Everyone knows that the fast-paced pop songs or hip-hop songs are going to get them going at the gym, so that's the powerful effect that music has on us," she explains. "If we just start paying attention to how different types of sound affect us, we can use that to our benefit. There's a lot of music out there that is specifically intended for meditation and relaxation, so start there and keep trying things."
You heard her—turn up the volume during your next meditation and see if you can make sound as soothing as silence.