The Mystical Home Cleanse That Will Bring Your Intentions To Life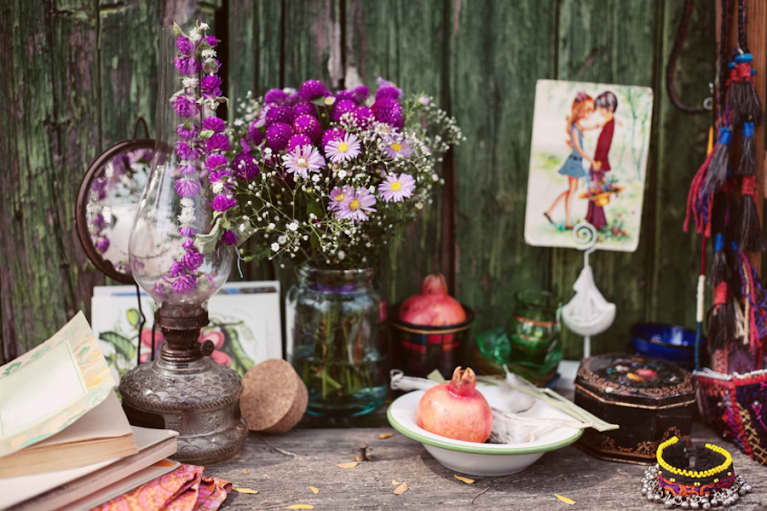 We all need to cleanse our homes in order to release and regroup occasionally. This cleansing takes the act of cleaning and tidying a step further by actively inviting positivity into a space.
Burning sage is an effective way to cleanse a space of negative energy. Many burn sage when they want to move on—from a death, a divorce, or just a bad week at work. It's also a great idea if you're looking to change your thought patterns or welcome new people into your space. One can cleanse as often as they feel necessary. Seasonal or monthly cleanses take the act and turn it into a ritual for new beginnings.
Here is a simple cleansing technique to try before the New Year.
A sage and crystal cleanse for clarity
Burning sage is an ancient ritual thought to promote a long life and ward off evil. To bring the herbal power into your own home, light a bundle of sage and wave it in clockwise circles, which are meant to be welcoming and inviting, as you walk through your space. As you move from room to room, concentrate on the positive, peaceful, serene energies you want to invite into your home. You can also choose to move in counterclockwise circles and focus more on the negative energies you want to push away. Pay extra attention to doorways, where energies exit and enter!
Sage-burning rituals can be as elaborate or as simple as you want to make them, but it is most important to keep an intention in mind throughout. If you are in private, keep it deep in your thoughts. If this is a group exercise, you can say your intention aloud. Intentions can include bringing love, peace, or open communication into your space.
Healing crystals like quartz, which represents clarity, and selenite, which dispels negativity, can be used to enhance these intentions. Keep the stones with you as you burn the sage, or scatter a few around your home to heighten the effect of the sage. They will help the smoke promote constant clarity and honesty for the year that lies ahead of you. Crystals and herbs both come from Mother Earth, so they work especially well when combined with each other or any other natural resources like water and plant-derived oils.
To bring your cleansing ritual to an end, you can do a brief meditation, chant, or prayer that reiterates your intention. Then, wash your hands in water and dispose of the remainder of the sage in the water.
Keep reading: