Why "Life Design" Is The Next Wave Of Journaling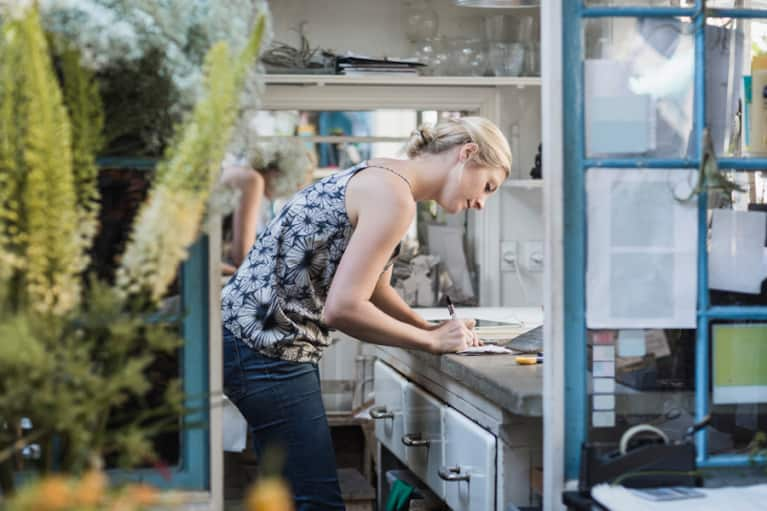 December 4, 2016 — 10:29 AM
I recently spoke with a talented woman who avoids writing down her plans because she feels anxious when she thinks about her future. She doesn't write down her goals because she is already overwhelmed with her to-do list and doesn't want to compound the stress. Another woman told me that she was too old to have goals. (She is about 65.)
At one point, I didn't see the purpose of writing down my goals either.
Before I began what I call "life design," I felt extremely unsatisfied: I was living in a place I did not want to be, working at a job I was ready to leave. I didn't have time for the things that mattered most to me.
My life design process began when I conducted an annual review, looking back on what worked and what didn't in the past year. Once that was done, I started working with my planner throughout the year, documenting myself on a monthly basis and envisioning what I wanted: more joy, more community, work that makes my heart sing, more energy. Doing so only reinforced my belief that our words carry power. When we say things aloud, we make waves. When we write them down, we commit to them consciously and subconsciously.
Slowly but surely, over about two years, I shifted. I found a job that allowed me to move back to the state of Colorado, where I feel at home. Still, these shifts led to more shifts as I continued to document and realized that my job and location weren't the only issues.
Could you use a little help moving to the next level in your life? Here's how to get started with journaling and goal-setting:
1. Review the past year/quarter/month.
Looking at what worked and didn't work over a period of time (a month, a quarter, a year) helps us clearly identify the challenges we faced. You can record these by writing down questions such as, "What worked?" "What could have been better?" "What did I learn?" Then, answer the questions in paragraph form. Perhaps once you start writing, you'll discover more questions to ask like, "What would I prefer?" "How might I solve this challenge?"
When we see challenges, we can address them as opportunities to ask the question, "How might I…?" which can help us discover new possibilities and solutions.
2. Envision what you want.
Envisioning is all about calling forth our highest values and checking whether the way we live lines up with them. For example, if you're someone who cares deeply about the environment, it may not make sense to drive to work every day. Perhaps changing location, finding a new form of transportation, or working from home one or two days a week would help bring you into alignment.
Start to live your vision by writing down the qualities that make up your ideal world. How would people treat each other? How would they treat the land? Once you've finished that vision, you can focus on you and imagine how your daily existence fits in with that world.
After you review and envision, it's time to start self-documenting to keep yourself on track. Create a ritual every Monday in which you look back at the previous week and write down what you accomplished, what's still hanging over your head, and what you're focused on for the upcoming week. If you find it hard to start a routine, make it special. Keep your planner on your desk and sit down for 10 to 15 minutes with a delicious morning beverage. If morning doesn't work for you, try Sunday evening or Monday at lunch. Choose something that works for you.
Then, each day, quickly glance at your list to make sure you are making progress. If there's a particularly great day or terrible day, make a note of what worked or what didn't.
Taking a "brain dump" is a powerful way to get rid of everything that's on your mind. You can do so by setting aside a section every Monday to write down your nagging lists, concerns, and issues. Doing so will free up more room, time, and energy for you to be creative.
5. Write down your challenges and insights.
At the end of each month, do a review to write down the challenges you faced. Then, examine them and dream up a list of potential solutions. Even if a challenge seems unresolvable, we can still brainstorm ways to help us cope. We should also write down insights because they can be fleeting. This includes realizations we have from dreams, conversations, meditations, and just shower epiphanies. Writing down feelings and the messages that came from dreams and spirit deepens the connection with our intuition and allows us to see patterns or messages that are desperately trying to get our attention.
When you look back at all you recorded, you will be able to see what you would like to change. The year 2017 is coming fast, and there's no better time to start envisioning what we want. What do you want for the world? What do you want for yourself? Have fun with it and know that you can create anything you put your mind to!
Here's a sample weekly "life design" template that pulls together all of these steps.
What were last week's successes?
What could have been better last week?
Weekly focus:
Top three weekly goals:
I am grateful for:
Brain dump:
This week's self-care: