Be Instantly Happier At Home: A Psychologist Tells Us How
Psychologist
By Elizabeth Lombardo, Ph.D., PT
Psychologist
Elizabeth Lombardo, Ph.D. is a licensed practicing psychologist with a master's in physical therapy from Duke University and a Ph.D. in psychology from Drexel University. She's appeared on Dr. Oz, The TODAY Show, Steve Harvey, CNN, Fox Business News and many more, where she shares her mission to free people from the stress of perfectionism and unlock their own, personal happiness code.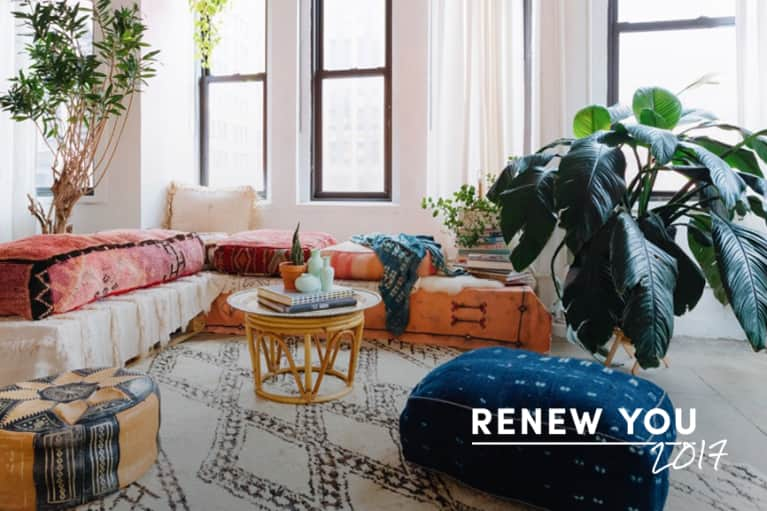 Manifest the year of your dreams by going inward. Renew You 2017 is a month of mindfulness during which we'll share content that guides you to create a deeply rooted intention for the new year. We'll help you navigate inevitable obstacles with the latest science on habits, motivation, ritual, and more and equip you with tried-and-true techniques to outsmart even the toughest inner critic. If you're interested in learning about feng shui, check out this class.
You can't buy happiness, but you can build it when it comes to your home. Research demonstrates that your physical environment significantly influences mental well-being, whether you're aware of it or not. Luckily you don't need a perfectly feng-shuied home to reap the benefits. Even modest changes can have a major impact on your mood.
Here are five tips to change your environment to boost your happiness that will give you the most bang for your buck.
The benefits of nature on reducing stress levels are well-documented. And as stress is one of the main mindsets that interferes with happiness, this is a promising discovery. So, open your windows to let some sunshine and fresh air in. If that is not possible (hey, I live in Chicago, where winters are open-window prohibited), then bring nature into you. A plant or flowers can reduce stress and boost your overall feelings of happiness. And if you don't have a green thumb, consider that even just having pictures of nature can be helpful.
2. Declutter, declutter, declutter.
Excessive clutter is linked to depressed mood and stress. So take the steps necessary to get rid of stuff you don't really need—or want. Because this task can be daunting, depending on your home, try this strategy. Choose one area you are going to address: a closet, the kitchen pantry, the garage. Identify a sub-area, such as your shirts, the junk drawer, or lawn tools, where you will start. Then set a timer for 15 minutes (or more if you have it) and just start working. You will likely feel good about what you have accomplished and want to do more, but if you don't, know that you can do another session tomorrow, or next week.
Worried you will want something, so you decide to keep it? Try this: Put items in a box that you fear you might actually wish to have in the future and store the box somewhere you rarely go (such as the attic). If, after a year (or less), you haven't even thought about what is in that box, just find new homes for everything, whether you recycle it, bring it to a swap, sell it, or donate it to a nonprofit organization.
3. But don't overdo it. Get sentimental.
While decluttering is important, you don't want to go to the other end of the spectrum. Having meaningful memories around your home can help boost happiness. Pictures of loved ones and positive experiences can bring you more joy. In fact, research shows that looking at old photos can enhance positive feelings. What's more, a fun painting or throw pillow that you bought with a friend can remind you of that friendship and enjoyable times. Having mementos of people you love, such as your grandmother's china, can also help boost happiness.
Be conscientious of what is in your home. Get rid of things that cause you distress. It is OK to put away pictures of people with whom you are no longer close or get rid of that horrible crocheted blanket your aunt made you that smells like mothballs. This is your sanctuary, so choose objects that bring you more positive energy.
Smell is directly connected to the limbic system, which plays a role in your emotions. As a result, scents can significantly affect your mood. First, remove any unpleasant odors related to shoes, unwashed laundry, pets, kitchen smells, or anything else that is less-than-desirable. Then proactively use scents to your advantage. For example, both vanilla and floral scents can help boost your mood. Try different candles or essential oils to uplift your happiness.
5. Utilize the power of color.
Color can have a huge impact on your mood. Too much white can feel sterile. In contrast, colors can bring a sense of warmth and positivity. For example, yellow tends to be associated with happiness. If yellow isn't your favorite, try using it as an accent (such as a pillow or towel) or play with the use of other colors. Purple, for example, is associated with peace and serenity, which certainly feels good too.
Want to bring even more happiness to your home? Invite friends over. Research shows that social connections can boost your happiness significantly. And don't keep your home the same forever. Change is an important component of happiness. Even just adding a new lamp or rearranging a room can boost your happiness. It's the little things.