A 60-Second Gratitude Practice That Can Change Everything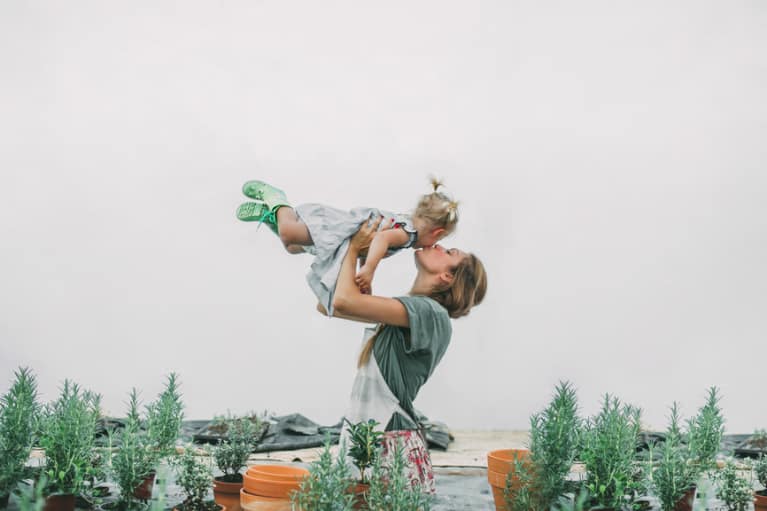 On November 1, 1777, by order of Congress, the first National Thanksgiving Proclamation was issued, officially designating it a day "…for solemn thanksgiving and praise. That with one heart and one voice the good people may express the grateful feelings of their hearts."
As we approach Thursday, you will likely see a flood of posts about gratitude. But we all already know that gratitude is a nice thing we should practice. This post is about something a little different—it's about a simple practice that can transform your Thanksgiving plans, no matter what they are.
I started practicing gratitude before I even knew what the word meant.
Every Thanksgiving growing up, whether I was in San Luis Obispo with relatives, New York with friends, or Maui with our family, there was one thing we had to do before partaking in the feast before us.
My Mom would sit down, ask us to hold hands, and then it was time to say our "thankfuls." My brother and I would begrudgingly hold hands as everyone at the table took turns expressing their gratitude.
I didn't fully appreciate the power of that tradition until very recently. While simple and slightly uncomfortable at the time, it has become one of my fondest childhood memories.
Those few minutes brought our family together, grounded us in all that was right in the world, and set us all on the same frequency before indulging.
Sometimes the things that make us uncomfortable are precisely the things we should be doing.
Before we dig into the anatomy of this thankfulness practice, I want to highlight some of the hard science on gratitude.
Gratitude sometimes has a "woo-woo" connotation. People think about it as a nice thing, but it's not something we pay significant attention to. Despite what people think, gratitude is a powerful thing.
Research from the folks at the Greater Good Science Center at U.C.-Berkeley, and countless others, has shown us that gratitude is one of the most beneficial practices for psychological and emotional well-being.
Harvard researchers recently revealed their results from a 75-year study and identified that strong relationships are the strongest indicator of a happy life. And sharing our appreciation with family is one of the easiest ways to reaffirm these important relationships.
On top of the happiness-boosting side effects of strong relationships, gratitude has been shown to have all kinds of positive results, such as:
Heightening our immune system and increase white blood cell count.
Decreasing stress hormones like cortisol by up to 23 percent.
Decreasing blood pressure and heart rate variability.
You don't have to be Mom or Dad to establish a new tradition. One of the beautiful things about family traditions is that you can start new ones.
With that in mind, here's a 60-second gratitude practice that can change everything.
This Gratitude Toast, as I like to call it, will help you make the most of the unique opportunity Thanksgiving provides to express gratitude and connect with those closest to you.
At some point during dinner, take the floor and tell everyone you'd like to unify the conversation for a bit. Propose a "Gratitude Toast" to help you all remember the people in your lives that you're grateful for.
Next, go around the table and Invite everyone to answer three questions:
Who are you grateful for this year?
What, in particular, are you grateful for?
What is one thing you are looking forward to in the coming year?
These questions allow people to identify something they have felt grateful for in the past as well as to bring to mind something they will be grateful for in the future.
As we all know, Thanksgiving can get hectic. Your family will appreciate the opportunity to come together to remember, for just a few minutes, what really matters. We want to share our love and appreciation openly. Some of us are just waiting for permission.
If you are at a smaller table or with your immediate family, you can tweak the Gratitude Toast so it's even more personal. Let each person tell every other person why they are grateful for them.
When we tell people why we are grateful for them, it adds a layer of authenticity to a statement of thanks. It has an infinitely stronger impact on the recipient.
I promise, this practice will connect your family in a profound way and transform the energy at your gathering this year.
Be grateful for people.
Whatever fear or discomfort you might have about inviting people to join in a Gratitude Toast, remember that the end result will almost always be a positive one.
Discomfort is often the price we pay for doing something new. We should seize this opportunity to infuse our Thanksgiving Days with the things that truly make them special; family, friends, and gratitude for all that is right in the world.
Be bold. Be a gratitude catalyst. Start a Thanksgiving tradition that you want to celebrate for years to come.