3 Food Hacks This Registered Dietitian Uses To Eat Healthy All Week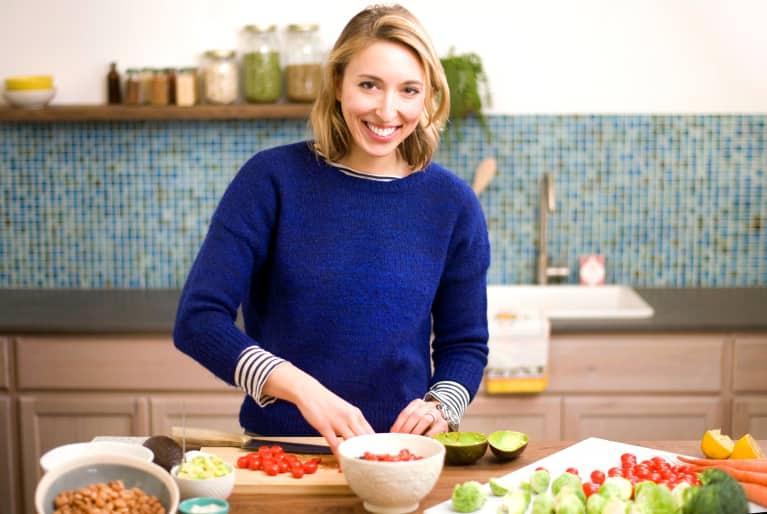 Looking for some inspiration in the kitchen? As part of the International Year of Pulses, mbg and USA Pulses are teaming up to motivate you to take the Pulse Pledge and eat pulses once a week for 10 weeks. We'll make it easy for you by sharing delicious ways to cook with pulses that you won't be able to resist.
Meal prep is an essential tool for anyone looking to eat healthily and to save money while managing a busy lifestyle. Meal prep may seem like an overwhelming and intimidating task, but if you spend a few hours prepping on a Sunday, or on your day off, you will be able to reap the benefits all week long.
This is a key component that I always stress when counseling clients. While juggling the demands of work obligations, trying to prioritize time for recreational activities, and spending time with family and friends, I continue to lean more and more on meal prep as my foundation for keeping healthy and well-balanced.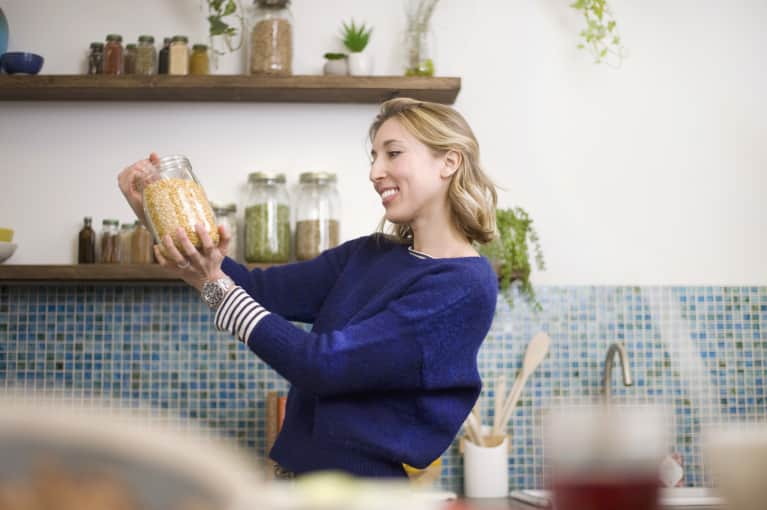 The key is to keep the prep simple and streamlined and avoid preparing dishes that are labor intensive and require multiple pots and pans. You want to keep things easy and enjoyable.
Start your prepping by going to your local greenmarket, take in all the seasonal produce, and find pleasure in the procurement. Once you are back in the kitchen, put on your favorite podcast or playlist, pop open a bottle of wine or kombucha, and enjoy the process of cooking and prepping.
My Three Meal-Prep Must-Haves
The staples that I always prepare are vegetables, pulses (dry peas, beans, lentils, and chickpeas), and a grain. I avoid overseasoning so I can easily repurpose these key meal components in a multitude of ways.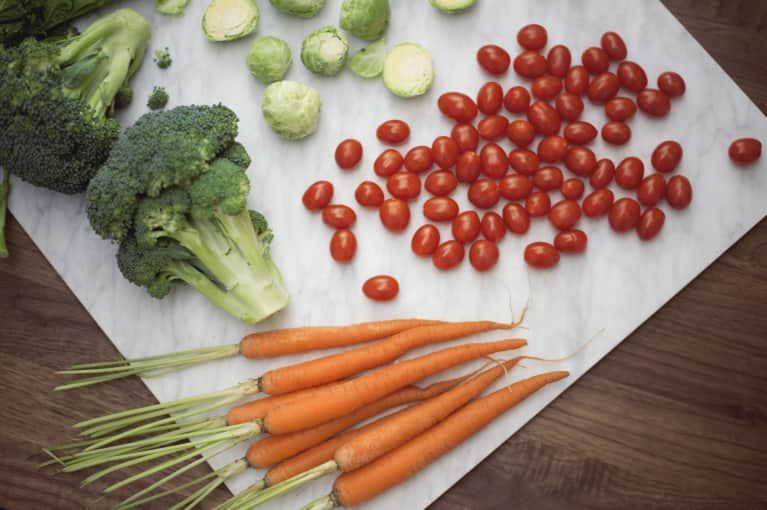 I typically like to select vegetables in the cruciferous family, a group of vegetables known for their cancer-preventing abilities and anti-inflammatory and detoxifying properties. This includes Brussels sprouts, broccoli, cauliflower, collard greens, and kale. I like to keep things uncomplicated by steaming, roasting, sautéing, or blanching. You want to select vegetables that will maintain their integrity for a few days and not break down and become slimy and unappealing. I will also make a giant massaged kale salad, which keeps well for a day or two in the fridge.
Washed and freshly chopped carrots, peppers, whole cherry tomatoes, romaine lettuce leaves, and celery are also essential veggies that I prepare during my meal prep. These make great snacks, additions to salads, or easy toss-ins for a stir fry.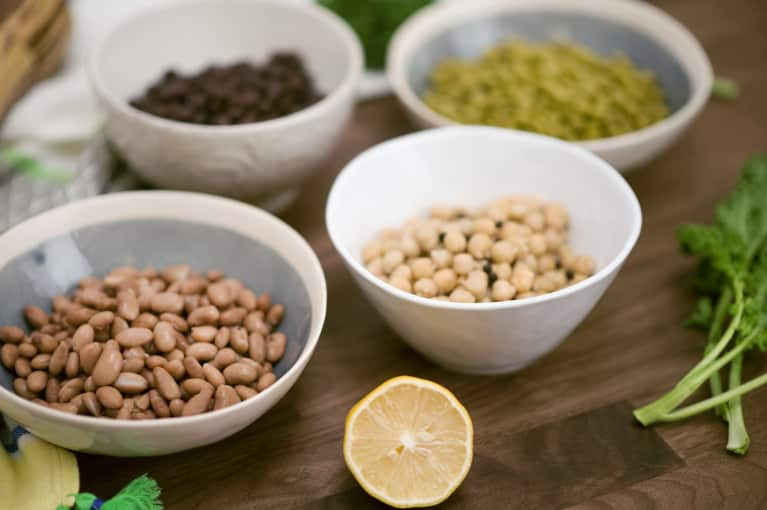 Pulses are key sources of protein for me that are also a must-have in meal prep. Pulses include lentils, chickpeas, dry peas, and bean varieties. Not only are they full of plant-based protein, but they also provide fiber and iron—and, when all of the seasonal vegetables in the market start to look sad, they are actually classified as a vegetable as well, and a shelf-stable one to boot.
Chickpeas are typically my go-to pulse. After rinsing and soaking them overnight, chickpeas take 30 to 40 minutes to cook. I like to infuse the chickpea cooking water with kombu for added digestibility as well as garlic and peppercorns for flavor. While the chickpeas cook, I focus my attention on other items to prep such as chopping vegetables, or I catch up on emails.
If I don't have time to soak and cook chickpeas from scratch, then and I pick up a BPA-free can of chickpeas—or there are even frozen varieties—to have on hand during the week. Chickpeas are super versatile and can be whipped up into hummus, roasted into poppers, or tossed into a salad or a soup. Pulses of all varieties are ideal items for meal prep—not only for their versatility but for their durability. They hold up well for a few days in the fridge and can easily be transported to work without getting mushy and becoming unappealing.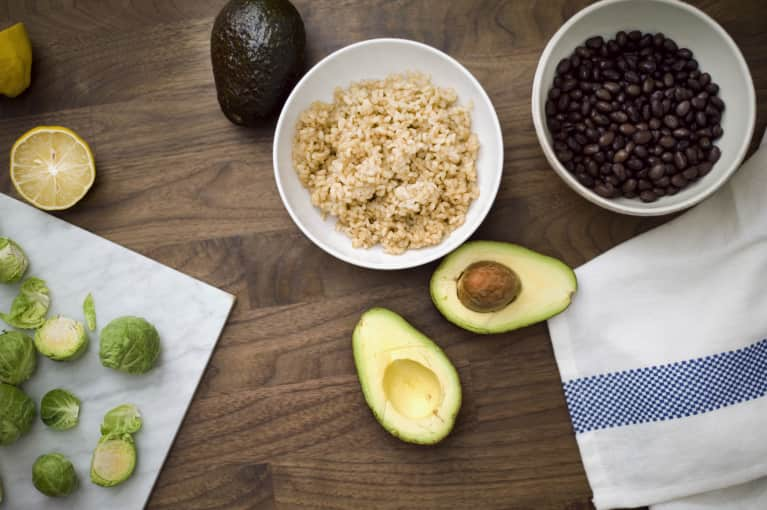 For balance, I typically prep a whole grain to add to my weeknight meals. My "go-to" grain is usually brown rice. I love the simplicity and nuttiness it offers, and it complements most dishes—from soups to stews to simple beans and roasted vegetables. And when paired with pulses, it makes a complete protein source. Quinoa, millet, and wild rice are also versatile and nutritious options.
Adding some sliced avocado is a great way to add healthy fat and vitamin E to your plate, too. Toasted nuts and seeds are also great additions for added texture, flavor, and protein, and don't forget your fermented foods for added probiotics and gut health!
To best set your meal prep up for success, make sure you have a sturdy cutting board, a sharp knife, a sheet tray for roasting, parchment paper, a large pot, and plenty of glass containers to store all of your prepared foods. It is also important to have a diversity of spices, some citrus, oils, and vinegars on hand to add different flavors to your prepped items and to help you avoid leftover fatigue.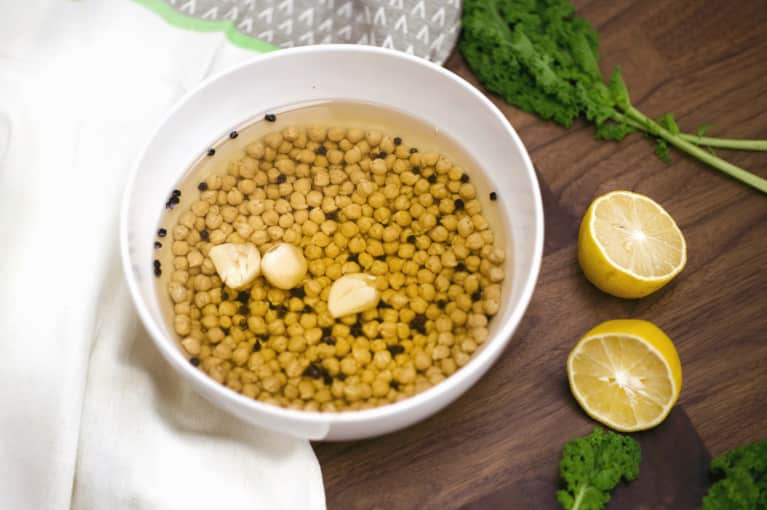 Recipe adapted from the Natural Gourmet Institute. Makes 8 servings.
Ingredients
2 cups chickpeas, soaked, drained, rinsed (or 1 cup dried)
1 piece of kombu (optional)
1 yellow onion, diced
1 tablespoon ginger, minced
4 garlic cloves, minced
3 tablespoons coconut oil
1 teaspoon turmeric
½ teaspoon ground cumin
½ teaspoon ground coriander
½ teaspoon cinnamon
¼ teaspoon ground cloves
1 28-ounce jar peeled tomatoes
½ teaspoon salt
Black pepper, to taste
Cilantro, roughly chopped,
Sliced almonds, toasted
Brown basmati rice, quinoa, or another grain
Massage kale
Full-fat plain yogurt
Lemon or lime wedges
Combine chickpeas and kombu in a large pot covered with 2 inches of water. Bring to boil and reduce to a simmer for 40 minutes or until tender. Drain and set chickpeas aside.
In a dutch oven or large pot, warm the coconut oil. Add all of the spices and toast for 1 minute or until fragrant, allowing the spices to bloom. Add the onion and garlic, and sauté until translucent, about 5 minutes. Add the ginger and cook for another minute.
Add tomatoes, salt, and black pepper into the pot with the onion mixture and cook for 10 minutes more, allowing the flavors to meld together. Add the chickpeas, and simmer, partially covered, for an additional 15 minutes.
Remove from heat. Serve with selected grain or greens and top with cilantro, almonds, yogurt, and lemon or lime juice, if you wish.
If this sounds like a delicious challenge to you, take the Pulse Pledge and be sure to share your pulse cooking adventures with us on Instagram with #pulsepledge.