THIS Is The Key To Celeb Nutritionist Kimberly Snyder's Happiness & Success
New York Times Best Selling Author
By Kimberly Snyder
New York Times Best Selling Author
Kimberly Snyder is the founder of Solluna and the #FeelGoodMovement, and the multi-time New York Times bestselling author of The Beatuty Detox book series and Radical Beauty, co-written with Deepak Chopra. She is also a nutritionist, renowned speaker, meditation teacher, certified yoga instructor and holistic wellness expert.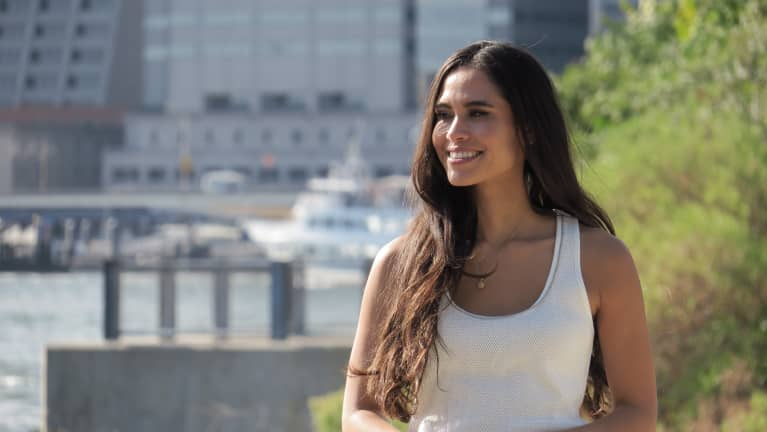 Famed for her holistic approach to nutrition, focused on cultivating radiance from the inside out, holistic nutritionist and best-selling author Kimberly Snyder obviously has a recipe for happiness worth trying.
So, in a week that's all about being thankful, we decided to ask Kimberly how gratitude contributes to nourishing her fulfilling, inspiring life and how she finds opportunities to create joy every day. Get ready to be inspired.
What does gratitude mean to you?
Gratitude is a commitment to love, to truth, and to trust. It's so easy to get caught up in all the little details of life or lose perspective on your highest priorities. But when you connect to gratitude, it grounds you in the truth that there are so many blessings—some in the form of lessons—all around. Then, you can trust in the ultimate perfection of everything as it unfolds.
Gratitude is really the difference between being miserable (complaining about the shoulder injury that will keep you from practicing yoga for a few months) and being joyful (turning that into gratitude for an opportunity to take more time for self-reflection and practice nonattachment).
How has gratitude changed your life?
I used to be a desperate, grasping perfectionist that felt like nothing was ever enough. I've experienced that version of life. And I've experienced the surrender and peace that comes from trust and gratitude. Now, I am grateful for all my experiences because seeing the other side is what helped me arrive where I am.
When you're grateful, you accept the flow of life—and that's really what it is—a flow of energy. Gratitude attracts more aligned partnerships and opportunities. If you complain or become resentful or regretful, you contract, get stuck, and bring in heaviness. It's the opposite of flow. It's like stepping out of the light.
Since I've become more and more grateful for the experiences of my life—the ups and downs, things like getting a divorce and having huge career setbacks—I've become more authentic. And that resonates with others, because ultimately, we are all trying to become whole. It's the nature of being human.
Do you have a regular gratitude practice?
I give thanks before I eat lunch (though I admit I don't always do it before my Glowing Green Smoothie every morning!). At dinner, we do a longer family grace in which we take turns talking about what we're grateful for. It really shifts the energy of the meal.
Before I meditate, morning and evening, I think of five things I'm grateful for. It's a great way to go into meditation, and I love starting and ending my day with that beautiful feeling of gratitude.
I'm also a big journaler. I love journals without lines so I can sketch little images and doodle during conference calls and feel free! I write what I'm grateful for in there, but it's not a scheduled practice. After writing this article, I'm finding myself inspired to write at least three things I'm grateful for whenever I crack my journal open, so thank you for the inspiration!
Do you have a tradition (or traditions) to keep thankfulness at the forefront of your mind during the holiday season?
My fiancé has a big family in St. Louis, so we usually go there. What really makes it special is the gratitude practice. Everyone stands up and says what they have been grateful for in the past year. With 35 people sitting at two long tables, you do tend to plan it out a little before you stand up. It takes the whole meal, but it's incredibly moving.
Last year, many attendees talked about their gratitude for having witnessed the strength of one family member courageously living with Parkinson's. The Parkinson's sufferer shared her gratitude for all those supporting her and her faith. One man talked about how grateful he was to have a Thanksgiving gathering since both of his parents had died. It's really beautiful. And it really is the focus of the gathering. I highly recommend instating some version of this practice (no standing up required!) for your Thanksgiving gathering—whether there are two of you or 200.
What might someone who wants to incorporate a regular gratitude practice (daily, weekly, etc.) do to get started?
I think it's important to associate particular moments with gratitude. For me, those moments are mealtimes and meditation, which are daily for me. We all eat meals, so you could start by pausing at mealtimes to be grateful. You can do this with any activity, though—every time you get into your car, every time you look in the mirror, or whatever resonates with you.
A lot of people feel the urge to give back on Thanksgiving. How can we spread the love more evenly throughout the year?
Start with a cause or issue you feel really passionate about, like working with elderly people or teaching kids yoga. Commit to one volunteer opportunity monthly or biweekly or whatever works for you, putting it on your calendar a few months out and treating it as seriously as you would any other commitment.
It's really important to note that giving back can happen in our daily lives in really powerful ways—just by opening our hearts. If you bring your intention to spreading love every day, your life will start to align to that purpose.
You might start to notice the homeless people in the street and be inspired to bring them food or blankets. Or perhaps you'll notice that a co-worker is down and offer to take them out for coffee and let them know you're there to talk.
Maybe you just make eye contact, smile, and genuinely thank every barista, checkout teller, or waiter who crosses your path. We all need love. Love is love, and it's important to let it flow through every encounter.
Are there specific volunteer organizations you'd recommend?
I went to Rwanda with Gardens for Health. The Environmental Working Group is passionately working to keep the world cleaner and support nontoxic farming practices and personal products. There are many ways to give back through EWG.
If someone were to commit to one hour a week to practicing gratitude, what would you suggest they do?
There isn't one answer for everyone. You take that one hour and meditate on gratitude, and perhaps at the end, ask yourself how you can serve at this time. Then, start to listen for what truly calls you—sending a text or giving a call to someone just to tell them you love them and appreciate them or whatever feels natural.
A comprehensive look at gratitude shows that when you routinely appreciate others and your life, you experience less aggression and a greater desire to treat friends, family, and strangers with more kindness. (You may even set off a chain of random acts of kindness!) When someone does something nice for you, you'll be inspired to pay it forward.