These Mantras Will Make Your Holiday Gifting More Intentional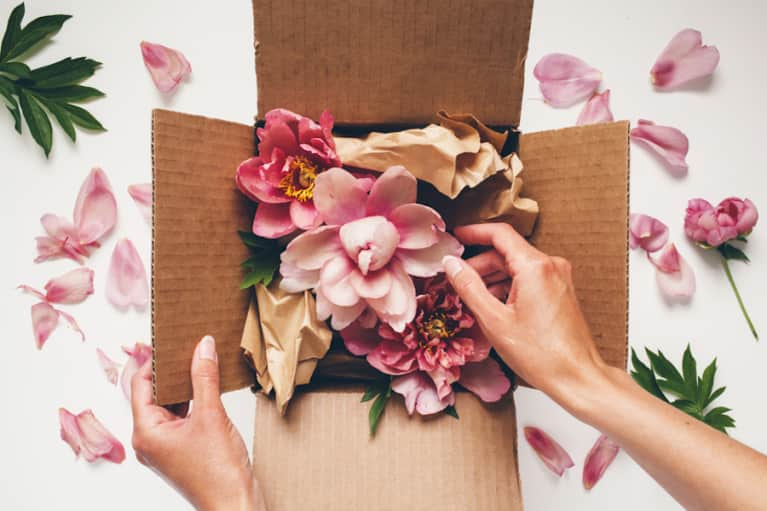 The holiday season is full of cheer, food, and of course...presents. As someone who cares deeply about mindfulness, sustainability, and lessening my impact on the environment, gift giving can sometimes be a challenge for me. If you're the same way, here are six tips to help you tread lightly this holiday season while still giving a memorable gift.
1. Use sustainable gift wrapping.
Ah, wrapping paper—the paper you use just to throw away again! I'm a sucker for beautiful wrapping paper, but I can't help but cringe when I see the huge bag of it my family throws away after our holiday parties. Instead of buying new wrapping paper, consider some eco-friendly alternatives like using an old newspaper, a gift bag that can be repurposed in the future, or even a cool reusable tote. I guarantee the recipient of your gift cares much more about what's on the inside anyway!
2. Ask people what they want.
Over the years, we've all probably been less than thrilled with a few of our holiday gifts. Maybe Aunt Lucy gave you a horribly ugly sweater or a gift card to somewhere you wouldn't dare step foot in. Gift more sustainably this year by asking people what they want (or ask a friend, a family member, or a significant other to ask for you!), and tell people what you want as well. While you may lose the "surprise" element, you also won't be surprising someone with a gift they will never use.
When shopping for gifts, consider buying from local stores and markets. Check out holiday markets in your city for handmade crafts, visit sites like Etsy, and shop from your local community. By shopping local, you're supporting small, growing businesses that really need your support and reducing the carbon imprint of your gifts. As a small-business owner, I can personally attest to the fact that when you buy something from a small business, an actual, real live person (uh, me!) does a happy dance. Not a robot processing your order.
This year, consider forgoing major gifts and sending thoughtful notes that express how much that person means to you instead.
4. Give experiences instead of physical products.
As a minimalist who really is working hard to acquire less "stuff," I find that a great gift is an activity that I can do with a loved one. I love the idea of gifting tickets to a show, a trip, a spa day, or even a lunch or dinner with someone you don't spend enough time with. By cutting down on the amount of items we give, we automatically cut down on waste, without sacrificing a great, meaningful gift.
I am a prankster at heart, so I love giving gag gifts. However, the Sustainable Sally in me no longer participates in these shenanigans as they are often gifts that end up in the trash or stuffed under a bed. If they ain't gonna use it, don't buy it. Maybe just play a practical joke on them instead (and hey, that's free!).
6. Give the gift of gratitude.
Let us not forget the real meaning of the holiday season— spending significant time with the people we love, spreading cheer and gratitude, and enjoying a few eggnogs. This year, consider forgoing major gifts and sending thoughtful notes that express how much that person means to you instead. That is a gift that truly can't be replicated.
However you choose to approach gifting this year, gift with mindfulness and intention. Your friends, family, wallet, and the planet will truly appreciate it.
Keep reading: