Spice Up Your Side Dish With These Moroccan Carrots
mbg Contributor
By Neda Varbanova
mbg Contributor
Neda Varbanova is the creator of Healthy with Nedi. She holds a master's degree in food studies from NYU Steinhardt, a certificate in culinary nutrition from the Natural Gourmet Institute, and is a certified health coach through the Institute for Integrative Nutrition.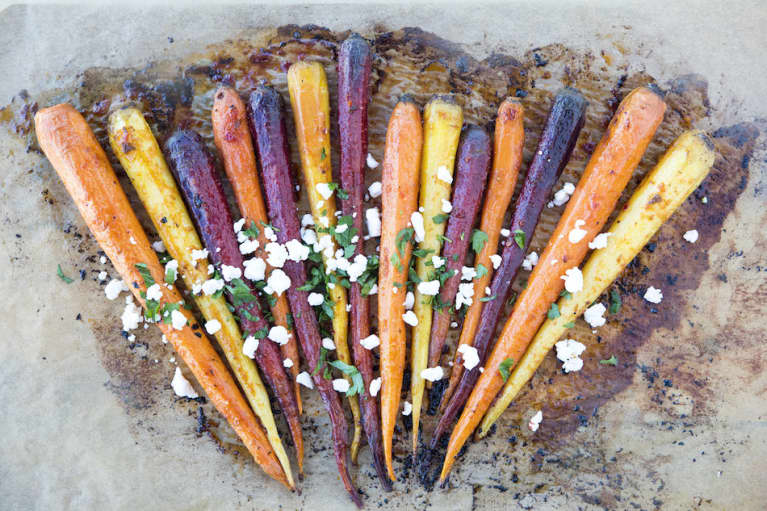 During a recent trip to Morocco, I got to taste some of the most incredible dishes. The chefs used a lot of spices…cumin and harissa are big staples in Moroccan cuisine, and I decided to create this recipe so I can bring a taste of Morocco back with me to the States. These carrots make an excellent side dish for Thanksgiving.
2 bunches of carrots (about 10 to 12)
1 tablespoon lemon juice
1 teaspoon honey
1 teaspoon cumin
1 teaspoon harissa
½ teaspoon paprika
½ cup extra-virgin olive oil
salt and pepper to taste
2 tablespoon organic goat cheese
2 tablespoon chopped parsley
Preparation
1. Preheat oven to 400°F.
2. Wash, peel, and trim the carrots. Dry with a paper towel and set aside.
3. In a mixing bowl, combine all of the ingredients to prepare the marinade for the carrots.
4. Line a baking sheet with parchment paper, and place the carrots on top. Pour part of the marinade over the carrots, making sure to leave a tiny bit to glaze at the end. Massage the marinade over the carrots using your hands and roast for 20 minutes, until tender.
5. Serve carrots topped with goat cheese and chopped parsley.