The Holistic Host's Complete Guide To Holiday Home Prep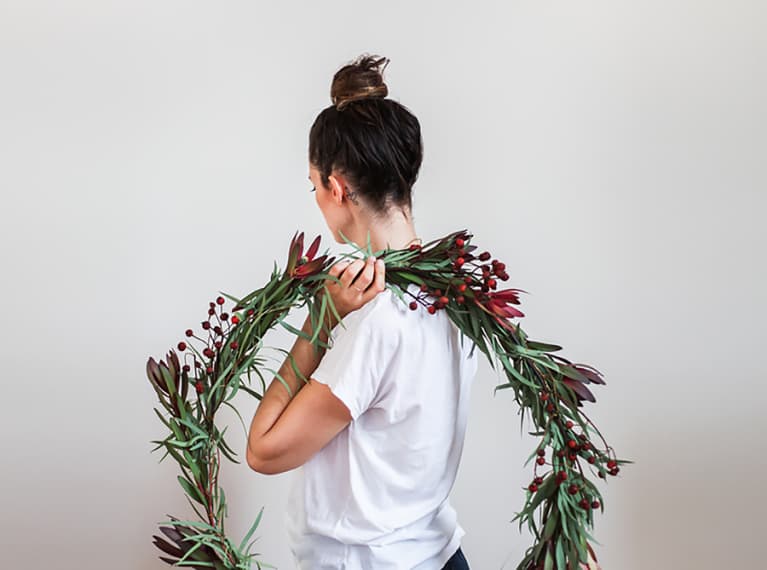 While dangling sparkly lights over your porch and blasting "White Christmas" certainly boosts holiday spirits, there are plenty of more-subtle ways to drape your home in festive feels. This holistic to-do list will help you craft a cozy space your beloved guests want to stay in long after the last present is unwrapped.
1. Do a mini digital detox.
L.A.-based feng shui expert Sunny Fuller recommends clearing your space of electronics before company arrives: "Before you move company into the guest room, move the electronics out (televisions, computers, etc). You'll be surprised at how it changes the energy. This will also encourage your guests to socialize more, in communal areas of the home, when they aren't resting."
2. Place your favorite book on their bedside table.
Take this sweet gesture up a notch by adding a handwritten note about what the text means to you that your guest can use as a bookmark once they get lost in its pages.
3. Load up on cozy blankets and pillows.
Drape comfortable wool or organic cotton throws on seating areas, inviting your guests to linger. Be sure to leave some extra pillows and towels in their room as well.
4. Diffuse the smells of the holidays.
Nothing speaks to the magical spirit of the holidays like the crisp, wild smell of trees. "I personally love to diffuse either fir or spruce essential oils during the holiday times," says Cary Caster, the aromatherapist behind 21 Drops. "Their sweet, woody scents are grounding and comforting, transporting us to the soothing smells of the forest. The best part is that these oils also contain wonderful antimicrobial properties, helping to keep a healthy home environment, especially when weary travelers are coming and going." If you don't have a diffuser, use a candle or one of these aromatic wonders to imbue your whole home with nature's scent.
5. Bring the outdoors in.
Dallas-based feng shui consultant Amanda Gibby Peters recommends dotting your cozy holiday home with a few of nature's talismans: "Crystals or quartz, driftwood, and rocks profuse unexpected beauty, and incorporating them into a guest room is a simple-enough pursuit. Pair river rocks with a potted plant; wrap twinkling lights around a sturdy branch for added glow; or use a gorgeous quartz crystal as a paperweight."
6. Bust out the sage stick.
Burning sage throughout the home is thought to cleanse negative energy and welcome prosperity and abundance. And hey, if nothing else it will make your space smell lovely. Here is a simple smudging ritual to try out before guests arrive so they walk into some seriously good vibes.
Ask about your guests' dietary preferences ahead of time so you're not caught off-guard by a born-again vegan uncle or newly gluten-free niece. Then, stock your fridge with some of their favorite treats or whip up some of these mbg-approved seasonal recipes:
8. Make a (loose) itinerary.
Jot down some ideas for activities you can all do together and leave it in a common space for guests to glance over. Remember to leave plenty of downtime on the agenda. After all, it's the holidays.
Keep reading: