Spirit Almanac: Your Guide To Celebrating January's Mystical Holidays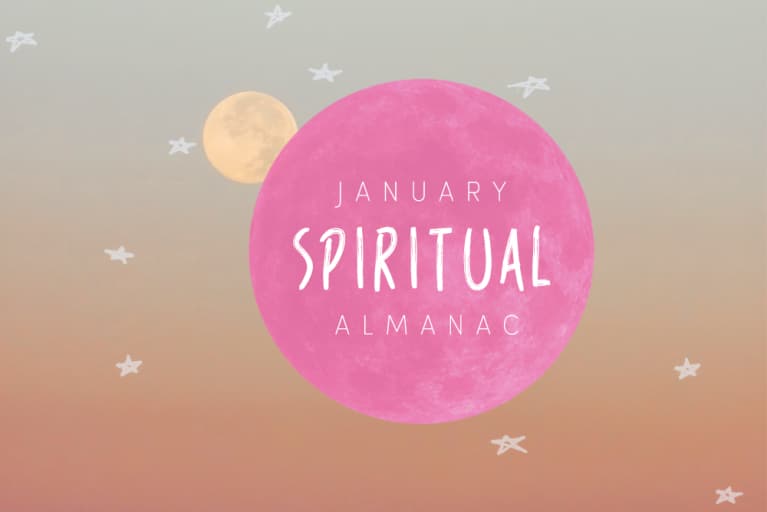 We all know to mark our calendars for Christmas, Hanukkah, New Year's, National Avocado Day, and those other occasions people celebrate in big, bold, beautiful ways. But what about the lesser-acknowledged spiritual, astrological events that roll around every year? Consider our Spirit Almanac series your own personal guide to the divine.
This month, we're unpacking the mystical magic of January with sound healing, gemstone rituals, and some pretty powerful New Year's cleansing.
January 1, New Year's Day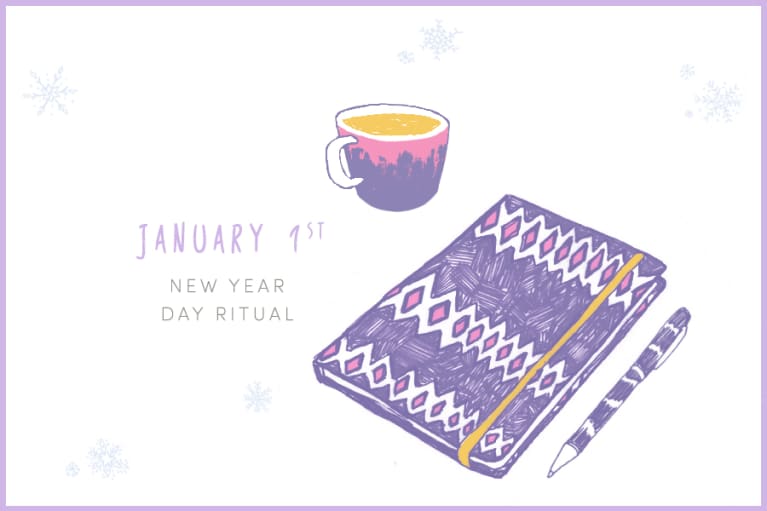 It's official: 2016 is behind us. No matter the state you woke up in (just going to leave this hangover guide right here), set aside some time today to take a few purposeful steps into this wild new year. Let this simple ritual by author, artist, and spiritual soul Lara Vesta lead the way.
A written ritual for creation
Today is the day. The New Story you've been waiting to live begins now. Not when you are feeling livelier, not when you get back in the groove. Now. In this moment. So get a pen and paper, light a candle, and take a few deep, centering breaths.
The New Story always begins in answer to the question, "What kind of world do I want to live in?" Notice this isn't just about you; it is about your environment, where you live, who you live with, and how you spend your days. What we can imagine, we can create. To create the New Story, you must envision it deeply using all of your senses. Don't know where to start? Writing connects our heart to our hand. So let the New Story rise up to meet you by writing in first person, present-tense beginning with the line:
In the world I live in…
You can write this same opening over and over, filling in the sentences like a list or poem…or you can let your intuition guide you. Either way, don't stop writing, and don't pause to think. Thinking censors the deep mind, spirit mind, unconscious mind. Keep your hand moving across the page, paying attention to any concrete sensory details. What does your New Story smell like, taste like, sound like, feel like? Don't second-guess anything that comes, however wild or strange.
When you are done, read your words aloud. Take note of how you feel and blow out the candle with thanks and blessing. Then, find one action you can do today to bring a detail of your New Story to life. This may be small, or sensory, but action tells your subconscious that you are willing, that you are listening and ready to live in something New.
January 12, Full Wolf Moon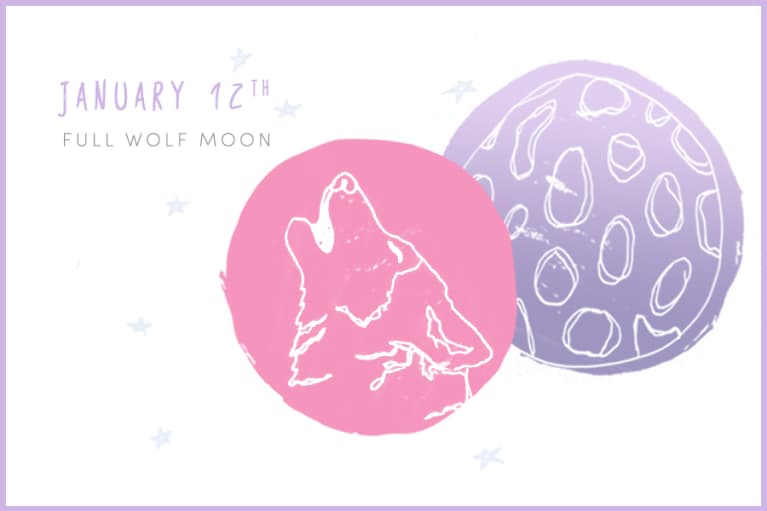 Many Native American tribes used moon phases to mark the seasons, often defining a year as 12 moons. They dubbed January's full moon "Wolf Moon" since it shed light on the cold, hungry, howling wolves below. Tap into the primitive, animalistic energy of the first full moon of the year with sound rituals to embrace your wild side. Sound can serve as a powerful release, especially during this cold month that calls on us to reflect and look inward.
The first ritual is the brainchild of immersive meditation teacher Biet Simkin, and Leo Consendai, a renowned sound healer at Indaba Yoga Studio in London, is the voice behind the second.
A sound ritual for embracing your wild side
A girlfriend of mine once sold me on the cathartic properties of jumping around and screaming to Rage Against the Machine. I must say, it's always been a great release for me. Follow that with something beautiful like "Man in the Mirror" by Michael Jackson to remind you that with every angry moment comes the opportunity to be more giving. Lastly, curl up in a lion pose and don't forget to really rawr!
A sound ritual for expression
1. Begin your ritual by defining and dressing the space you're going to use. Then, set an intention.
2. Clap your hands for a minute. It doesn't matter how fast or slow—just clap while remembering your intention. Clapping can lift your energy, still the air, and balance the central nervous system (providing that you really stimulate both palms at the same time).
3. Then, gently bring your upper and lower teeth together without tensing the jaw and look at the space in between the eyebrows. Plug the ear holes with your thumbs and start to hum with the lips sealed, focusing on the vibrations you feel in your teeth. Continue for 3 to 5 minutes.
4. Since it's a Wolf Moon, finish your ritual by howling. Your voice is the most potent and precious instrument there is—use it! Start gently and work your way up, imbuing your howl with whatever emotions are present at that moment. Ten to twenty good howls should do the trick and get you to laugh at yourself and your companions at the very least.
January 20, Appreciation for Garnet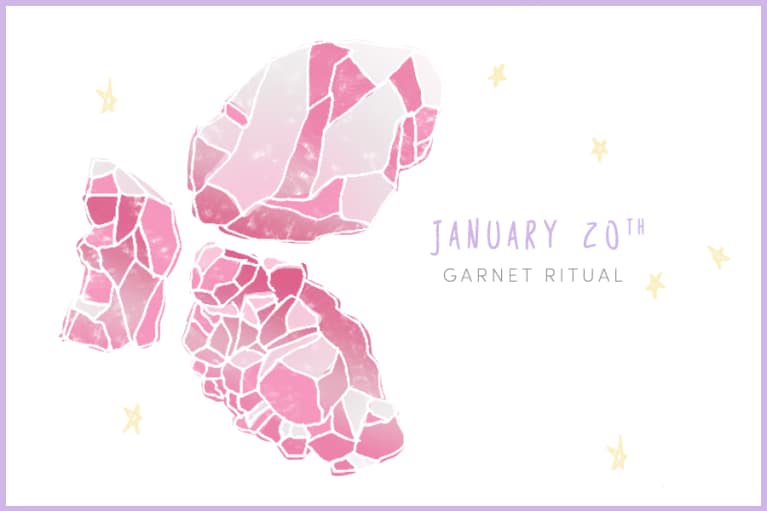 Crystals and gemstones are like people: Each one is unique and exudes a specific energy. "Garnets, the birthstone of January, are said to deepen the connection between friends, and ensure that your energy flows smoothly throughout your body, dissolving any energy blockages that exist," says Heather Askinosie, co-founder of Energy Muse Jewelry and one of our resident crystal experts. "They are particularly beneficial for those who find themselves feeling ungrounded or lacking in energy. Use them to connect with your root chakra to help you feel more grounded and in tune with yourself, and hence others, in the present moment." Amen!
A crystal ritual to strengthen bonds
1. Think of an intention that relates to your connection with friends and family. Holding a garnet in both hands, breathe in deeply through the nose and out through the mouth, into the stone, for three minutes. By doing this, you are connecting your intention with the stone's inherent qualities. How jazzy is that?
2. Now, state your desired intention out loud and breathe into it deeply.
3. Put the garnet in your pocket to strengthen your sense of compassion, respect, and empathy for those around you and to help you continue to create stronger relationships with others.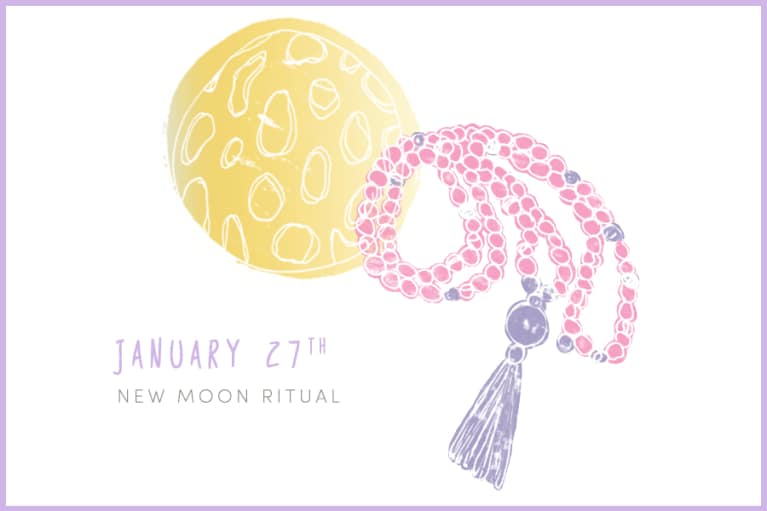 The new moon tonight is the first sighting of the thin, returning crescent always low and magical in evening twilight. Following the moon's seeming absence for a few days; it's a lunar rebirth of sorts!
Our ancestors planted, hunted, fished, and moved by the seasons and cycles of the moon. And they survived long enough to bring us into the industrial and then the digital ages. But in our tech-driven society, it's so easy to fall out of nature's rhythms. Here's a Mala bead ritual from the high-vibe minds behind Satya Jewelry to help you tune back in, live by the natural sway of the universe, and plan it by the planets.
A mala ritual for intention
1. Find a quiet space and sit in a comfortable seated posture. Light a candle, burn some sage, or unleash your favorite incense. If you wish, feel free to wash your mala before this ceremony in pure water and any fresh flowers of your choice.
2. As you relax, imagine the moon illuminating all the thoughts in your mind and amplifying them so you're absolutely clear on your intentions.
3. Visualize yourself finding peace of mind and inner calmness. A traditional mantra for activating and sealing in the energy in mala is "Om Hrim Namah Shivaya Om." We recommend chanting this mantra at least three times and sitting for at least five minutes to seal the energetic bond.
4. Take a piece of paper (or a meditation journal if you have one) and write down all the thoughts that entered your mind throughout the meditation. These can be names of people, places, or things. While they might not seem significant now, they are the moon's way of sending you a message!
Note: It's a good idea to cleanse your mala beads regularly, as they are known to absorb and store energy, and cleansing helps to remove stagnant energy. Take advantage of the next full moon by recharging your precious gemstones and resetting them for the coming month.
January 28, Chinese New Year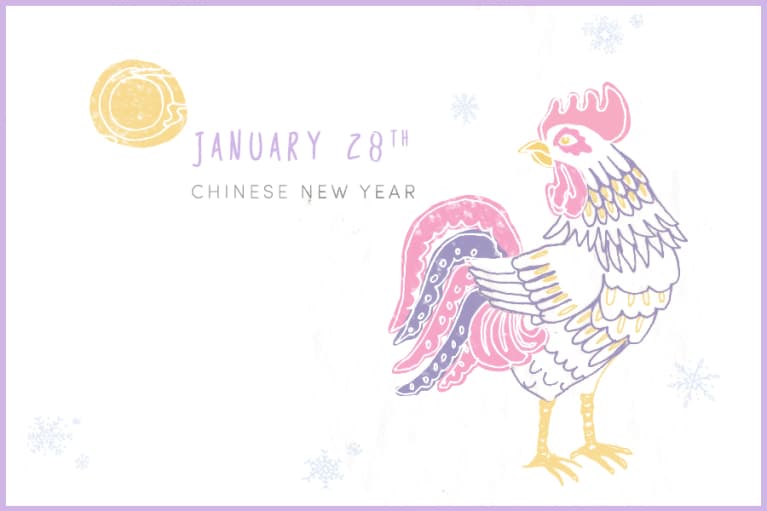 Today signals the first day of the traditional Chinese calendar—one that was marked by the lunar and solar phases. Traditionally a day to honor household and heavenly deities, the occasion is still a vibrant celebration of life and new beginnings. Here, feng shui expert Anjie Cho speaks about the animal tied to 2017 and shares how to harness its auspicious energy.
A feng shui ritual for manifestation
Most people assume that it would be wise to carry a rooster charm around in a rooster year. However, it's actually quite the opposite!
In Chinese mythology, there is a "Tai Sui" or a celestial ruler who we want to pacify and appease. During the rooster year, the rooster is actually "sitting" in the Tai Sui's seat—and the Tai Sui does not like that. Instead of harnessing this negative rooster energy, you can ask the dragon for help and support in 2017. There is an ancient Chinese poem that declares that together, dragon and rooster are a "most regal and majestic" pair. The dragon is the rooster's best friend, so it's advantageous to wear or carry a three-dimensional dragon charm during the entire rooster year. Let's manifest some regal, majestic wonder in 2017 with the help of our new best friend, the dragon!
The piece was co-written by mbg's beauty and style editor, Kayla Jacobs.