Eco-Friendly Everything: How To Make Your Holiday Shopping A More Conscious Experience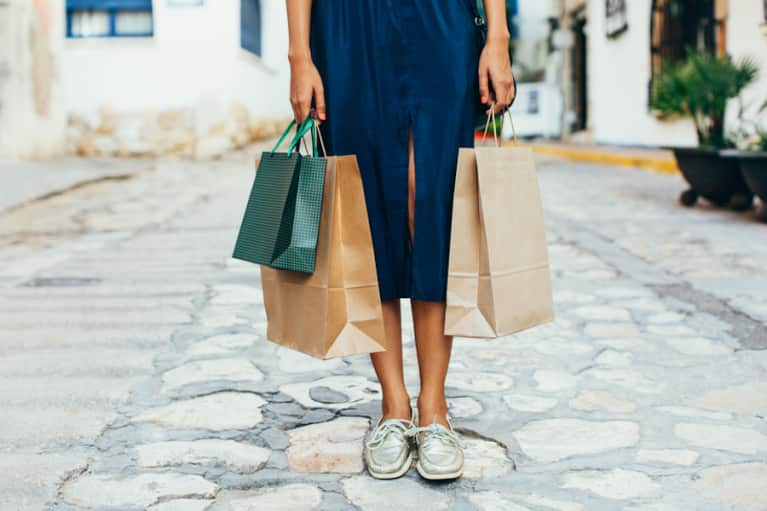 The holiday season is my favorite time of the year. I love gathering for cozy meals with family, attending festive parties, and enjoying the crisp weather. The one part that can get overwhelming for me, though (aside from maybe a drunk uncle or heated political conversation), is the gift giving.
Don't get me wrong; the idea of giving is wonderful. But sometimes our consumerism can take over the holidays, with malls packed with eager shoppers maneuvering around with carts filled to the brim in a gifting frenzy.
This shopping season is a better time than ever to consider supporting small, ethical brands and stores. Vote with your dollar and support companies you admire and wish to see thrive. Look for well-made, quality products rather than gimmicky gadgets that will end up becoming "just more stuff."
Here are eight top tips for making your holiday shopping a more conscious, less consumer-driven experience.
1. Remember that less is more.
As a culture, we tend to feel the need to over-gift. I was just speaking with my mom about this issue the other day. She grew up receiving one gift for her birthday and one for Christmas every year. She told me how excited she always was for that one present and how much she cherished it, proving that we could all benefit from a downsize. This year, try to focus on the quality of your gifts instead of the quantity.
2. Pay attention to what the receiver needs.
Meaningful and useful gifts are always especially touching, even if they are simple. I have had the same dishtowels since I first moved out on my own. They are faded and full of holes, so last year one of my friends got me a set of beautiful handmade towels to replace them. The gift was both thoughtful and practical.
3. Look for natural home products.
This year, shop for locally made, artisanal versions of your favorite household products. Look out for natural, nontoxic versions of your favorite scented soaps, candles, sprays, and cleaners. Gifting these green alternatives is a great way to introduce family and friends to eco-friendly lines that aren't packed with chemicals like petrolatum, triclosan, paragons, and BHA. The Environmental Working Group is an awesome resource for checking the safety of ingredients if you ever question a specific component.
Gifting someone with an experience helps cut down on the commercialization of the holiday season. Consider giving those on your list tickets to a museum or concert, or even a spa appointment. For the latter, look into establishments that use natural nontoxic product lines. In Los Angeles, my favorite place for facials and body treatments is Natural Feeling Spa, and The Now is a great choice for massages.
Many small shops carry a wide selection of local and ethically made artisan goods. Be sure to check with the salespeople to find out where and how items are made. Holiday markets and fairs are great places to look since they often let you deal directly with the makers. If you live in an area that is short on boutiques or fairs, there are some great online marketplaces that offer a large selection of ethical brands. Sites like Garmentory are doing a wonderful job expanding the reach of small designers and shops, making them more accessible to a wider audience.
6. Give donations in someone's name.
This is a perfect option for the person who has everything they need and loves giving back. If you know of a cause close to that person's heart, start there. The Ethical Writers Coalition, a collection of bloggers passionate about environmental issues, also recently put together a list of some of our favorite charities. Check it out here.
7. Explore natural food delivery services.
Many urban areas now have delivery services for local and natural foods. Look for companies who support small organic farmers and deliver in reusable containers. This is an especially nice gift for the chefs in your life who are short on time.
Look for toys made from wood, recycled plastic, or cloth, and usable items like art supplies or books. Be sure to consider the less-is-more approach here! Kids love to open presents, but they are often ready to move on as soon as the paper and ribbons are out of sight. So many cheap plastic toys clutter up our homes and eventually clutter landfills. Narrow down the amount that they get, and you just might find that they appreciate what they have even more.