How Gratitude Keeps NYT-Best-Selling Author Andie Mitchell At Her Happiest & Healthiest All Year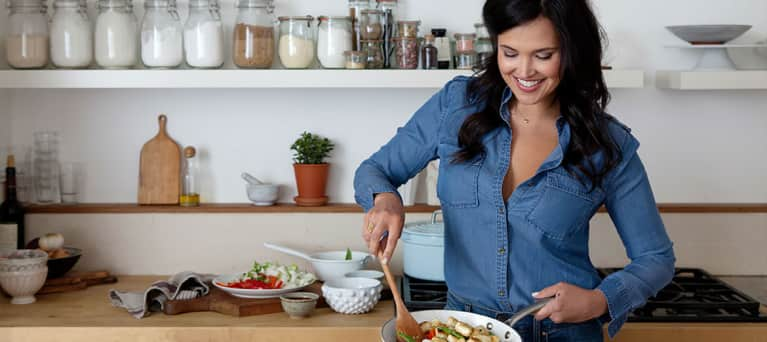 You might have heard about Andie Mitchell from Good Morning America, People magazine, or Marie Claire, or seen her memoir on the New York Times best-seller list. It Was Me All Along chronicles her lifelong struggle with emotional eating through vulnerable anecdotes and shares how she finally learned that "happiness can't be tied to your weight, and your worth can't be measured by a scale."
Gratitude has been instrumental in keeping Andie happy and healthy since she lost half her weight a decade ago, so when we decided to dig into the relationship between gratitude, happiness, and success, we couldn't think of a better person to ask.
Here's what we learned.
What does gratitude mean to you?
For me, gratitude is a perspective. It's choosing to see the goodness, the generosity, and the profound value in people and experiences.
How has it changed your worldview?
As wonderful as it is to grow and experience more of life, aging also means facing more of life's hardships. It would be easy to become cynical. But cynicism gets us nowhere. It closes us off to our emotions and other people and keeps us stuck in negative cycles. Gratitude, on the other hand, takes hardship and looks for the deeper meaning—the lessons we might have learned from our experiences. When I choose to look at my life and the world with gratitude, I feel more positive. I also feel a greater sense of compassion.
How do you think being mindfully thankful has helped you achieve the success you have today?
Ten years ago, after I lost 135 pounds, I was so happy to have this exciting new lease on life. But at the same time, I didn't like the idea of looking back on my former, bigger life as somehow worse or less than. I knew that I'd learned so much in those 20 years—especially about myself—so I chose to be grateful for them and all that the experience of growing up overweight had taught me. This gratitude has given me a lot of perspective—much of which I use now in my career, writing about wellness, weight loss, and healing our complicated relationships with food.
Do you have a regular gratitude practice?
Though there are certain things I'm constantly grateful for—my loved ones, for instance—I might not remember to tell them all the time or think to be grateful for a life lesson while I'm in the midst of a stressful situation. That's why I make it a point to take a few minutes every day to think about all the things I'm thankful for—to remind myself how lucky I am and how full my life really is, even in the moments when I'm stressed and struggling.
Do you have a tradition (or traditions) to keep thankfulness in the forefront of your mind during the holiday season?
I take a daily walk, which sometimes gets remarkably short as the weather gets really cold in the Northeast. During the holiday season, I really try to use that time as a meditation on what really matters to me. It clears the mental clutter right away and allows me to refocus on the things I truly care about—always people, never things.
Last year, I started sending out holiday cards, and I loved that way of connecting with old and new friends, so right after Thanksgiving I'll start writing them again, until my hand falls off.
A lot of people feel the urge to give back on Thanksgiving. How can we start to spread the love more evenly throughout the year?
Knowing that soup kitchens tend to be understaffed most of the year (and overflowing at holidays), I think it would be a great idea to use that goodwill you feel right now to mark your calendar for a time when you'll volunteer. That way, you're giving back to your community at a time when they really need it.
If someone were to commit one hour a week to practicing gratitude, what would you suggest they do with it?
With one hour a week, I would recommend spending some time connecting with people you love—letting them know how grateful you are for them—because connection always makes our lives richer and fuller. I'd also encourage everyone to spend a few minutes every day meditating on what they have to be thankful for—people, things that bring you joy and comfort, even challenges. If you can, write these things down in a simple list. That way, you can look back on the list whenever you're feeling down.
If you do this consistently, you'll begin to notice how much happier you feel in all areas of your life. Your life will feel fuller; you'll have more patience; and you'll likely be kinder to yourself and others.