Why Your Doctor's Appointments Are Always A Bust + 5 Ways To Handle It
mbg Health Contributor
By Gretchen Lidicker, M.S.
mbg Health Contributor
Gretchen Lidicker earned her master's degree in physiology with a focus on alternative medicine from Georgetown University. She is the author of "CBD Oil Everyday Secrets" and "Magnesium Everyday Secrets."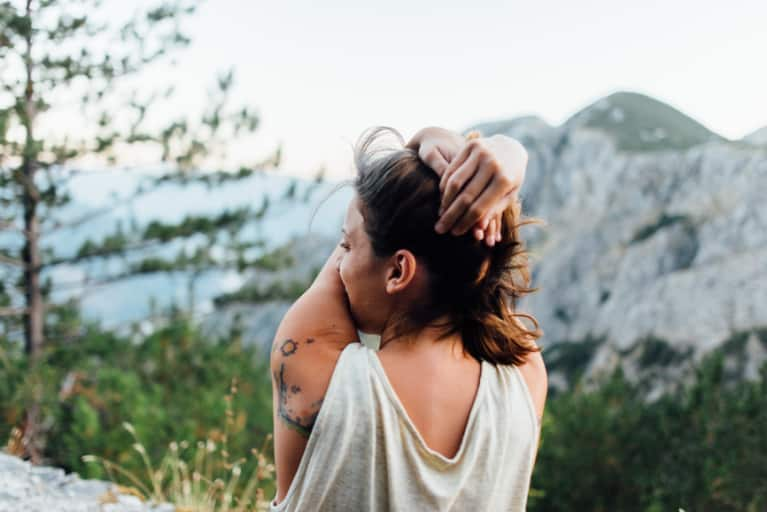 Being sick is hard. And especially when we feel crappy, we want easy answers and a simple solution to all our woes. But unfortunately, that's not usually the case and our 15-minute doctor visit is often spent blurting out random symptoms in no obvious order. If that sound familiar, you are not alone. And what no one has told you is that being a patient is hard—really hard.
You know a LOT about your body.
One of the fundamental principles of a holistic approach to medicine is the concept of "patient as teacher." And this is fabulous for many reasons; first, it shows a deep respect for a person's intuition and knowledge about their own health. Second, it frames the doctor and patient as equals—as collaborators with a mutual respect for each other's knowledge and experience. The patient's gained from inhabiting the body with the problem and the doctor's from years and years of medical training.
But in order to be a good teacher, you have to master the material. So here are some tips to make sure you have a voice in your next appointment:
All day and night your body is sending you subtle hints about your health. So pay attention to everything: headaches, fatigue, digestion, sugar cravings, and brain fog. A great practice? Keep a log or journal that helps you draw connections between what you eat, what you do, and how you feel. You'll likely see patterns and trends that will be helpful hints for both you and your doctor.
Dr. Eva Selhub, one of our resident health experts says nothing drives a doctor crazy like a patient saying they have a symptom and expecting the doctor to know exactly what they are referring to without any more information. She makes her patients work in her clinic, saying "If you have a symptom, track it. Where does it hurt or show up in the body, when does it seem to happen, what are you doing when it happens, what are you eating before it happens, and how can you best describe it with the most possible detail." Doctors are not psychics or magicians—so it's better if you can work as a team.
Some research has shown that although patients report being given information about their condition, less than half are actually knowledgeable about their treatment options, and few patients feel they know enough to engage in a discussion or help make their own health decisions. Dr. Nisha Chellam (one of our integrative medicine experts) likes to remind her patients that "364 days of the year we lead our lives the way we know best. But the one day of the year we see our doctor somehow gets us to feel that they are responsible for our health." At the end of the day, your health is your obligation—so be an active player, be confident, and don't wait for anyone else to take charge. This culture of going to your doctor only for answers is why many doctors, including Dr. Selhub, become interested in a more holistic approach in the first place.
3. Write your own health history.
This takes some time, but it's an amazing exercise. Start from your childhood and document all your major health events until the present moment. Include your best estimates of when you started and stopped different medications and the dates of any procedures. Try to add details about your emotional state, your environment, and what was going on in your life at the time. This seems like work but it can provide a ton of insight.
If you're feeling bold you can even create a one page version of this document, and when you go to your next appointment, bring it with you! Dr. Selhub urges her patients to keep track of their medications and all supplements—including why and when they are taking them. This would be a great way to keep track of that information and make sure nothing slips through the cracks. We've all had that moment leaving the doctor when we realize we forgot to include an important detail or mention a concern we've been having.
Whether you like it or not, you have a gut feeling about your health. And if something doesn't sit right with you—you're probably onto something. So share your thoughts with your doctor and ask questions. A good doctor will be inspirited by your active engagement, not alienated. If you don't feel like your doctor creates a safe and nurturing environment where you can ask for what you need, start looking elsewhere.
5. Find a doctor that listens.
A great place to start is someone trained in integrative medicine or functional medicine, but there are a ton of great doctors that will make you feel heard. If you're looking for a new doctor, make sure to call the office and see what the vibe is like. If you're on hold for 20 minutes or your questions and concerns are dismissed, you might want to keep looking. You can even stop by in-person to scope it out—why wait till the day of your appointment to learn it's not a good fit?
The medical system can be so difficult to navigate. And with the rise of allergies, autoimmune disease and chronic inflammatory conditions, diagnoses and treatments are becoming way less cut and dried. It's rare to have just one symptom that can be easily fixed, so look for a doctor that listens and sees you as a whole person. Because anything else just doesn't make a lot of sense.