The Travel Essentials You Can't Survive This Week Without
mbg Sustainability Editor
By Emma Loewe
mbg Sustainability Editor
Emma Loewe is the Sustainability Editor at mindbodygreen and the author of "The Spirit Almanac: A Modern Guide To Ancient Self Care."
Our editors have independently chosen the products listed on this page. If you purchase something mentioned in this article, we may
earn a small commission
.
Elizabeth Kott and Stephanie Simbari, the brains and voices behind wildly popular wellness podcast That's So Retrograde, know a thing or two about healthy routines. TSR takes listeners on a journey through the often comical, sometimes bizarre, and always entertaining wellness trends of today. Their guests range from famed comedians to psychics, badass female entrepreneurs to holistic doctors, and each hourlong podcast is a must-listen. (Oh, and P.S., their latest one was all about our annual revitalize conference!)
We called on Stephanie and Elizabeth, who are going to Michigan and staying in L.A. for the holidays, respectively, for their best healthy travel hacks. Here's how to take a page from their book: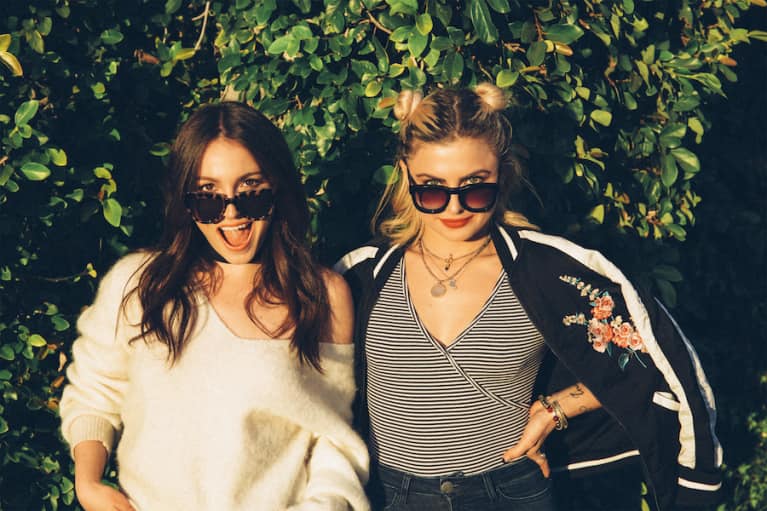 1. Stuff your suitcase with the good stuff.
So what sort of holistic goodies are the girls packing? These days, Stephanie says she never travels with less than five crystals. Her current high-vibe repertoire includes rose quartz, amethyst, jasper, carnelian, and sunstone—all of which carry loving, grounding energy perfect for the holidays. They also call on H. Gillerman's Travel Remedy essential oil blend for balance on the road, and use Laurel Organics' Spiritual Warrior Oil made from fragrant, soothing gemstone and plant essences like plumeria, sandalwood, and black pepper.
2. Stock up on the portable beauty essentials.
"Basically...we just love anything mini," jokes Elizabeth. (Don't we all?) She and Stephanie stock up on CocoCare coconut oil minis for on-the-go oil pulling, small packs of Boiron Optique eye drops for dry eyes, and plenty of Tallowderm body lotion. "I want everyone to know about this one—it's the most hydrating thing to put on your body when you're traveling," swears Stephanie.
3. Do the prep work if you have a long flight.
Frequent fliers, listen up. Pretty much every That's So Retrograde guest has attested to the importance hydration plays in long travels, and Elizabeth and Stephanie noticed the difference right away once they started flying with two massive bottles of water. Holistic doctor Molly Maloof had a great tip for them recently, too: She said that you can combat jet lag by fasting during flight to adjust to the eating pattern of your destination. "That way, your digestive system, and therefore your entire body, can catch up."
Stephanie and Elizabeth are also sure to take Hawaiian spirulina and vitamin C tablets before boarding to boost their immunity just in case they end up next to in-flight coughers.
4. Keep a semblance of your routine.
"I think the biggest thing is setting yourself up for success wherever you're going, especially during the holidays when it's easy to get off your groove," says Elizabeth, who always makes sure to stock up on essentials like almond milk and cinnamon when she's traveling, so she can continue to make her morning tonics. "The comforts of home can really help keep you in your general routine."