9 Morning Habits That'll Make You Feel Ready For ANY Day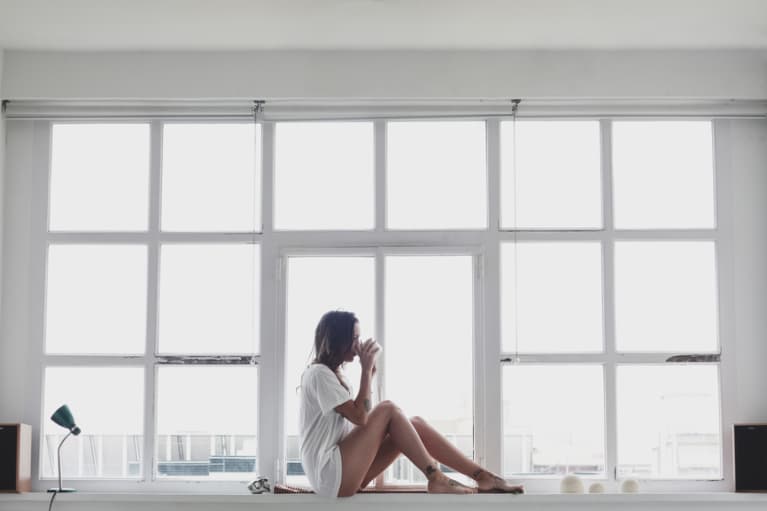 For as long as my mornings involved corralling five children under the age of 8, they haven't been blissful, self-care-centric affairs. They've been full of screaming, hair-pulling, frustration, and stress. And while I'm not going to beat myself up for not making time for an uninterrupted 90-minute yoga session every day, I've recognized that the frenetic pace and constant exhaustion of that kind of routine is not sustainable. There's no time that feeling is more prevalent than during the holidays, when our domestic obligations seem to multiply and boil over faster than we can dream of keeping up.
But I'm not a quitter. So, I've spent a lot of time testing and trying a variety of practices and processes, and I've finally found the combination that really works for me. These nine things are exactly what I need to stay calm and face the day with joy, no matter what it has in store.
1. I get out of bed as soon as I wake up.
When my body naturally wakes up, I get up. Hitting snooze is only slowing me down, making me feel more groggy. A few more minutes won't actually help you feel more awake. It'll actually have quite the opposite effect. That snooze is the drag.
2. I hydrate early and often.
When we sleep, we go seven to nine hours without drinking any water. As soon as I wake up, my body needs quenching. I drink about 32 ounces of lemon water first thing in the morning. This always revitalizes me and jump-starts my body.
I shout (or loudly whisper) a blissful statement, boldly and eagerly. Starting my day with a happy statement ignites my joy. It can be an affirmation, a meditation, a devotion—anything that connects my mind with my purpose, passion, and presence. This is my way of giving my my body permission to burst into action. I love the feeling of positivity it brings!
4. I move with intention.
Jumping up and down is the best way to warm up to the day. When I'm in a hurry, I rely on simple movements like jumping jacks, planks, squats, lunges, and push-ups. I give exercise my full energy, doing one exercise for a full minute each. And I'm done!
5. I nourish myself with real food.
Your body has been fasting all night, as well as going thirsty. In order to get extraordinary results from myself all day, I must nourish my body with real food. I like to start my day with fresh berries, eggs, and some avocado. A balanced breakfast replenishes my body.
6. I lead with quiet gratitude.
I direct my thoughts by journaling about what I'm grateful for each day. Starting my day with a gratitude practice brightens every moment. Gratitude helps me ignore the noise of the world and encourages me to create the day on my own terms.
Planning and preparing for everything I want to accomplish in a day is what I call my success strategy. There's no second-guessing. I give myself three must-dos, then I relish every step I take toward conquering them.
Feeding the mind is as vital as nourishing the body. While I get ready in the morning, I listen to a podcast. If I have time, I'll read a chapter of a good book. Our minds are less cluttered in the morning, so I use this time to absorb all the possibilities I can.
A blissful morning isn't complete without a smile. Yes, a smile lets optimism shine through.
Since incorporating these nine things into my morning routine, my days have more oomph, and there's more pep in my step. Why not start your day on your terms?